Conditions in Sydney's rental market look likely to remain relatively constant as figures from the Real Estate Institute of New South Wales (REINSW) show July was a month of little change for the city.

According to the REINSW's figures, Sydney's vacancy rate remained at 1.9% during July, with only inner Sydney seeing any movement over the month.

"Both Middle and Outer Sydney rental availability was stable at 1.9 per cent, while Outer Sydney rose 0.1 per cent to 1.9 per cent," REINSW deputy president Brett Hunter said.

"The Sydney market is experiencing conditions very similar to the previous month," Hunter said.

Unlike Sydney, NSW's larger regional markets did see slightly more movement.

The REINSW's figures show the Illawarra's vacancy rate increased 0.1% to 1.9%, with Wollongong's vacancy rate rising 0.1% to 1.6% in July.

The Hunter saw a 0.3% fall in its overall vacancy rate to 2.4% despite Newcastle recording a 0.2% increase to 2.4%.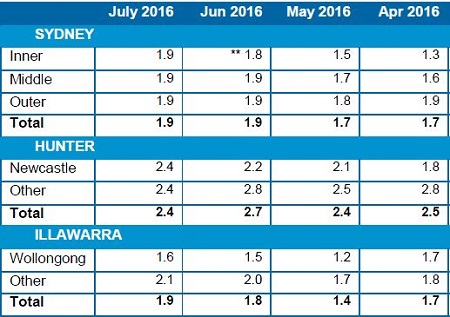 Source: REINSW
Conditions were also mixed in the smaller regional markets.
Albury saw a 0.6% increase to 3.7%, while on the Central Coast the vacancy rate dipped 0.4% to 2.8%.
In the New England region, the vacancy rate rose 0.8% to 4.7%.