Forget whether they are great places to live, some property markets have not been kind to the people who own property there – not only crashing in value, but lacking signs of strong buyer interest. The following are markets where vendors are struggling to get a good result:
Noosa Heads, Qld
You wouldn't have much to complain about living in Noosa. The sea has that turquoise colour that screams 'holiday', and it hardly ever rains. Too bad about the property values. Apartment prices have tumbled by just short of a third of what they were five years ago, according to RP Data, while the average home owner trying to sell their property is chipping 20% off their asking price just to make a sale. Investors are struggling too. The average rental yield figure on units is just 3.9%. Ouch.
Coochiemudlo Island, QLD
Sandy beaches wrap around this island in Moreton Bay, near Brisbane, which is apparently a popular hangout for turtles. What could be bad about that? Owning a property on this jaw dropping stretch of land would certainly impress most people, but it wouldn't convince them to take your property off your hands. The average property takes almost a year to sell, and when it does, the owners are getting on average, a quarter less than they originally asked for. Add to that the fact that property values are 7% lower than they were five years ago and you get a property market that, financially speaking, isn't great to be in.
Berrima, NSW
Perched within the Southern Highlands of New South Wales, Berrima is a popular stop between Canberra and Sydney. It is little more than a village, but that hasn't' stopped house prices from averaging in at around $600,000. That may sound impressive, but prices were considerably higher five years ago.
If you had bought back in 2008, you'd be cursing your luck. Prices are close to half of what they were back then, and RP Data July figures suggest that not many people want to buy there anymore. Houses are staying on the market for an average of 229 days, which is more than seven months. Buyers who eventually purchase these houses are also getting great discounts. The accepted offers they've made on properties have averaged 20% less than the vendors' listed price.
Peppermint Grove, WA
Sure, Peppermint Grove is super elite. Who wouldn't want to own a multi-million dollar home with a swimming pool that is bigger than most peoples' houses?
But if you're one of Perth's super elite who has dropped their money into a Peppermint Grove property and are now looking to sell, you're unlikely to get a good result. Property prices have sank by more than a fifth over the last five years, which, considering the average property is valued at $3m, equates to hundreds of thousands of dollars.
Most Peppermint Grove properties are also taking more than five months to sell, and although that is not unusual for properties within that price tag, vendors are still slashing their original asking prices by more than 20%. In other words, even though prices have dropped, vendors are still getting considerably less than they would have wanted and waiting a long time to get it.
Other markets where it is currently tough to sell: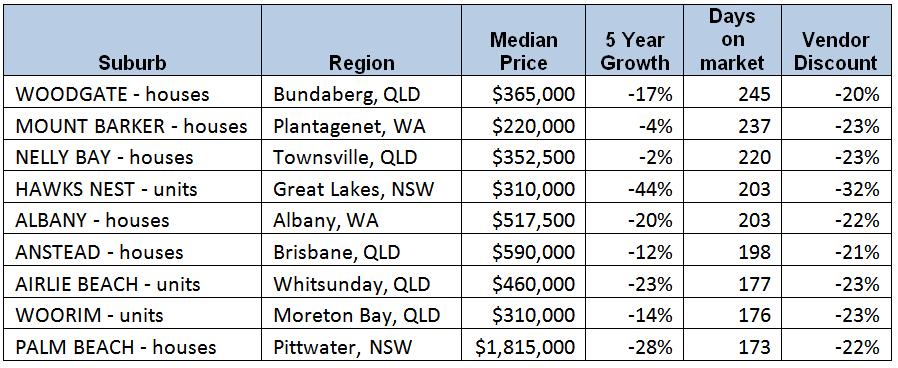 Source: RP Data, July 2013