With over 20,000 active listings across Metropolitan Melbourne, the capital city of Victoria has experienced one of Australia's most robust growths in short-term rentals over the past two years. Reaching almost 263,700 booked nights in January 2019, Melbourne's buzzing vibe and its culture capital status has made it one of the most profitable regions for short-term rentals in the country.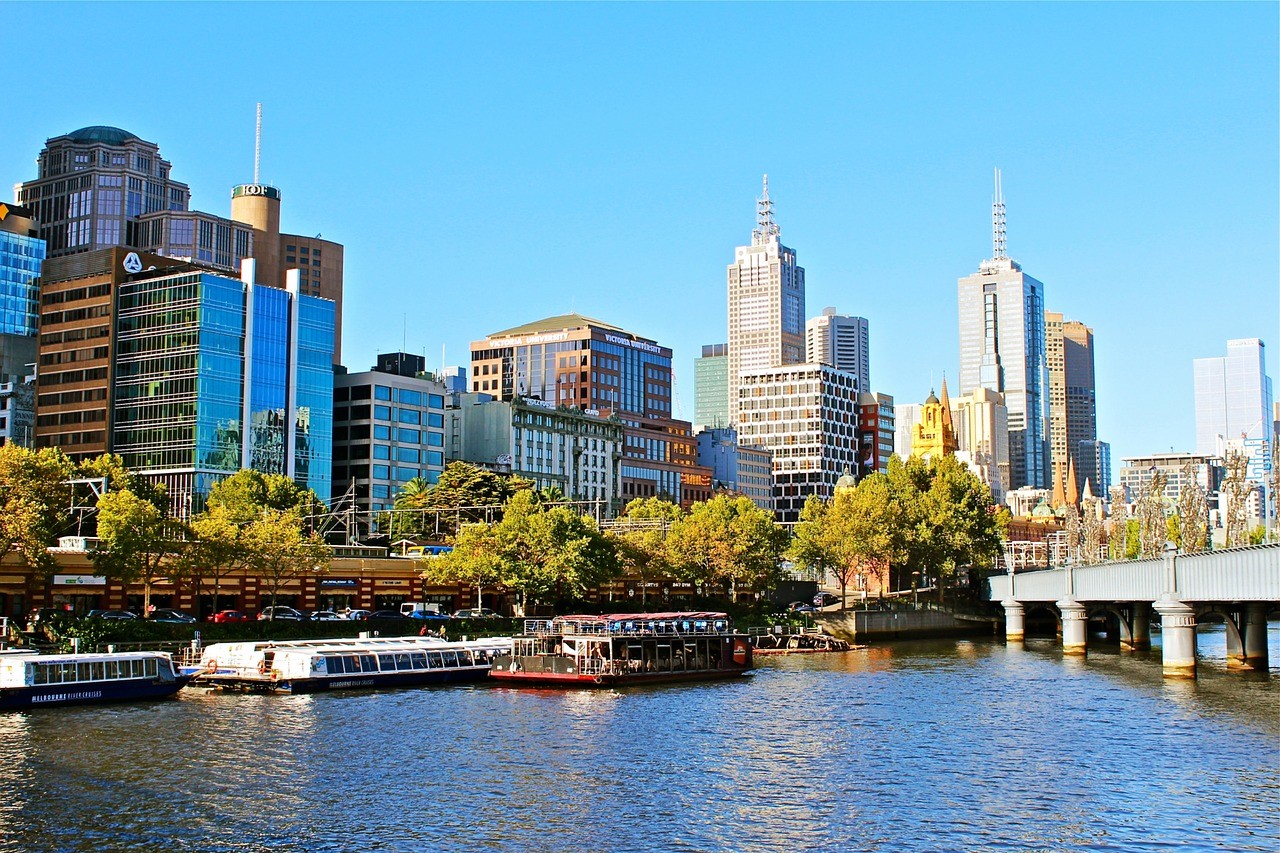 In the past year, Melbourne's average nightly rates on Airbnb ranged from $163 to $210 per night, depending on location, property type, number of rooms, and seasonality.
The most popular suburbs in terms of occupancy rate were found to be concentrated around the Eastern side of the city centre, within a 5km radius of popular tourist areas, offering bars, restaurants, cafes, and shops.
Brunswick, Northcote, Collingwood, Brighton, Abbotsford, and Albert Park are the most popular suburbs for houses and Fitzroy, Collingwood, Richmond, Toorak, and St Kilda are most popular for apartments all year long.
Similar to Sydney, the most popular type of housing options for short-term rentals are two-bedroom properties which tend to be apartments. However, in terms of types of housing, stand-alone homes and apartments in the same suburb perform very similarly regardless of bedroom size.
The impact of seasonality on short-term rentals in Melbourne was much lower when compared to that of Sydney as the top suburbs remained almost the same in the warmer and cooler seasons.
With consistent occupancy and nightly rates, Melbourne is expected to show strong projected growth and demand for short-term rentals over the next decade.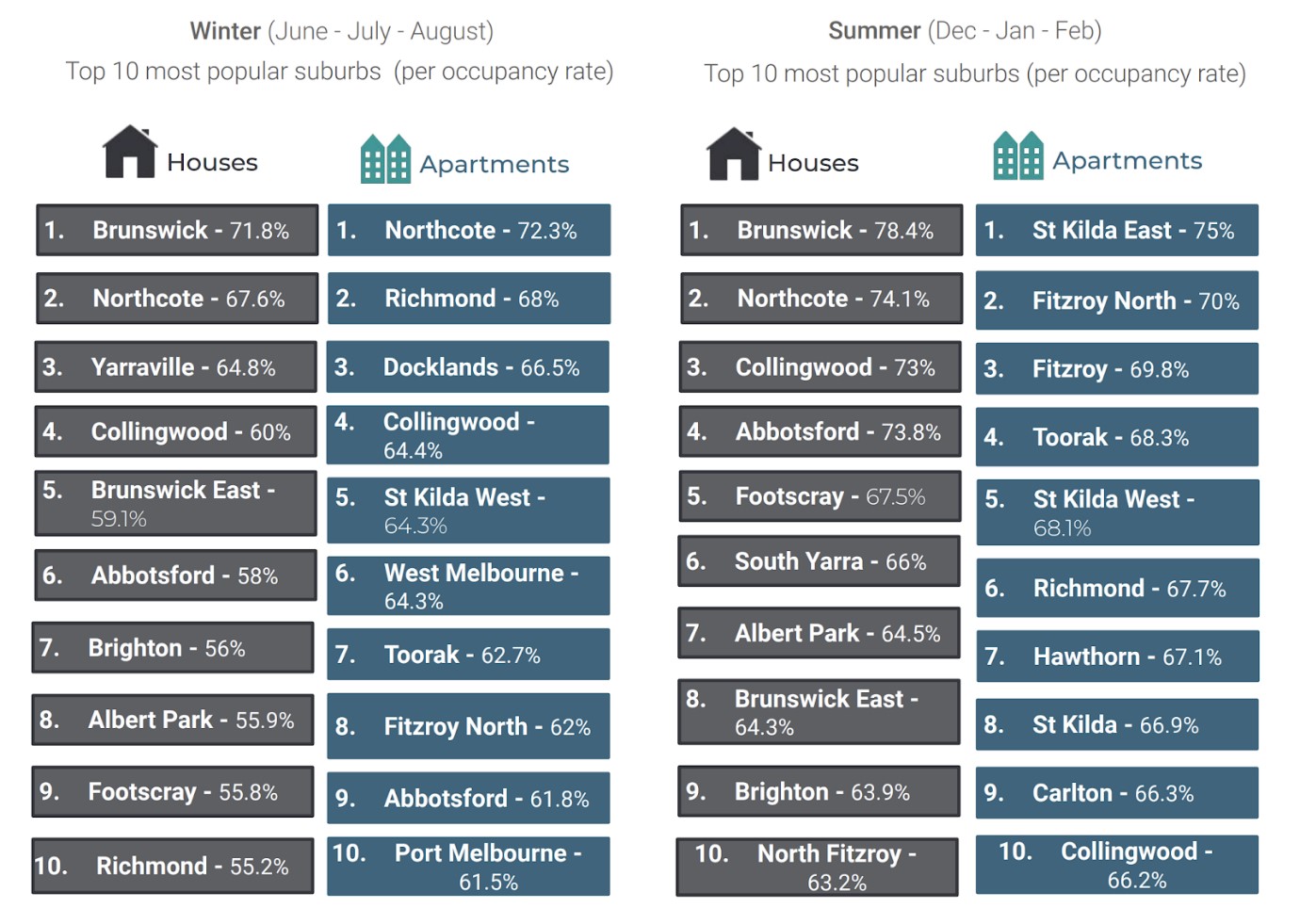 Source: short-term rental occupancy rates based on data from Airbnb listings
How Does Seasonality Affect short-term rentals in Melbourne?
Melbourne has a relatively consistent occupancy rate throughout the year, which only slightly increases during the summer (rising from 62.6% in winter to 68.3% in summer). For example, Brunswick, as the most popular suburb for houses all year long, experienced an occupancy rate of approximately 71.8% in winter and 78.4% in summer.
Unlike in Sydney, which sees a massive spike in occupancy rate due to its abundant beaches, the boost in occupancy in Melbourne is more likely to be attributed to the increase in popular sporting and cultural events during the summer.
However, high occupancy rate year-round is ensured for suburbs such as Richmond, Collingwood, Brunswick, Abbotsford, and Albert Park, which are located in close proximity to sporting and entertainment venues.
What other factors play a role in successful short-term rentals?
It is important to note that although location, price, and seasonality are integral factors that determine the success of your short-term rental, additional factors such as housekeeping, guest experience, furnishing, and style are equally crucial.
Attempting to maintain a steady stream of passive income from short-term rentals can at times feel overwhelming when juggling five different roles in addition to your full-time job. In such situations, short-term rental property management companies are often the most profitable and efficient solution, offering you extra manpower and expertise, and enabling you to provide a superior guest experience with less hassle.
If you're looking for an Airbnb management service in Melbourne, MadeComfy are a leading short-term rental manager (also servicing Sydney, Brisbane and the Gold Coast) where you can obtain an instant rental estimate from their website calculator: madecomfy.com.au or request a free assessment of your property's rental potential.
You can also read more about Melbourne's best property investment locations for Airbnb on MadeComfy's Blog.
Disclaimer: while due care is taken, the viewpoints expressed by contributors and/or paid content do not necessarily reflect the opinions of Your Investment Property.