Sydney holds immense Airbnb property investment opportunities and currently ranks in the World's top cities in number of Airbnb listings.
Several aspects make Sydney a true tourist capital of Australia.
For example, there are breathtaking surfing beaches on the Eastern coast, iconic attractions such as the Harbour Bridge or the Opera House, and special events like Vivid.
However, seasonality has a big impact on short term rental and Airbnb occupancy rates so it's important to choose the right locations for your investment property.
The coastal suburbs draw visitors to enjoy Sydney's wonderful beaches during summer.
Locations like Bondi, Manly, Coogee or Maroubra are the ones that seem to be the most preferred by beach-goers.
These locations are great for renting out on Airbnb and enjoy a high overall return on investment, however they are naturally more sensitive to seasonality, and experience a decrease in occupancy rates as colder weather sets in Sydney.
Property owners in these areas capitalise much more during the warmer seasons with smart pricing strategy.
During the summer months, the most popular houses tend to be concentrated in the Eastern suburbs as opposed to the Inner-city.
Interestingly, less movement in demand is observed among apartments under an influence of seasonality, and they perform well both in Eastern and Inner-city suburbs throughout the year, which could be explained by the trend that houses are preferred during warmer seasons for its outdoor features such as pools and gardens.
What's the impact of summer on occupancy rates in Sydney?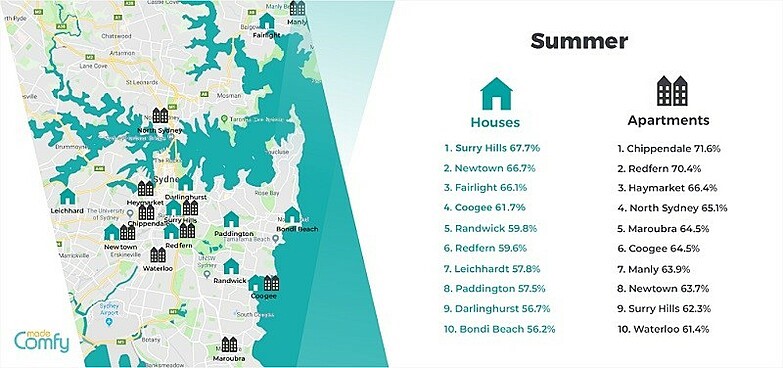 Source: Occupancy rate percentages based on market data.
What's the impact of winter on occupancy rates in Sydney?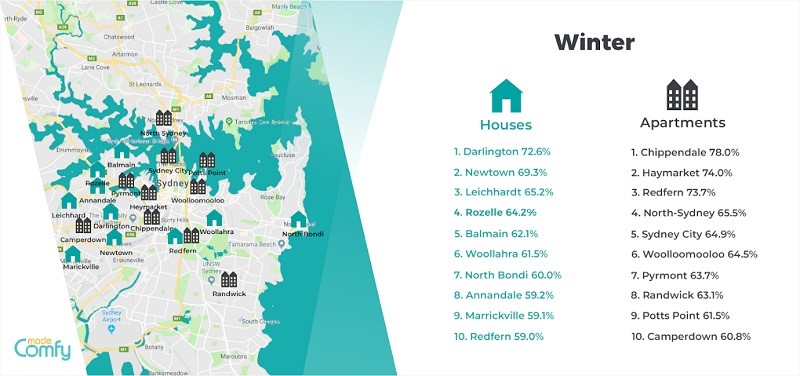 Source: Occupancy rate percentages based on market data.
How Does Seasonality Affect Short Term Rentals?
The suburbs with the highest occupancy rates are generally scattered around the city centre and coastal areas for both summer and winter.
Take advantage of these changes by optimising your property investment strategy based on the type of property, its location and its sensitivity to seasonal changes in demand.
If you prefer more stability, city areas located more central, like Redfern and Chippendale, perform more consistently year-round.
Listings in these locations can yield on average $450 per night during peak season.
These Central suburbs serve as strategic locations for business travellers or people who simply want to be close to the buzz of the city centre, no matter the season.
Read more on smart pricing strategy in MadeComfy's Short-term rental guide.
What other factors play a role in successful short-term rentals?
Other factors like professional photography, attractive interior design, fitting listing description, good pricing strategy and efficient management are fundamental for your continuous success.
It can get overwhelming to try to get all of those right by yourself.
MadeComfy provides all that and more, in an end-to-end property management service, achieving up to 40% greater returns than long-term rentals and self-managed Airbnb listings.
Their partnership with Airbnb also gives you access to unique data, priority support and special features to ensure your property outperforms others.
You can read more about Sydney's best property investment locations for Airbnb on MadeComfy's Blog.
Disclaimer: while due care is taken, the viewpoints expressed by contributors and/or paid content do not necessarily reflect the opinions of Your Investment Property.