From an investor's position, lack of affordability is a major issue when considering buying into capital city markets. Even the comparatively low-priced city of Hobart is beginning to present this problem, due to its rapid rate of growth in recent years.
As a result, investors who have a limited budget must look elsewhere to get their feet on the property ladder.
Investing in country markets could be just the ticket, and undoubtedly regional pockets have been rising in popularity since homes in Sydney and Melbourne began falling in value.
Not all regional markets are created equal, though; while some represent good investing opportunities, others can be money pits, with low growth prospects and high vacancy rates hampering your investment success.
How do you know where to look then?
It all starts with the data. According to CoreLogic's Home Value Index, the northwest and southeast parts of regional Tasmania showed striking growth of 7.6% in the 12 months to May 2019. In NSW, the Riverina region shone with 6.8% growth, while Victoria's Shepparton district enjoyed a 4.7% increase in property values.
The key to investing effectively in regional property is to do a lot of research. You need to carefully consider what infrastructure, amenities and opportunities exist in the area, as well as what's on the horizon. Talk to local real estate agents for insider intel, and keep track of the regions fringing the major capitals, as they may be on the way up because people are priced out of the big smoke.
"You could get a house in a regional suburb for the same amount you'd pay for a small apartment in the city"
It's worth doing your due diligence, because a quality regional investment has plenty going for it, including:
1. Affordability
Regional properties are, on the whole, priced lower than those in the metro, due to relatively lower supply and demand. The greater availability of land and property also gets you sizeable dwellings, which would be unimaginable in the city. For instance, you could buy a house in a regional suburb for the same price as you'd pay for a small apartment in the city.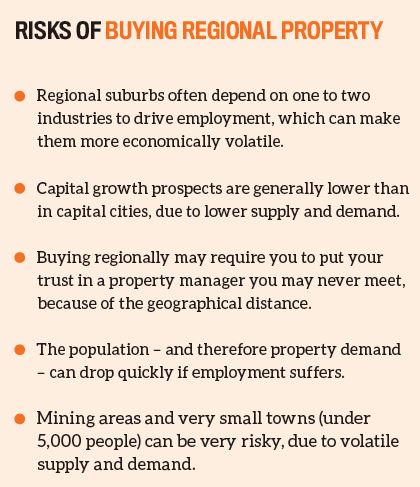 2. Positive cash flow
Strong cash flow is one of the best perks of buying regional. Areas outside of the metro generally provide stronger rental returns. According to CoreLogic's Quarterly Rental Review for March 2019, yields increased overall across regional areas from 4.9% in March 2018 to 5.1% a year later. By contrast, capital cities only recorded an average yield of 3.8% in March 2019.
3. Infrastructure development
Infrastructure projects have helped make regional areas more accessible and more practical to live in, even for those who work in the metro. Highways and motorways all over the country are receiving upgrades that better link regional suburbs to the city, while public transport is being improved to increase accessibility further.
4. Lifestyle
A massive selling point for regional areas is the fact that they are getaways from the hustle and bustle of the city. They are close to nature, with many open spaces, walking and cycling trails, parklands, bushland, reserves and beaches. For this reason, regional properties can prove to be a big draw for families who find they no longer have to choose between convenience and an idyllic lifestyle.
5. Economic development
While there can often be a misconception that regional areas are located in the middle of nowhere, with limited amenities, many suburbs have maximised and developed their local economies to create thriving, sustainable communities with most of the conveniences residents would hope for. Particularly with the food and wine scene in Australia getting a great deal of hype, industries like tourism and agriculture are on the rise in regional Australia.
There is a lot of opportunity in regional areas, provided you don't buy in a tiny town with little to no growth prospects. Instead, pay attention to where the ripple effect is going, and let it take your investment portfolio on a ride!