Port Macquarie is probably best known to holidaymakers and retirees, attracting people from all over NSW and beyond. But the location also has plenty to offer investors, as it's the most highly searched postcode on domain.com.au.
With its expanding population, recent upgrades to the airport and the highway, and close proximity to the beach, it's clear why Port Macquarie has become an attractive prospect.
For Paul Adams, it's an ideal spot for an investment property. His pet project is Poet's Ridge, a development just 25 minutes outside of the main town centre that's currently attracting 6+% returns in rental income.
"Poet's Ridge is a relatively new development in the area, with the last of the properties finished about 18 months ago," Adams says. "It offers tenants all the convenience of urban living, but with a quieter lifestyle. It's a great spot for families and retirees who are looking to get out of the hustle and bustle."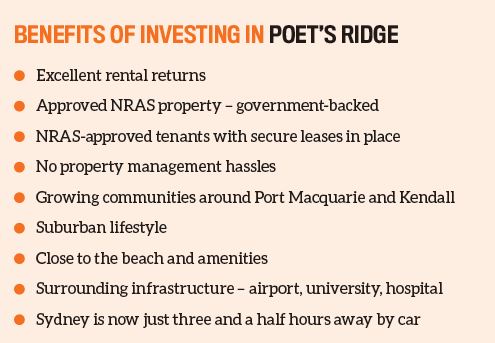 A great deal of the increased interest in the area has come about through the area's predicted expansion, Adams notes. Significant population growth is expected in both Port Macquarie and nearby Kendall in the coming years, which serves as a driver for investors and tenants alike. According to forecasts from the Port Macquarie-Hastings Council, the population in the area is set to grow by more than 24% by 2036. Kendall is expected to grow even more, by just over 36% by 2036.
"This growth also means that there's an increased need for affordable housing," Adams says. "That's where schemes like the NRAS come into play."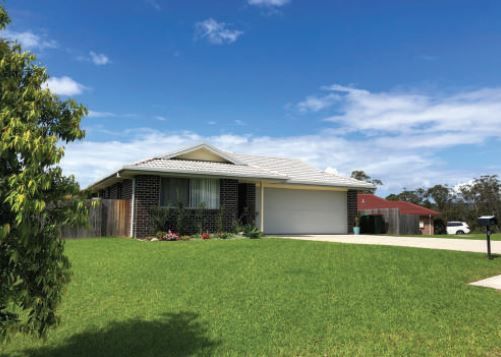 One of the main challenges investors face is making a property profitable in the short term. But investing in an NRAS property will drive positive cash flow from day one. Properties are registered with the NRAS in order to provide affordable accommodation for Australians on lower incomes. While rentals aren't specifically guaranteed as part of the sales arrangement, Adams explains, there is ongoing demand for such rental properties.
"You're able to enjoy the benefits of owning a winning investment property with great capital growth potential"

"Many investment properties actually end up costing the owner money – it might be because of negative gearing or overestimating potential rental income," Adams says. "But NRAS properties generate positive cash flow, making money for you as the owner."
Prospective buyers can claim up to $11,192 taxfree annually in relevant government subsidies for the remaining life of the arrangement (up to eight years). All properties have tenants in place, typically on a 12-month lease, which allows for immediate benefits for incoming owners. Day-today property management is handled by an approved operator – Community Housing – with fees paid via a percentage of the gross rental income.
"It allows the investor to be another step removed from the day-to-day management," Adams says. "You're able to just enjoy the benefits of owning a winning investment property with great capital growth potential."
WANT TO LEARN MORE?
Properties at Poet's Ridge are waiting for keen investors, with secure leases and low-risk tenants.
To find out how you could get 6+% returns in a growing regional location, call Paul Adams on +61 419 422 325 or visit: www.poetsridge.com