Article supplied by Defence Housing Australia August 2014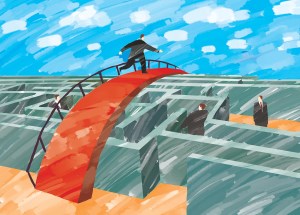 Navigating property investment can be a challenge for even the savvy investor. Whether you're looking for a long-term or a short-term investment, your goals involve securing a financial future for your family or reducing your taxable income, there are many options to consider.
When it comes to residential property investment, Defence Housing Australia (DHA) offers many options with its property investment program, BYO property program and mid-lease sales.
DHA is most commonly known for its property investment program whereby properties are sold to investors and leased back to DHA for a specified term (typically nine-12 years). This type of investment is ideal for people who want a long-term investment and who want to minimise the time spent managing their investment. With reliable rental income, no tenanting obligations, properties located throughout Australia, and a property managment service for the term of the lease, it has proven to be very successful.
Many investors may not have heard about the BYO property program whereby DHA leases properties direct from landlords for a lease term of up-to six years. This means property owners can lease their suitable property to DHA and enjoy most of the same benefits as the property investment program.
"The BYO property program is not new for DHA, but we've found many investors are not aware of it," said DHA Managing Director Peter Howman.
"We're often looking to lease properties directly from owners to help accommodate Defence families in certain locations. As with our property investment program, the properties must meet certain standards in terms of rent, size, amenity and property inclusions."
This type of investment is an ideal option for those that are looking for a medium to long-term investment and who have a reasonably new or refurbished home.
DHA investors, Toni and Scott, were in the process of building an investment property when their project manager suggested they take a closer look at DHA's BYO Property Program.
"It was great advice for us and the process was really easy, said Toni. "Once we got to a certain stage of completion, DHA came out and did a property inspection. We had a couple of things that we needed to include, but certainly nothing major. We signed the lease, they got some tenants in and it was done—it was really simple.
"I think DHA is well suited to lots of different people, different stages of life, different plans. It's a nice simple process and a simple investment, it's not complicated."
While most DHA investors retain their property for the entire lease, occasionally they may need to sell their DHA investment property before the leases expires. When this happens, the property is sold with the lease in place, the buyer agrees to the conditions outlined in the existing lease agreement, and the lease is transferred into their name.
"All of our investors are vitally important to the DHA lifecycle," Mr Howman said. "The sale of DHA properties mid-lease provides an opportunity for other investors to become a part of this lifecycle."
"We have many prospective investors keen to buy DHA properties through our property investment program, but unfortunately demand is often out-weighed by supply," Mr Howman said. But with our BYO property program and properties for sale mid-lease, investors have other options."
DHA is one of the country's most successful Government Business Enterprises, providing housing and related services to Defence members and their families throughout Australia. With approximately 18,500 properties under management, they are also one of the largest property managers in Australia.
If you're interested in learning more about the range of DHA investment opportunities visit dha.gov.au/investing
Disclaimer: while due care is taken, the viewpoints expressed by contributors do not necessarily reflect the opinions of Your Investment Property.