Buying sight unseen is considered a risky strategy, yet many successful investors are making a lot of profit using this approach. So, how can you minimise your risk when using this strategy? Sarah Megginson explains.
With so many online resources quite literally at your fingertips, it's never been easier to find your next real estate investment than it is today.
It's not only possible to search and review properties from your computer, iPad or smartphone, but you can also do extensive due diligence online, on everything from council zoning regulations to recent capital growth and current vacancy rates.
Catherine Smith, business and client manager at Wholistic Financial Solutions, leverages many of these resources when seeking out potential deals for herself and her clients.
She says investors should take advantage of the data, research and resources available to create an overall understanding on the market they wish to invest in. For instance, she suggests searching Google maps as a matter of course when reviewing a potential property prospect, whether they're planning to buy sight unseen or not.
"You can't always rely on Google maps, because it's not always up to date, but you can pick up broad information this way that can be really important," she explains.
"The vendor might not tell you that there's a cemetery two doors up from the property you're looking at, for example, but that will show up quickly on Google maps."
To successfully purchase a property sight unseen requires a lot more due diligence than a few Google searches, however.
Smith recalls the plight of an investor who, prior to becoming her client, bought a property in Mackay when the market was booming. They purchased the home sight unseen through an investment group – with unfortunate results.
"They were led down the garden path by a spruiker, who sold them a property in an area in Mackay that was a real slum area. It was 90% investors and very few owner occupiers," Smith explains.

Unsurprisingly, the investment failed to thrive, with an oversupply of rental properties driving stagnant yields and sluggish capital growth. To avoid a similar fate when purchasing a property sight unseen, the following four golden rules may help guide you towards a better deal:
1. The rules of buying sight unseen
Only buy brand new dwellings Smith believes buying sight unseencan pay dividends for investors – with one caveat. "It's absolutely fine to buy a property without inspecting it first, provided it's a new house and land package that you're buying," she says.
In her view, buying a new property is like buying a new car: when you order a vehicle from the dealer, you know exactly what you're getting and it's covered by a warranty.
Buying a new home is no different, she argues, as "you know the specs of the property you're buying, and you're covered by the builder's warranty insurance" should anything go wrong.
"With a second-hand or established property, you simply don't know what you're getting," Smith warns.
"Photos can be engineered to look fantastic and realistically, photographers don't take photos of things the vendor or agent doesn't want to see."
In the pages of Your Investment Property, we have recounted many tales where investors have purchased a property thinking it had a view, only to discover that the view is, in fact, tucked around a corner and only visible from the laundry door.
In other instances, it wasn't what the photos showed that proved to be deceptive, but what they left out – as investor Karen Phillip discovered (see case study p42) when she discovered too late that her investment property was situated directly adjacent to a huge electrical tower.
When sourcing a quality investment property, it's just as important to get a feel for the neighbourhood, including the streetscapes, facilities and sense of community pride, as it is to review the features and benefits of the property you're considering buying, Smith adds.
But even when buying a new property, Smith advises investors to take extra precautions by having a 'handover report' prepared at settlement.
"This is where a handover expert checks over the contract and reviews it to make sure what you're getting actually matches the specifiations of what you've bought," she says. "They charge around $500 and it's definitely money well spent."
2. Always engage someone to view the property on your behalf
If you're looking at investment opportunities interstate, you may not have the opportunity to inspect the property yourself.
But you should always have someone inspect the property on your behalf – even if that someone is a relative, friend or co-worker, advises Luke Woollard, principal of Pilot Estate Agents in Victoria.
"There are traps for the unwary when using this strategy, which could have serious fiancial ramifications for an investor if they inadvertently buy a 'lemon'," Woollard explains.
"Ideally, you do need to have someone you can rely on to check the property out for you physically."
Property advisor Andrew Crossley, founder of the Australian Property Advisory Group, says this is particularly important if you're buying an established property.
"It may be important to see the property in this instance, in order to see if there are any obvious repairs or maintenance issues," he says.
"You can engage the services of someone to inspect it for you, but of course, this [should be someone] independent of the property – so, not the selling agent, and never the property marketing company."
Some investors leverage the expertise of a buyer's agent, but Crossley says you don't need to spend thousands of dollars to get an expert's opinion.
"To improve the likelihood that a solid property is being purchased it is an absolute must to engage a property inspector for new or established property," he suggests.
"You can also engage a property or building inspector and talk to a rental manager for their opinion on layout, positioning and ease of renting the specific property out, based on its size, aspect, inclusions and distance to schools and transport."
As with our other experts, Smith agrees that you "must use a trusted and reputable person to help you qualify a property's credentials" when buying sight unseen.
"I was helping a client to buy a property that looked absolutely fantastic, but when I flew to Toowoomba to inspect it, it had hairline cracks throughout the floor. It was structurally compromised, but you couldn't see that in the photos," she says.
"The building and pest inspection would have picked that up eventually, but by then so much time and energy has been wasted in the deal."
3. Weigh up all the risks before proceeding
While there are several considerations to weigh up before executing this strategy, one of the most important – and most often overlooked – is your risk profie.
"It depends a lot on the risk tolerance of the purchaser," Crossley explains. "The biggest risk for investors is that they may not understand the area they are buying in, including the demographic and local supply and demand."
There is software available to help investors gain an understanding and appreciation for an area, "right down to street level and the proximity of the property to positive and negative infrastructure", Crossley adds.
"Facts and figures, together with adequate and suitable research and due diligence, can tick enough boxes and this reduces risk more than emotion and opinion ever will."
Investors also need to consider that buying sight unseen doesn't automatically mean you're going in blind, points out certified financial adviser Peter Horsfild, founder of SMART Advice in Sydney.
"Buying sight unseen doesn't mean you are necessarily going to be unfamiliar with the suburb, community, council developments, building and strata inspections, holding costs and possible income and deduction calculations," Horsfield says.
"If you know all the answers to the above and you have a price point to work within, with the power of the internet you can make an educated decision."
CASE STUDY Karen Phillip: "I own 8 properties, sight unseen"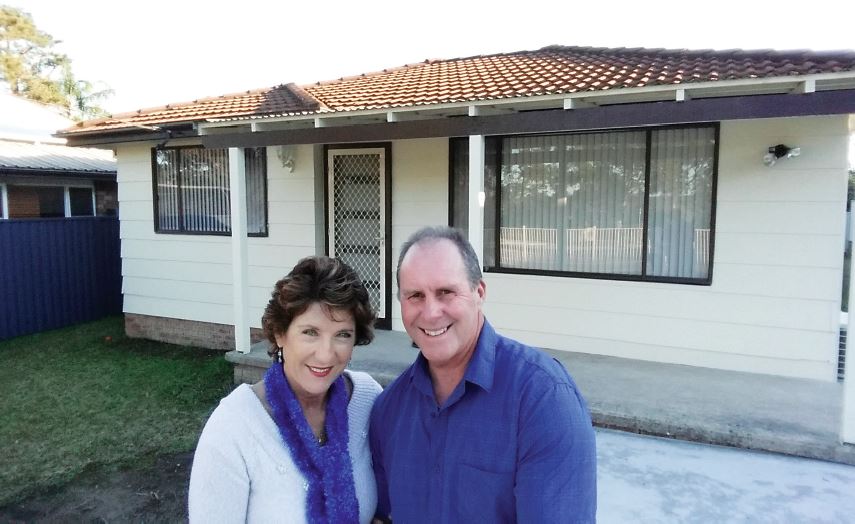 Over the space of 12 years, Karen Phillip and her husband Wayne have built a solid property portfolio worth millions of dollars – and it's all thanks to an investment strategy based around buying property sight unseen.
Karen, who works as a counsellor and clinical hypnotherapist, began her investment journey by focusing on affordable units and apartments, purchased in regional towns throughout Australia.
"The first investment property I bought, I saw it prior to purchase – it was in Wyong in the Central Coast, about 10km from where I lived. We bought it because it was near a shopping centre and railway station," she explains.
"About six months later we bought an investment unit at Port Macquarie, sight unseen. I'd heard that it was an up-and-coming place, with money being invested by the council, and prices were still reasonable."
The property had ocean views and "the photos looked fantastic", so Karen made an offer of $90,000, which was accepted.
"When we eventually saw it about two years later, we argued with the strata because the common areas were very unkempt," Karen explains.
Other than that, there were no nasty surprises. A few years later they sold it for $165,000, using their profits to upgrade to a bigger, more valuable investment property. That was the first of many transactions to result in such a positive financial outcome.
"We've bought and sold a lot over the last 10 years; we had 12 or 13 units at one stage and we sold them all to upgrade into houses," Karen says.
Her strategy for buying sight unseen was simple: she says she liaised with real estate agents, property managers and local councils to gather all the information she needed to make educated, unemotional decisions.
There have been, she admits, a few unwelcome surprises along the way.
There was a property in Cairns purchased sight unseen that, when they visited it a few years later, revealed itself to be in a less than ideal location.
"On the block of land next door was a massive electricity tower that no one had happened to mention when we were buying," Karen says.
"But we always rented it out with no trouble. It was a cheap little unit; we paid $70,000 and sold it four years later for about $140,000, so we did quite well out of it."
The pair have purchased, held and sold several properties over the years, without ever seeing them for themselves. Out of 12 units purchased sight unseen, Karen estimates they viewed six some time after buying, but they never stepped foot in the other six before selling.
"I've never had anxiety over not seeing them because there was no emotional attachment," she says.
"Instead, we focused on doing a lot of research: we searched on realestate.com.au, did Google maps searches, contacted real estate agents directly and spoke about the area, contacted local councils to validate what the real estate agents had advised, and looked at vacancy rates and demographics of the area."
From here, Karen and Wayne have set their sights on Newcastle, which they believe is poised for growth.
"The council is spending quite a lot of money on doing up the Newcastle CBD and the light rail is being upgraded," Karen says.
"The interesting thing is, I came out of a marriage with virtually nothing, and in 12 years we've managed to go from borrowing 105% on every property to now owning eight houses outright. We're average wage earners – Wayne was a teacher and I'm a therapist – but property has allowed us to achieve that, while share markets have dismally failed us!"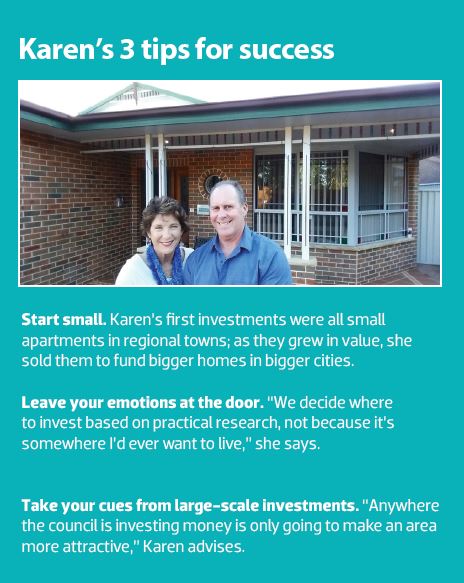 CASE STUDY Nick Schuster: "If I want to keep my marriage, I'll never buy sight unseen again!"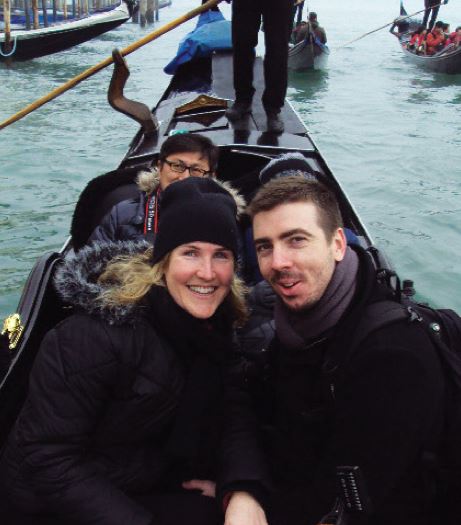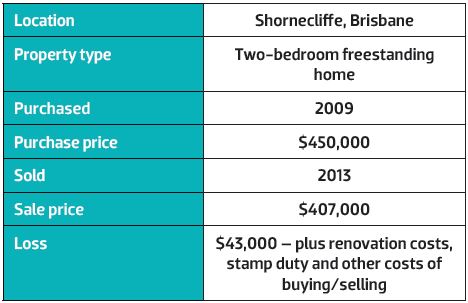 Nick and Gerowyn Schuster spent a good six months searching for a two-bedroom house in the Brisbane suburb of Shorncliff. But when Nick finally found the property he was looking for, it turned out to be anything but the home of his dreams.

Nick and Gerowyn spent six whole months searching for a two-bedroom house in the Brisbane suburb of Shorncliffe, so they felt ready to take action when the right opportunity presented itself. When a property became available for the extraordinarily low price of $450,000, Nick jumped at the opportunity to secure a bargain.

"It was the cheapest house in the suburb so I acted fast – I bought it the same day it was listed," Nick explains.

"It was actually the second-cheapest sale in the suburb that year; the other house was cheaper, but unlivable, which did give me some trepidation about the house I had bought."

Still, Nick was excited when he fronted up to the property on the day he signed the contract. Gerowyn, however, didn't share his enthusiasm.

"My wife arrived at the place fist, and she immediately burst into tears when the agent took her through the door. She was devastated with the state of the property and the amount of work that needed to be done. Every wall was a different colour!" Nick says.

Gerowyn adds, "I remember that it was just so horrible, with peeling lino flors, pastel peeling paint on the internal walls, and weeds overtaking the garden – with a sold sign out the front. It was filed with the tenant's junk and it was so dark with no lights on."

They renovated to neutralise the property, ripping up the lino and then replacing the hardwood flors, which were rotten. A uniform cream-coloured paint job helped to freshen the walls.

But unfortunately, purchasing sight unseen didn't pay off financially for the couple. Having paid $450,000 for the property in 2009, they sold it four years later in 2013 for $407,000.

"I wouldn't buy sight unseen again – not if I want to keep my marriage, which I do!" Nick says.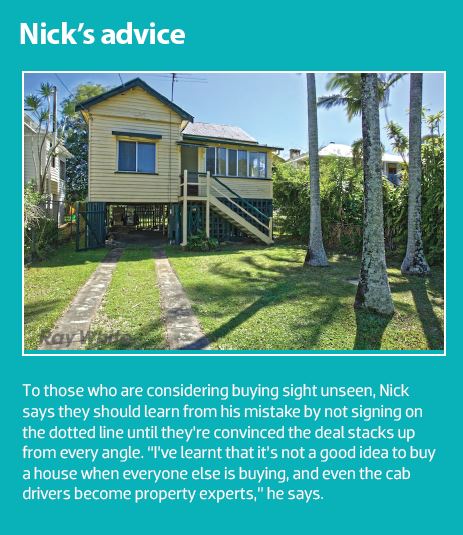 CASE STUDY Alex Haddad: "I'm battling the council over my 'sight unseen' property nightmare"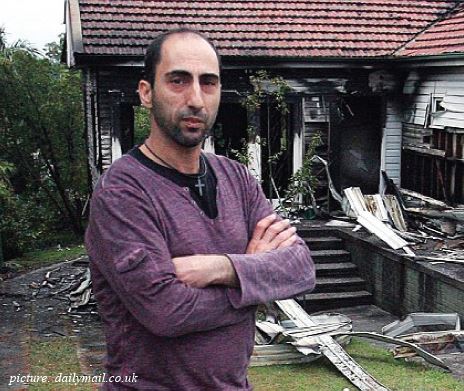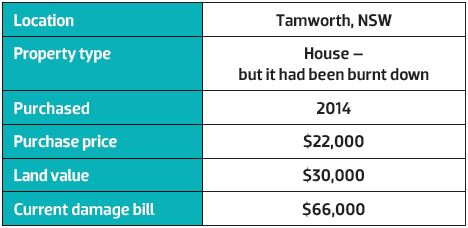 Alex Haddad has a diverse and varied property portfolio, comprised of residential and commercial properties, storage units and rural property. But it's a recent residential investment in Tamworth that is proving to be much more hassle than he anticipate, with the Council currently demanding he pay a fine equal to three times the property's purchase price.
Impressively, each of the properties Alex owns were purchased for under $25,000 each. But, he has learnt the hard way that cheap doesn't always mean cheerful.
Alex acquired three properties in Tamworth in 2014, for which he paid $22,000 each, after reviewing comparable sales data and having conversations with local councils to isolate low-risk investment opportunities.
"They were cheap and it seemed like there was not much money to lose, and much more to gain," Alex explains.
"Most of them have been great. However, the Tamworth one has turned into a disaster, complete with court battles with council."
His problems began shortly after settlement. Alex bought the property with a friend, and despite the fact that it had a burned down house on it, they felt the land alone was worth more than the price they paid.
"Our plan was to sit on it and sell it. But when we purchased the property, no one disclosed to us that there was an order to demolish, as it wasn't on the 149(5) certifi cate. Legally, they are not obliged to do so, and they knew it could potentially stop me from buying the property if I knew there was an existing order."
Alex requested several demolition quotes through suppliers he found on the internet. They then selected the most affordable quote and the home was neatly demolished – or so Alex thought.
"He demolished the place, but he left a nice mess in the property behind ours. He sent us deceptive photos to show he'd cleaned our block and done the job, but I now know the photos where taken on an angle, to avoid showing the mess he'd left on neighbouring properties," Alex explains.
"The council sent us a notice to clean it up, so again we got quotes, and again, went with the cheapest quote."
The cleaning contractor they engaged completed the job and sent photos of his handiwork, but they also turned out to be deceptive. Alex asked an agent to view the land on his behalf, which revealed there was still a pile of timber remaining.
"I kept calling the guy and he was full of excuses. He said he couldn't get his truck in, then he blamed his workers, and he kept promising he would get it done," Alex says.
Evidently, he didn't keep his word. Unbeknownst to Alex, instead of cleaning the site, the contractor simply transferred the timber and waste to another block of land, around about 100 metres from Alex's property.
Alex was shocked when he heard from his solicitor several months later, with news that the council was issuing a fine and suing Alex and his joint venture partner for clean up costs.
"We are in the courts, as the total damage is about $66,000 – the land isn't even worth that much! Council is saying we are responsible, and as this is going through the courts I can't really comment, but… we will be counter-suing," Alex says.
Despite all the stress involved in managing this property to date, Alex is optimistic about the future. "This disaster of a property will hopefully end up being extremely positive!" he says.