Expert Advice with Jeremy Sheppard
Our new research has uncovered 15 affordable suburbs where buyers are tipped to make at least $50,000 in three years after offloading underperforming properties elsewhere.
The analysis by our sellorhold.com.au system identified the top and bottom affordable suburbs for housing forecast growth and took into consideration selling and buying costs. The research showed that holding on to properties with poor price potential could cost owners dearly in just three years.
The research analysed suburbs with median house prices between $400,000 and $600,000 located in significant urban areas. Low growth forecasts were common in a number of suburbs in Darwin and Perth, which means that investors would likely be better off looking further afield. The research showed that vainly holding on to properties in some of these locations could see your property wealth erode every year. Savvy investors recognise that, even after transactional costs, they could potentially be better off by tens of thousands of dollars in a handful of years by simply literally cutting their losses.
The analysis of locations with the best prospects of a price upswing over the next three years identified suburbs within strengthening major property markets. The top five localities were located in Canberra, the Gold Coast, Brisbane and Hobart where investors could be better off by more than $120,000 in three years.
The Canberra-Queanbeyan region has taken out the first and second places for forecast price growth, partly due to affordable house prices close to our nation's capital. Both Charnwood and Karabar are near Canberra, which means housing is in strong demand from public servants.
Investors opting to sell out of underperforming markets to buy into the region could be ahead by $120,000 or more in three years – even after transactional costs such as sales commissions and stamp duty.
Number three and four on the list were both locations in southeast Queensland, where housing affordability, location, and access to major employment nodes were some of their main attributes.
Bilambil Heights is in the Tweed Heads region of the Gold Coast. Not only does the suburb boast water views, Surfers Paradise is also only about 30 minutes' drive away.
Underwood in the Logan region of Brisbane came in at number four, while Geilston Bay in Hobart had the potential to put nearly $90,000 extra into an investor's back pocket.
Hobart has three of the top 15 results, which shows that there is growth still remaining in the Apple Isle capital. If its name didn't give it away, the appeal of Geilston Bay is partly due to its desirable location on the Derwent River while also only being seven kilometres from Hobart.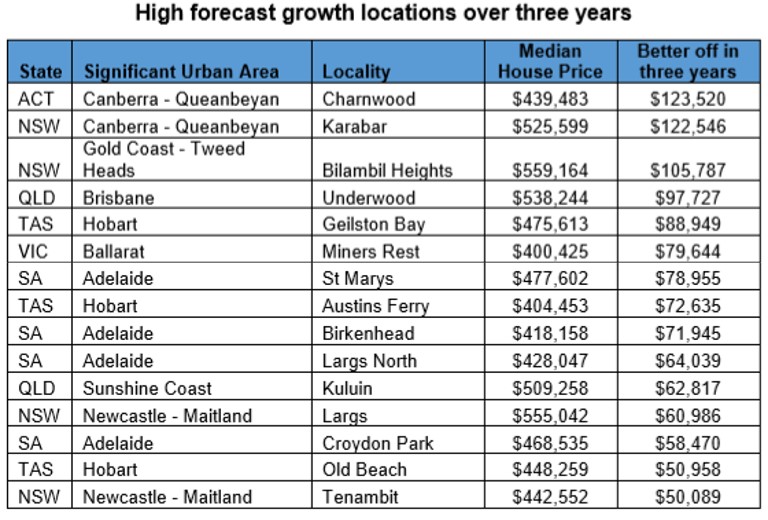 Find out you should ditch a dud to buy a pearl. Create a free SellorHold.com.au account.
....................................................................................
Jeremy Sheppard is head of research at DSRdata.com.au,
LocationScore and sellorhold.com.au
Click Here to read more Expert Advice articles by Jeremy Sheppard
Disclaimer: while due care is taken, the viewpoints expressed by contributors do not necessarily reflect the opinions of Your Investment Property.