Have you ever heard this line?
This area will always be in high demand
It's quite mis-leading. It makes you think that certain areas will always outperform. The problem is the use of the word "demand". As investors, we're after capital growth. So, the kind of demand we're interested in is the kind that pushes prices up.
A teenage boy may want a Ferrari. But that kind of demand won't affect the price of Ferraris because teenage boys don't have the financial capacity to purchase them.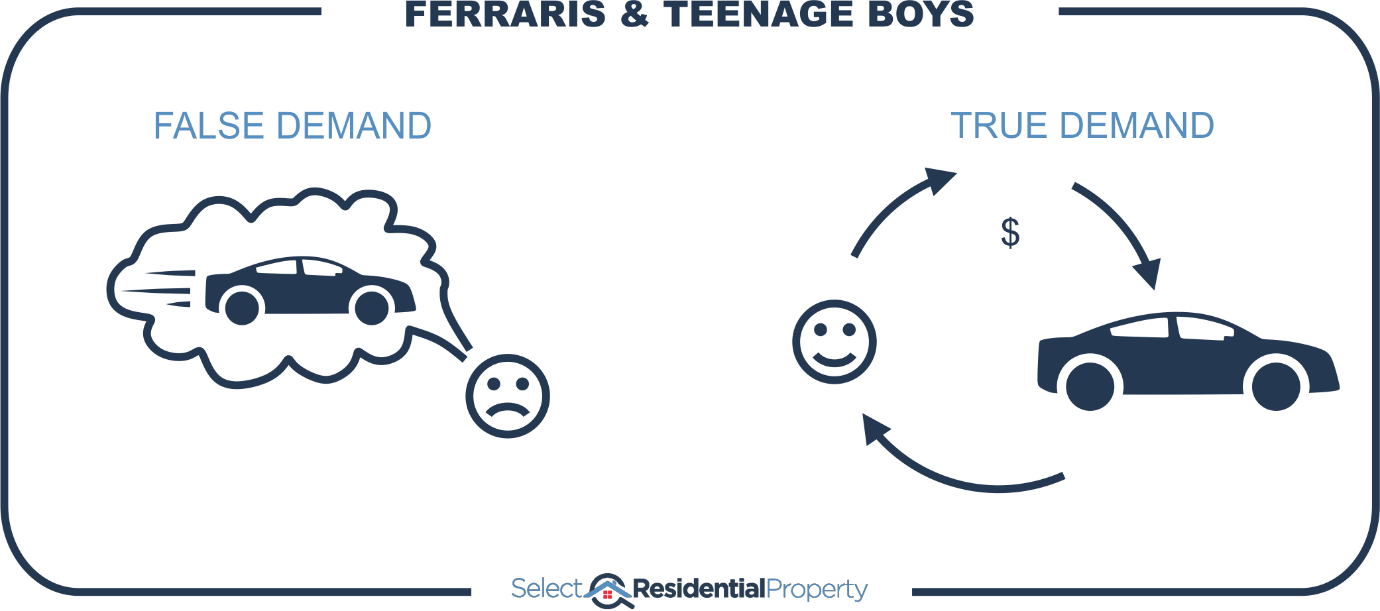 "Both millionaires and teenage boys may want Ferraris. But only the demand from one will influence prices"
That's the demand we want to monitor in the property market. Not the wishful thinking kind of "desire", but the hand-up-at-auction kind of demand.
Always being an appealing location to live, simply isn't good enough. It needs to be affordable to appeal to enough buyers to scramble over each other creating the kind of demand that pushes prices up.
Exclusive areas
It's no good looking around for lovely places to invest if nobody can afford to buy there. The most affluent property markets in the country may not have many genuine buyers.
Sometimes they will and other times they will not. Just because all year round they continue to be appealing places to live, doesn't mean the demand to buy there is high all year round.
In fact, the concept of the ripple effect suggests that at the start of a new growth cycle for a city, the affluent areas start to take off first and then that growth subdues and ripples outwards to neighbouring suburbs.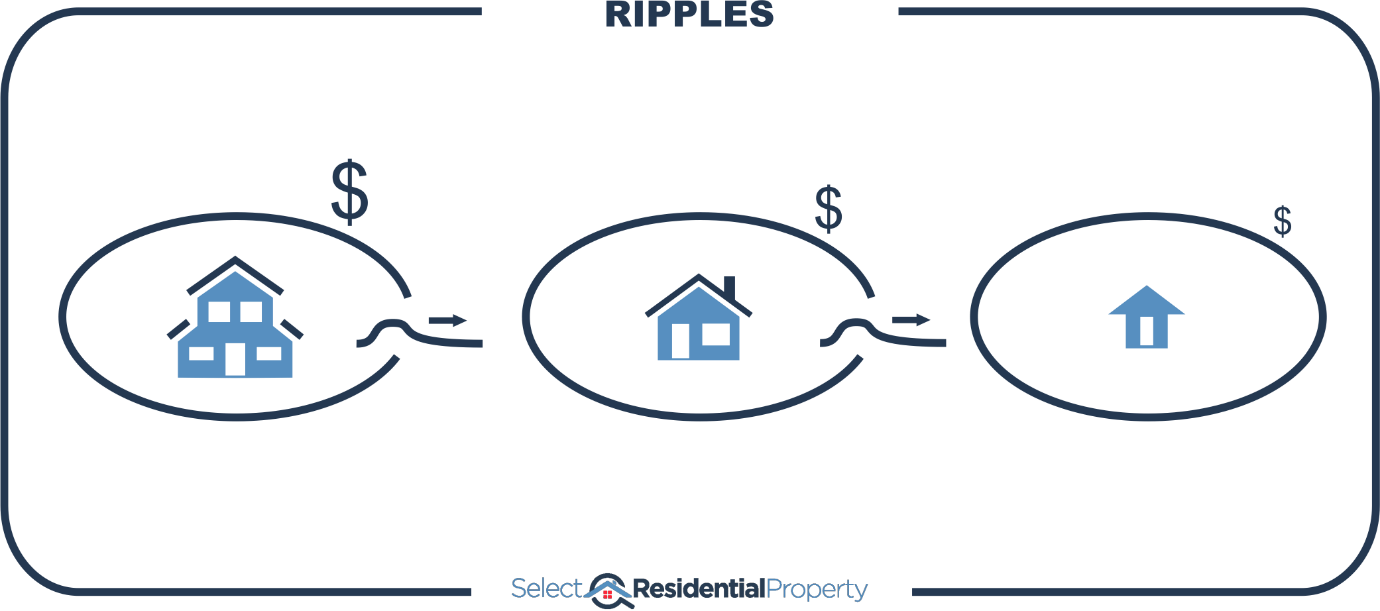 After a few years of rapid growth, buyers eventually consider the properties in those affluent areas to be too expensive. They start looking for the next best alternative. That reduces demand for the affluent area and increases demand for its neighbour.
"Affluent areas will not always outperform the less affluent suburbs in the same city"
There will be periods of accelerated growth and periods of reduced growth.
Market Corrections
I've conducted research in the past to examine the fortunes of affluent areas versus lower socio-economic areas during periods of national price falls. Interestingly, the more expensive suburbs closer to the CBD fell more sharply than the cheaper areas further from it. Core Logic agrees and their chart following shows it clearly.

The grey line is the top 10% most expensive suburbs of the state capitals. The blue line is the bottom most expensive. Upper-class markets will not always be in high demand. Quite the reverse: demand for them drops more noticeably in tough times.
Mansion & Millionaires
If there are too many mansions and not enough millionaires, then ritzy area prices can fall. If there are a thousand mansions and only 100 millionaires, the price of mansions will drop.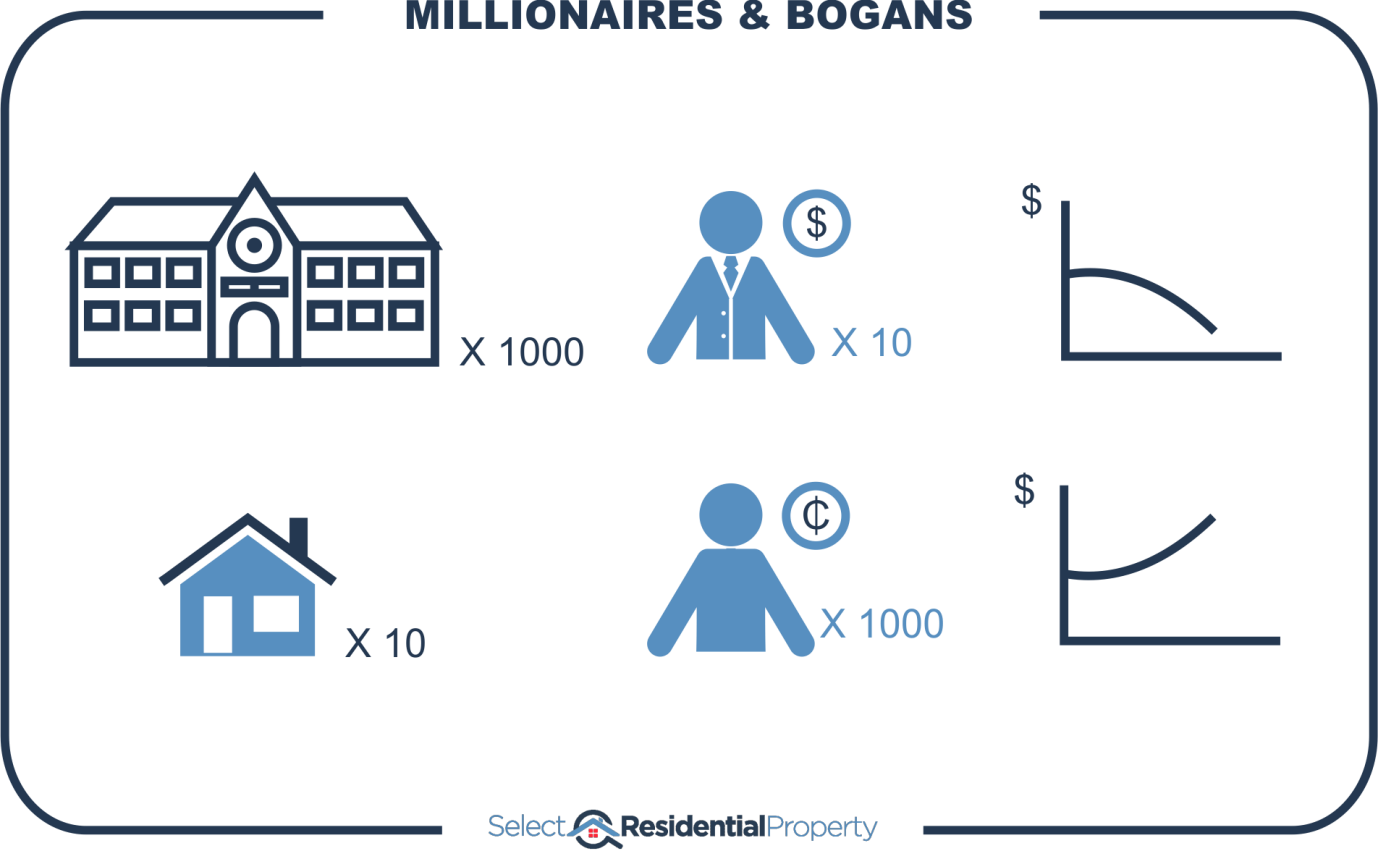 Conversely,
"If there are a thousand bogans and only 100 dog boxes, the price of dog boxes will rise"
It's got nothing to do with whether it's a nice property or a nice area. It's all about supply & demand.
Conclusion
If you're after capital growth, you must pay heed to supply and demand. These are the only two factors affecting price growth.
Remember that you don't live in your investment property, your tenant does. It doesn't matter whether it's a nice area to you or not. It matters if demand outweighs supply.
....................................................................................
Jeremy Sheppard is head of research at DSRdata.com.au.
DSR data can be found on the YIP Top suburbs page.
Click Here to read more Expert Advice articles by Jeremy Sheppard
Disclaimer: while due care is taken, the viewpoints expressed by contributors do not necessarily reflect the opinions of Your Investment Property.