Expert Advice with Michael Yardney. 16/08/2017
Welcome to episode two of the Michael Yardney podcast.
Today, I'm going to discuss three things. One of them is a very common thing I get asked.
1. Is it too late to get involved in property investment at this stage of the cycle?
2. Difficulty getting finance from the banks
3. A lesson that changed my way of thinking about all sorts of things not just property investment.
Listen to the podcast now:-
Today's discussion includes:
• What other factors to consider with investing besides timing
• Countercyclical investing
• It's not the external world that determines if you make money, it is something inside
• If you are waiting for the perfect time to invest, the timing will never be perfect for you.
• Buying properties when everyone tells you not to
• You are not buying the market, you are buying an individual property within that market.
• Maximize your profits in the upturns while being prepared for the next downturn
• Why it takes the average investor 30 years to become financially independent
• Sometimes the right thing to do is nothing.
• Buying one property each year is unrealistic.
Mindset Message: Don't Wish It Were Easier Wish You Were Better
• When life happens we can choose to be the victim or the victor. We have to be able to face a changing landscape daily.
• Our mindset and our passion for improvement every day through consistent action will set us apart from the average person.
Links and resources:
• Jim Rohn
..........................................................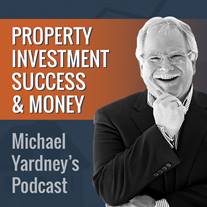 Michael Yardney is a director of Metropole Property Strategists, which creates wealth for its clients through independent, unbiased property advice and advocacy. He is a best-selling author, one of Australia's leading experts in wealth creation through property. In addition to the Property Investment Success & Money Podcast, he also writes the Property Update blog.

To hear more podcasts and read more articles by Michael Yardney, click here

Disclaimer: while due care is taken, the viewpoints expressed by contributors do not necessarily reflect the opinions of Your Investment Property.