Expert Advice with Michael Yardney
We're fed a steady stream of 'bad news' via our 24/7 news cycle, as well as the ubiquitous economic data that is often portrayed gloomily.
In fact, the continual review of monthly data sets can often have us seesawing from "the economy is heading into a recession" one month to "the economy is rebounding" the next.
Then there are the stories about faltering property prices, crumbling new apartment blocks, the high cost of living, the ever-increasing pressure we're putting on the environment, and the fact that property is unaffordable for many. These are enough to get anyone down.
It's just too easy to buy into the doom and gloom hype that seems so prevalent in the mainstream media these days. So it's no wonder many of us are pining for the 'good old days'.
But what if I told you that you've won the lottery and right now we are living in the best country in the world and at the best time in human history – if only we could stop complaining long enough to realise it?
Thanks to the invention of the internet, we have access to a whole world of possibilities that our parents and grandparents would never have dreamed possible.
You've won the lottery and right now we are living in the best country in the world and at the best time in human history
We can video chat with friends and family on the other side of the world, work from home and even gain qualifi cations from prestigious overseas universities, all without leaving the couch.
Not to mention the seemingly limitless news and entertainment that we have right at our fingertips.
International travel has never been cheaper, and platforms such as Airbnb enable us not only to jetset on a budget but also to make some cash on the side when our home is empty.
While once upon a time dining out was a rare treat, reserved for birthdays and anniversaries, most of us can afford to eat at restaurants and buy takeaway meals on a regular basis, even if we don't have a huge income.
And if we can't be bothered going out, we can have the finest cuisine brought to our home using Uber Eats.
So what is wrong with this picture?
Unfortunately, human nature is such that, with all these advances and improvements, we can't help but want more, more, more.
The house, the cars, the holidays and the daily double-shot macchiato – and dare I mention the controversial smashed avo on sourdough toast.
We want everything, and we want it yesterday, and this mentality leaves us wide open to the relentless pursuit known as 'keeping up with the Joneses'.
But none of it is real
Real happiness, and real financial security, can't be found at the bottom of an award-winning bottle of wine in a fancy restaurant.
It's gained through hard work, discipline and maintaining your priorities – spend a little here, save a little there, then invest in income-producing real estate until you reach a point where you're no longer dependent on your weekly wage to make ends meet.
Until that time you're never truly free, because you're always at the mercy of your creditors, your employer, or the economy.
Having said that, a look at some of the most successful people on the planet quickly reveals that mindset is everything.
.........................................................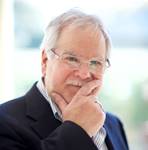 Michael Yardney is CEO of Metropole Property Strategists, which creates wealth for its clients through independent, unbiased property advice and advocacy. He is a best-selling author, one of Australia's leading experts in wealth creation through property and writes the Property Update blog.
To read more articles by Michael Yardney, click here
Disclaimer: while due care is taken, the viewpoints expressed by contributors do not necessarily reflect the opinions of Your Investment Property.