The list goes on and on.
It seems like there is no good news anywhere.
There's little doubt that it is serious.
And I don't want to make light of the coronavirus, but I believe that when we look back in a couple of years its impact on our property markets will ultimately be temporary.
In the words of the infamous allegory, this too shall pass.
For me, it is always the property fundamentals that really matter.
Things that will really matter when it comes to our housing markets when we look back in a couple of years' time will include demographics, the availability and cost of finance, taxation, regulations, affordability, consumer confidence, and importantly, supply and demand.
In the long term, none of these fundamentals are likely to be substantially altered by the current virus wave and the ensuing fear.
However, in the short-term, the lockdowns around Australia and the effects they are having on business and consumer confidence including such things as difficulty inspecting and selling properties are going to have an impact on our property markets.
And these are some of the things I'll be discussing in this week's Property Insiders chat with Australia's leading housing Economist, Dr. Andrew Wilson chief economist of My Housing Market.
The truth behind the latest wages figures
Last week the Australian Bureau of Statistics published the latest wages figures which showed the average weekly earnings for adults working full-time rose to an all-time high of $1,844 or $96,000 per annum, rising 1.7% over the year.
And the unemployment rate in July 2021 fell to 4.6 per cent and 13.2 million Aussies were employed.
That means a million more people held a job than in May 2020.
It would be great to finish this discussion here, but you have to dive a bit deeper into the earnings and job data to understand what's really going on, including the fact that these figures are somewhat backward-looking, reflecting wages in May, before the widespread and more protracted recent lockdowns.
The current virus outbreak is likely to push back the expected recovery in wages growth by a couple of quarters.
Annualised, a weekly income of $1844 would earn you just under $96,000.
That sounds nice and high, but we must remember that a third of our workforce is only employed part-time at present.
Some are choosing to do so, as the new mums and students, but many Aussies would prefer to work longer hours.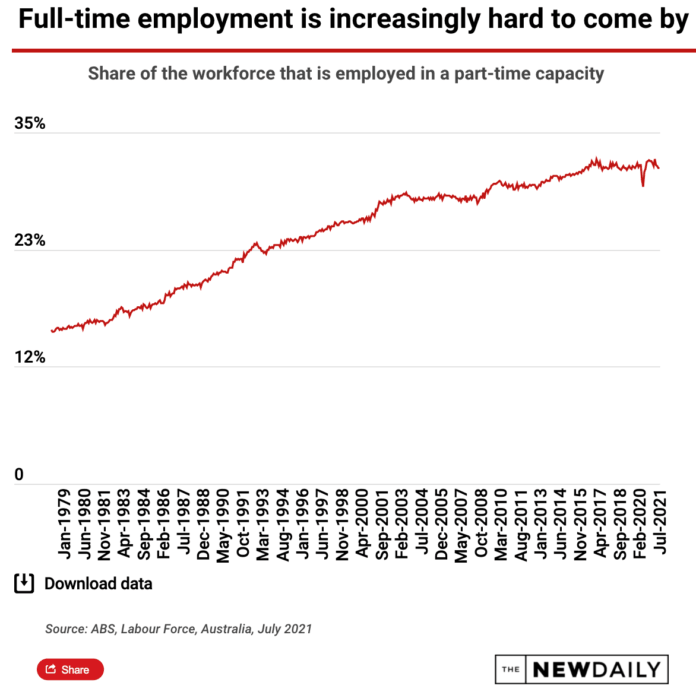 Source: Simon Kuestenmacher – The New Daily
Many part-time workers have seen their hours shortened because of Covid, and at the same time, Covid related lockdowns have also hammered the participation rate.
This of course means there is no prospect of an interest rising-rate rise in the near future.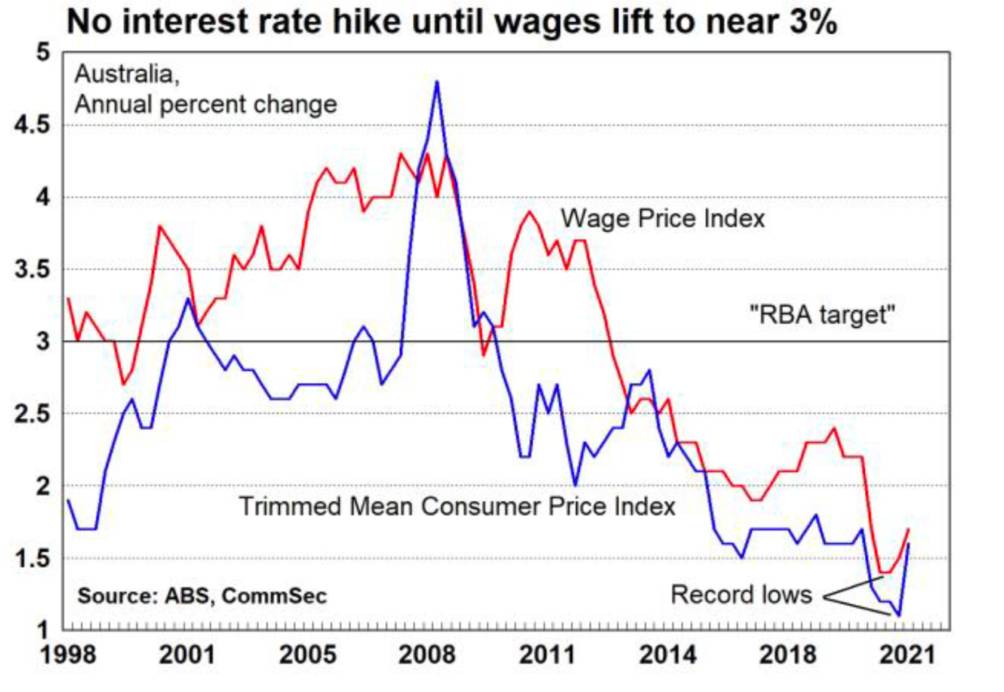 Latest wages data makes a mockery of rate increase predictions
Wages growth remains subdued which adds further to the likelihood that interest rates will not increase until 2024 at the very earliest, as predicted by the RBA.
The ABS reports that the Wage Index increased by just 0.4% over the June quarter which was well below the 0.6% reported over the previous two quarters.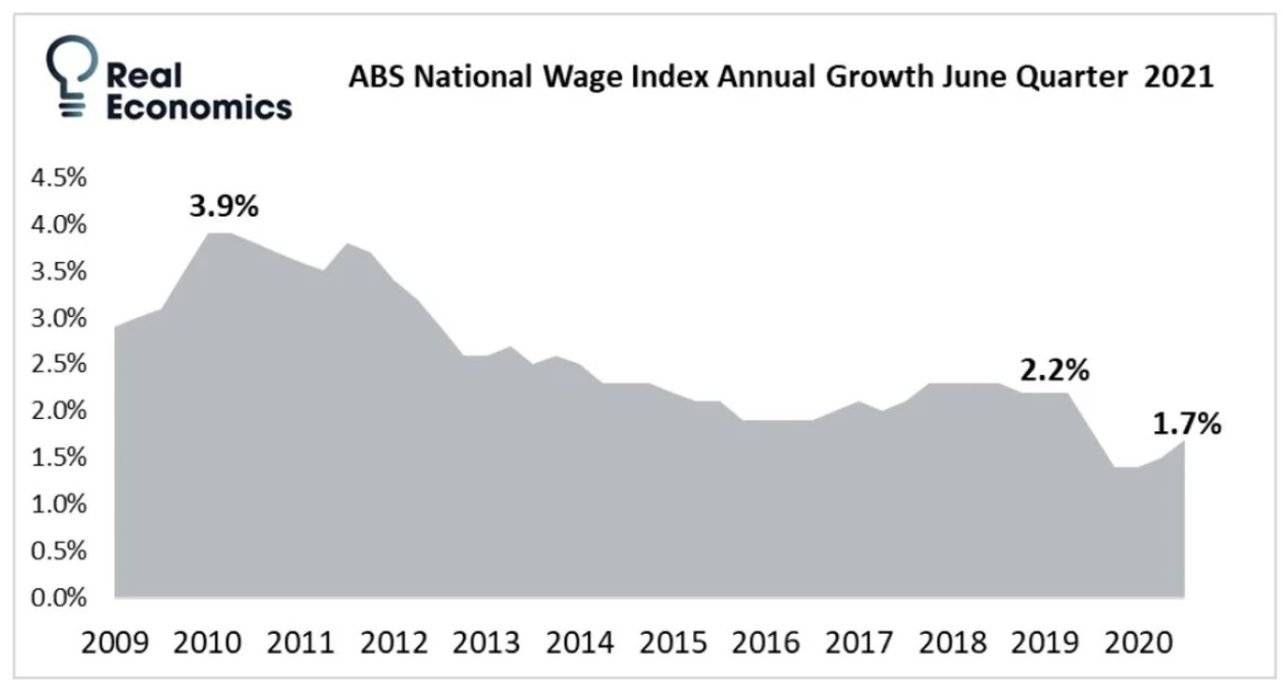 Although annual wages growth has increased by 1.7% over the year ending the June quarter and is higher than the 1.5% reported over the March quarter, the result reflects the record low lockdown-influenced levels recorded over June and September last year.
Low and falling wages growth was recorded over the June quarter despite the lowest unemployment rate for 10 years, strong jobs growth, and a collapse in international migration providing dramatically less competition for available jobs.
Although current lockdowns will act to reduce labour market activity and impede wages growth, chronically low wages growth over the past decade ensures interest rates are going nowhere for a long-time.
Particularly with the prospect of real wages falling as inflation rises.
Listing numbers are suffering from the lockdowns:
Not surprisingly, the number of new properties listed for sale has been falling recently, particularly in Melbourne.
Watch this week's property inside a video as we discussed the implications of this.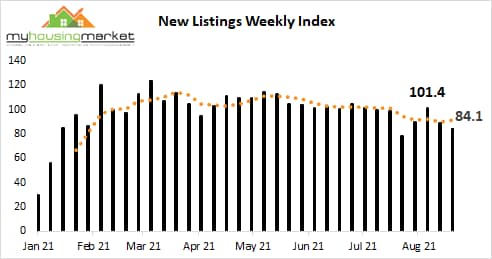 This week's auction results – a tale of two cities.
Watch this week's Property Insider video as we discuss what's happening to the auction markets around Australia.
Sydney Auction Market
Sydney's weekend auction market produced a stunning result with strong buyer competition pushing up clearance rates to the highest level seen since the records sent in March – despite deepening Covid restrictions.
Sydney recorded a preliminary auction clearance rate of 86.3% and has now recorded boom time clearance rates above 80% over three consecutive weekends.
Higher clearance rates however continue to reflect the scarcity of listings, was just 420 homes offered for sale on Saturday.
Fewer auction withdrawals continue to support the higher clearance rate with the withdrawal rate on Saturday falling to 12% compared to the previous weekend's 13.1% and the 14.6% recorded two weekends ago.
The following chart from Dr. Andrew Wilson shows the Sydney auction clearance trend: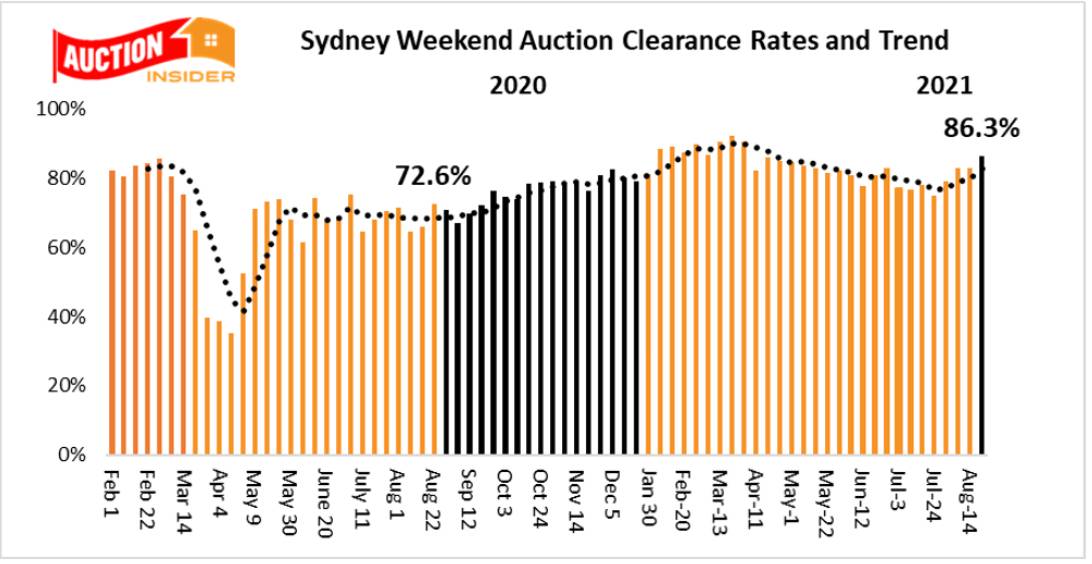 Melbourne Auction Market.
Melbourne recorded a clearance rate of 64.9% yesterday which was just below the previous weekend's 66%.
Interestingly this was well ahead of the 55.1% recorded over the same weekend last year – also impacted by the lockdown.
Although Melbourne's clearance rate was the lowest recorded since October 17th last year, it was clearly a get a sign of another sharp increase in shutdown-related withdrawals, rising from the previous weekend's already high 41.5% of reported auctions to a remarkable 52.6% this weekend.
Listing numbers were higher and remain significantly higher than the lockdown impacted 139 auctions is over the same weekend last year.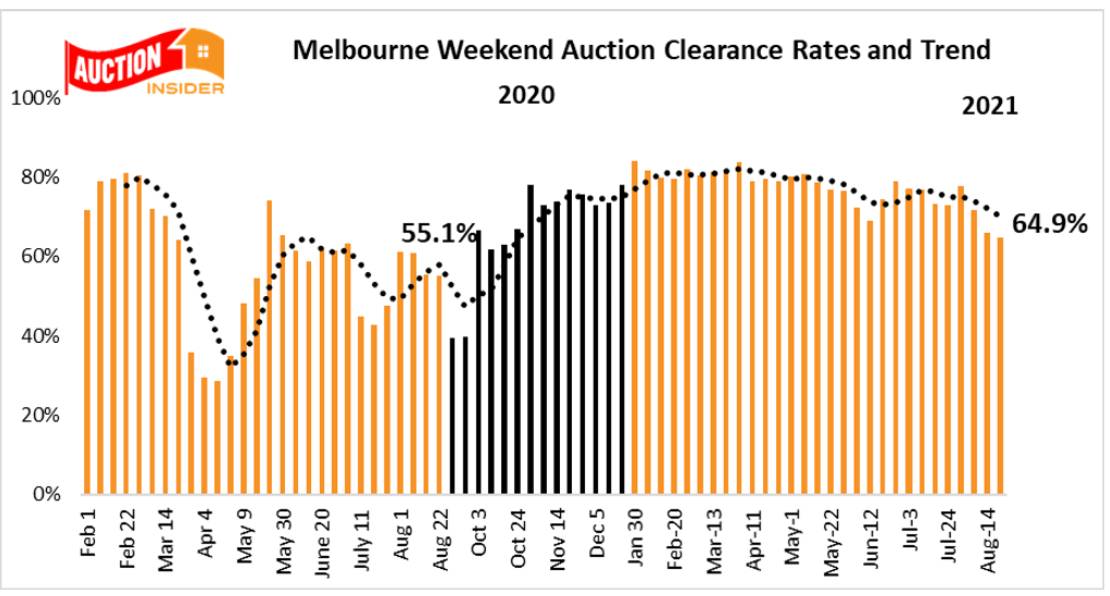 ..........................................................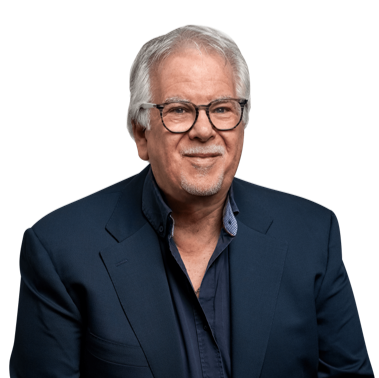 Michael Yardney is a director of Metropole Property Strategists, which creates wealth for its clients through independent, unbiased property advice and advocacy. He is a best-selling author, one of Australia's leading experts in wealth creation through property and writes the Property Update blog and hosts the popular Michael Yardney Podcast.
To read more articles by Michael Yardney, click here