Hi Investors, Attractive isn't it? The idea of your own showcase trophy home, with Caesarstone benchtops, Miele appliances and a sparkling pool to entertain all your friends! And right now it's attainable isn't it? With interest rates so low suddenly it costs as much to rent as to own. So why not buy your own home? Actually the banks are telling you you're able to borrow more money, so why not spend a little bit more?
Before you jump in to the dreamy land of home ownership – maybe a reality check is in order. Watch a sneak peak of Jason Whitton explaining more about this topic at one of our Property Investor Nights.
IT'S ALL GOOD AND WELL WHEN INTEREST RATES ARE AT 5% BUT WHAT HAPPENS WHEN THEY GO BACK UP?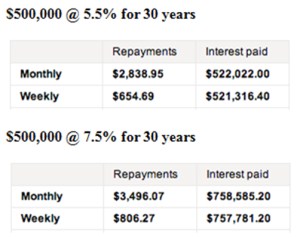 (source: /www.yourmortgage.com.au/calculators/)
Forget the champagne and get used to baked beans people!
You're looking at finding around an extra $150 bux per week or a massive $657 per month extra, just to hold onto your "dream home"!
Usually you realise the reality of jumping into a half a million buck mortgage way to late – and those Caesarstone benchtops and the sparkling pool certainly lose their lustre! You realise you will have to work 60 – 70 hours a week for a home loan…….and it's almost a life sentence!
Actually it's more like a debt sentence! I liken it to eating sausages for dinner for the next 30 years; the same, day-in-and-out, with no money left for you and your family! A lifetime just slogging away paying off your little patch of grass and your "castle"!
What is your dream home today may become your nightmare tomorrow – AND you may not be able to sell it as your "dream home" may sit in a low – no growth area – so you're paying off a dud forever – without any exit strategy! The bank sees it as bad debt and you could be stuck for a very long time!
Instead we ask you to think outside the square!
Let's explore by using an example! If you put 50 homeowners in a room and ask them who actually lives in their dream house, you will find that only one out of the fifty people actually does. So why do people live where they do? Why not rent a better lifestyle and gear your house? Or if they do they are paying for it big time!
Most people aren't conditioned to think outside the box. Being a successful property investor requires some amount of personal change and the ability to think differently than you have previously thought. Come along to one of our last events of the year and learn some "out of the box" thinking, proven to make profit from property investing.
For providing property to the rental market, the Australian Taxation Office gives property investors a tax deduction. Real estate is a fantastic wealth creation vehicle because it consists of two vital assets: the land and the building. While the land goes up in value, the building goes down, which is a perk as the building depreciates and the losses are deductable. So you have to learn that what you might have thought was bad (building depreciation) is actually good (lower taxes).
Good debt is a loan on an investment property. The debt allows you to buy an asset that creates income (rent), gives you tax deductions and increases in value more than its costs. Your owner occupier home is bad debt. It creates no income, you get no tax deductions and unless you are living in a property hot spot, your capital growth could be next to nothing. Bad debt can cripple you as an investor. It drains the financial life out of you on paper as well as sucking actual money out of your pocket. When you go to apply for a loan on an investment property (good debt), the banks do a computation called a serviceability calculation, which basically asks the question: have you got enough spare cash to cover your debts?
Living in your own home has no benefit for cashflow as it is considered bad debt, unlike an investment property that is considered good debt.
So here's an idea for all you owner-occupiers that are NOT living in your dream home. Move out and go rent somewhere that is. Instantly your bad debt becomes good debt. How much money does it take to dramatically change a person's lifestyle? The answer: an extra $500 a month would dramatically change your lifestyle – and for most homeowners that would be easily solved by just renting their home out as an investment property. For success in property sometimes all it takes it a little out-of-the-box thinking!
Come along to our next complimentary Property Investor Night – held in all over Australia. These powerful two hour seminars help you learn the savvy "out-of-the-box" thinking that can show you how to:
• Create a passive income through property investing • Pay your home loan off quickly, reduce debt fast • Invest in property with a SMSF and retire comfortably • Improve your cashflow position – just by structuring the way you do things differently • Discover which markets are going to make the most capital growth in 2013… and much much more…
"Remember the first step towards success is getting out of your own way"
(Mind Gym Book)

Sam Saggers is CEO of Positive Real Estate and Head of the buyers agency which annually negotiates $250 million-plus in property. Sam's advice is sought-after by thousands of investors including many on BRW's Rich 200 list. Additionally Sam is a published author and has completed over 2000 property deals in the past 15 years plus helped mentor over 2200 Australian investors to real estate success!
Get more from Sam Saggers, register for a FREE property investor night – click here
To read more Expert Advice articles by Sam Click Here
Disclaimer: while due care is taken, the viewpoints expressed by contributors do not necessarily reflect the opinions of Your Investment Property.