In the following cities you will get both cashflow and growth, which doesn't always happen at the same time. It's a nice position to be able to buy something that's going to give you a high return and some capital growth along the way.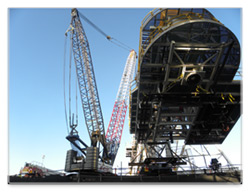 Gladstone is a market worth mining into!

Let's put it in perspective; some property in this market is growing at about $10,000 per month! Why?

Worldwide – Gladstone is one of the top investment destinations and buying in Gladstone is not going to be achievable after about 12 months. I believe that if you threw a dart in Gladstone today, you could pretty much make some money, in fact most dwelling house prices will rise by another $50,000 to $60,000 dollars over the next 12 months.
Keep in mind:-
Purchase townhouses over free standing houses because when the market does slow down, it will be very much an executive rental marketplace in Gladstone.
It's a very diverse marketplace, and is not reliant upon one industry; meaning a sound area for property investors
Focus on the city centre and Calliope (suburb) – A $450,000 property will rent at about $600 per week at moment, but over the next three years the rental return will grow to approximately $800 to $900 per week.
As the rents grow, the property market will grow. The LGA is predicting an 85% population increase over the next 20 years to more than 111,000 people (from 60,000).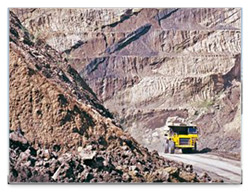 Orange
Orange is a very diverse economy, but it has Australia's largest gold mine, which is essentially the Cadia Hill Gold Mine - a Newcrest Mining initiative, and they're expanding and tapping into that gold, which is a very safe commodity.
Keep in mind:-
It offers a diverse economy, mining, agriculture, tourism, education, manufacturing.
A current $250 million re-development of Bloomfield Hospital.
Listed in API Magazine's "Top 100 Places To Invest".
Charles Sturt University Campus offers thousands of students needing accommodation.
These huge mining companies, which are essentially blue-chip companies, are paving the way for us to invest. I like the expansion of this marketplace but I also like the fact that it's not a single market economy. It's very diverse; it's got education, manufacturing, tourism, little vineyards, a great health sector......it's a beautiful town - it's kind of the "show pony" town of that area.
Right now it's going through a massive rental growth, and it actually has the lowest vacancy rate in New South Wales – it's sitting at 0%, so when a marketplace sits at 0% there's not enough houses to accommodate the rental market, which makes it a formidable place to be buying.
The expansion of the mine is going to take another two and a half to three years and during that time your property is going to grow. At the end of that time there'll be less need for workers in that town and rents will come back a bit, but I'm okay with that because we think it's a fantastic way to get some capital growth and also some serviceability on your portfolio.
Don't Miss our FIRST Complimentary Property Investor Nights for this year …where you will hear from some of Australia's most experienced property investors talk you through the HOTTEST MARKETS of 2012! Learn where to buy right now for the BIGGEST PROFITS and WHERE YOU MUST AVOID!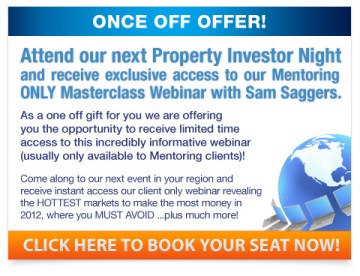 Click here for Part 1 of The Hottest Markets of 2012 Report for tips on where to invest in 2012
Click here for Part 2 of The Hottest Markets of 2012 Report for National Market Insights
Sam Saggers is CEO of Positive Real Estate and Head of the buyers agency which annually negotiates $250 million-plus in property. Sam's advice is sought-after by thousands of investors including many on BRW's Rich 200 list. Additionally Sam is a published author and has completed over 2000 property deals in the past 15 years plus helped mentor over 2200 Australian investors to real estate success!

Get more from Sam Saggers, register for a FREE property investor night

– click here
To read more Expert Advice articles by Sam Click Here
Disclaimer: while due care is taken, the viewpoints expressed by contributors do not necessarily reflect the opinions of Your Investment Property.