Expert Advice with Simon Buckingham
Do you remember what happened to property prices when the First Home Owner Grant was introduced back in July 2000?
The original $7,000 grant to first home buyers seems modest by today's standards, but its impact on the property market at the time was quite extraordinary…
A lesson from history
After the grant was announced, but before it was actually implemented, there was a noticeable drop-off in activity by first home buyers - who held off buying while waiting for the grant to come into effect.
However, following the implementation of the grant in July 2000 there was a surge in buying activity. Property prices went up quickly - and by much more than the $7,000 value of the grant in many suburbs.
Fast-forward to 2008 and the Federal Government in collaboration with State and Territory governments introduced the First Home Owner "Boost" as one of a suit of measures designed to defend the economy against the effects of the Global Financial Crisis.
The "Boost" gave qualifying first home buyers an additional $7,000 on top of the original grant (or an extra $14,000 if they were buying a new home).
Once again the property market took off, with median prices rising in many suburbs by far more than the additional grant.
We can see how the Australian median house price responded following the introduction of these first home buyer incentives in the chart below: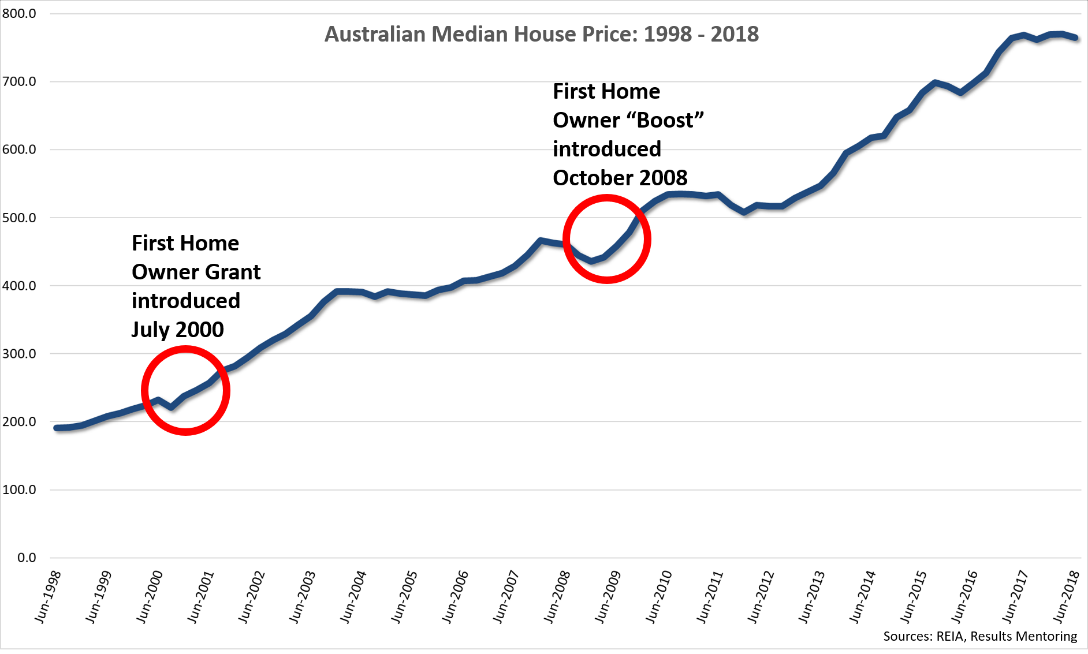 Is history about to repeat itself?
Fast-forward again to present day…
Leading into the recent Federal Election, the Coalition announced a new scheme designed to assist first home buyers, called the "First Home Buyer Deposit Loan Scheme" - which is due to be rolled out on 1 January 2020.
Many investors are wondering whether the introduction of this new scheme could have a similar impact on property prices to what was witnessed with the First Home Owner Grant and the "Boost".
Are we about to experience another first-home-buyer-driven property boom?
Before we get too excited, we need to examine what this new scheme is, how it will work, and then assess the impact it's likely to have…
How will first home buyers benefit from the scheme?
The "First Home Buyer Deposit Loan Scheme" aims to reduce the minimum deposit required for a first home to just 5% of the purchase price.
Currently, most first home buyers would be required to save a deposit of 10% - 20% of the purchase price. There's little doubt that saving the required deposit is one of the biggest hurdles to home ownership.
What about "Lenders Mortgage Insurance"?
Ordinarily, if you were borrowing more than 80% of a property's value, you would need to pay an additional fee called "Lenders Mortgage Insurance" (LMI).
LMI costs can run into the thousands, even tens of thousands of dollars. For instance, if you were to borrow 95% of the purchase price on a $600,000 property, the LMI cost could be over $25,000!
LMI protects the lender (not you) if you can't repay your mortgage. It won't cover missed payments or an inability to repay the loan due to sickness or losing a job.
(It's important not to confuse LMI with "mortgage protection insurance", which is a form of insurance designed to protect against adverse circumstances that might impact your ability to repay a loan. "Mortgage protection insurance" has nothing to do with LMI.)
Under the "First Home Buyer Deposit Loan Scheme" however, the government proposes to support a reduced minimum 5% deposit for first home buyers by essentially "guaranteeing" the difference between a standard 80% LVR loan and a 95% LVR loan.
This government "guarantee" effectively eliminates any LMI costs that would otherwise apply to a qualifying first home buyer who wants to borrow 95% of the property's price.
Who can qualify for the "First Home Buyer Deposit Loan Scheme"?
This is where some of the detail is currently missing.
We know that the scheme will be available to first home buyers earning less than $125,000 as a single, or under $200,000 as a couples.
We also know that the "First Home Buyer Deposit Loan Scheme" can be used in conjunction with other first home buyer incentives, such as State-based grants and stamp duty concessions.
For instance, with the first home buyer stamp duty concessions in NSW or Victoria, a first home buyer in either of those States could potentially have no stamp duty and no LMI to pay - meaning that the ONLY money they may need to buy their first home under the new scheme would be the 5% deposit (plus a little extra for the conveyancing costs, bank application fees, etc).
And we know that a qualifying first home buyer will still have to demonstrate their ability to service the full loan.
But beyond this, the details are a bit murky… and as the saying goes: "the devil is in the detail!"
What's not clear (yet)…
According to the government, the new scheme is intended to apply only to "entry" properties.
Exactly what qualifies as an "entry" property has not been clearly defined, but we know that there will be a maximum purchase price threshold applied.
According to the government, this maximum price threshold will be set by region - so there could potentially be higher price thresholds used for eligibility of properties closer to major cities compared to regional housing in the same State.
Furthermore, it has been announced that the "First Home Buyer Deposit Loan Scheme" is to support up to 10,000 first home buyer loans per year.
There were around 110,000 first home buyers in 2018, so capping the scheme to 10,000 applicants per year represents less than 10% of the annual first home buyer pool.
It's not at all clear how the "lucky" 10,000 will be chosen from all the potential applicants!
Property Market Impact
This limitation of the new scheme to only 10,000 first home buyers per year represents the greatest difference when we compare the new scheme to the original First Home Owner Grant and the First Home Owner "Boost".
Those grants applied across the board and were available to the vast majority of first home buyers.
As a result, the original First Home Owner Grant and the "Boost" had a significant impact on the property market.
The "First Home Buyer Deposit Loan Scheme" on the other hand - as it currently stands - may only make a difference to around 10% of first home buyers each year.
While this is certainly positive for the property market, as it means 10% more first home buyers may be able to enter the market than otherwise could, that potential influx of 10,000 additional buyers doesn't quite represent the same kind of boom trigger that the First Home Owner Grant did.
But is there another "home buyers grant" in disguise…?
In contrast, what's likely to have a far greater impact on the market is APRA's recent abolition of the 7%+ minimum interest rate test for new loan applications, combined with falling interest rates.
With lenders now rolling out their new servicing tests, the combination of the reduced servicing buffer and lower interest rates means that the average property buyer could see a jump of around 12% or more in their borrowing capacity!
THIS feels much more like something that could have the kind of impact on the property market that the First Home Owner Grant had.
Right now could therefore be a great time to get into the property market and "cherry pick" opportunities, before the impact of the borrowing changes flows through into increased competition and pressure on property prices.
Get ready for interesting times ahead in the property market!
For more valuable insights from Australia's most respected property mentors and market analysts, download your free report on "How NOT to 'Stuff-Up' Your Property Investing!"- designed to help you invest smarter and avoid common property investing mistakes.
...........................................................................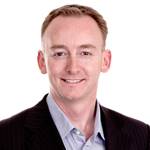 Simon Buckingham is Director of Results Mentoring and a highly experienced investor. Simon has been investing in property for over 15 years using a broad range of strategies including positive cash flow, renovations, property development and commercial properties, both within Australia and overseas.
Holding university degrees in Commerce and Law, and with over 10 years' experience as a business consultant, Simon turned his back on corporate life forever following the births of his two children and now spends his time investing, developing property, supporting multiple charities, and building businesses - while teaching others how they can do the same. He has personally coached hundreds of investors in techniques that can be used to profit from property in any market conditions, regularly facilitates public workshops and provides other free resources for property investors through ResultsMentoring.com, and has presented to thousands of people at property conferences and seminars around Australia and New Zealand.
Simon writes the highly regarded Sophisticated Property Investor e-newsletter and his opinions on the property market and real-world investing strategies have featured in Your Investment Property magazine, Smart Property Investment, Channel7 News at 6, Kevin Turner's Real Estate Talk, and Property Observer. He is co-author of the critically acclaimed property book The Real Deal: Property Invest Your Way to Financial Freedom, and a founding Mentor in Australia's award-winning personal mentoring service for property investors: the RESULTS Mentoring Program.
Disclaimer: while due care is taken, the viewpoints expressed by contributors do not necessarily reflect the opinions of Your Investment Property.