Expert Advice with Simon Buckingham 17/07/2018
As the Financial Services Royal Commission rolls on, it seems like every day in the news we hear another dramatic tale of hardship caused by a bank's misbehaviour.
However, while many people are angry (and rightly so) about the reports, when considering the likely practical impact of the Royal Commission, it's worth noting that most of the instances of irresponsible lending identified in the testimonies actually pre-date changes to lending standards that have occurred over the last few years.
These changes go right back to the introduction of "Responsible Lending" regulations in 2010, which required lenders to take reasonable steps to ensure that any loan they offer to a consumer was "not unsuitable" for the consumer.
More recently, in 2014 the Australian Prudential Regulation Authority (APRA) required the big banks to begin testing borrowers' ability to afford loan repayments at the higher of 7% interest or 2% above the actual interest rate.
The banks have also since tightened up on their assessment of borrowers' existing debts and living expenses when assessing new loan applications.
The final report of the Royal Commission containing its recommendations won't be published before February next year (and then it may be many more months before any such recommendations are actually implemented). But it seems likely that any outcomes of the Commission will probably only reinforce the recent changes in lending regulations rather than necessarily add to them.
What's happening to investment lending in the meantime?
As can be seen in the chart below, the value of lending to property investors has been declining over the past year.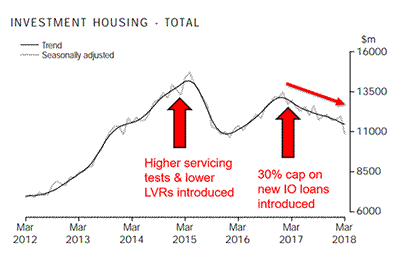 (Sources: ABS March 2018, Results Mentoring)
This is at least in part due to tighter loan assessment criteria pushing some investors out of the market, and the introduction in March last year of limits imposed by APRA on the volume of new interest-only loans that the big banks are permitted to write (required to be no more than 30% of all new lending).
But it also likely reflects the natural unwinding of the property boom in Sydney - the beginning of which was already evident even before APRA's intervention on interest-only lending.
As the market slows and the number of active buyers in the market reduces, it makes sense that the amount of lending to investors would also fall.
Will the Royal Commission make things better or worse?
As noted above, the findings of the Royal Commission might only reinforce the case for the kinds of lending standards that have already been implemented over the past couple of years.
This won't cause the property market to "crash", but tighter finance will slow demand for property in certain areas, and therefore suppress market-driven growth in prices.
Unprepared and uneducated investors may get caught with properties in areas where prices are falling or flat for an extended time, and find themselves struggling to get finance (or as much finance as they used to) for other investments.
Furthermore, the negative publicity and political fallout from the Commission likely to make the big banks even more conservative, as banking executives will want to be seen to be acting more "responsibly".
This was highlighted recently in comments made by ANZ CEO Shayne Elliott, who indicated that a consequence of the Royal Commission would be that loans may take longer to process and could require more documentation.
He summed up the bank's view as follows:
"People are still going to buy a home... but it will change the process and probably make it harder for people to be successful in their applications... We are going to be much more robust to make sure we have got everything.
...It is more likely we will say no when in the past on balance we would have said yes."
Unintended Consequences
The consequence for property investors (and home buyers too) is that we can expect loan applications through the big banks to take even longer than they do now.
So make sure you're allowing plenty of time for finance approval when making offers on potential property purchases!
We can also expect to see an increasing volume of lending business migrating away from the big banks in favour of smaller non-bank lenders (including new on-line lenders or "Fintechs") who may have more efficient application assessment processes and greater flexibility.
Importantly, shop around for finance and don't just rely on the institution you currently bank with. You might get a better outcome and a speedier experience by going elsewhere.
With the potential impact of the Royal Commission and recent changes in lending, now is the time to be reviewing your existing portfolio and personal finances.
Making changes to your financial habits now, being smart about how you structure existing loans, and critically assessing the performance of any properties you're currently holding will make it easier to get finance in the current environment.
And to not just survive but thrive in the changing market, you may even need to change your property investing strategy - by focussing on active strategies like renovation, subdivision or development to manufacture your own capital growth, or positive cashflow for income and increased borrowing ability.
To learn the practical techniques that can help you adapt to changing market conditions and unlock finance, so you can build your portfolio and profit in the new property market - come along to one of our upcoming free in-depth property investing workshops.
...........................................................................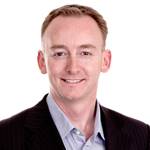 Simon Buckingham is Director of Results Mentoring and a highly experienced investor. Simon has been investing in property for over 15 years using a broad range of strategies including positive cash flow, renovations, property development and commercial properties, both within Australia and overseas.
Holding university degrees in Commerce and Law, and with over 10 years' experience as a business consultant, Simon turned his back on corporate life forever following the births of his two children and now spends his time investing, developing property, supporting multiple charities, and building businesses - while teaching others how they can do the same. He has personally coached hundreds of investors in techniques that can be used to profit from property in any market conditions, regularly facilitates public workshops and provides other free resources for property investors through ResultsMentoring.com, and has presented to thousands of people at property conferences and seminars around Australia and New Zealand.
Simon writes the highly regarded Sophisticated Property Investor e-newsletter and his opinions on the property market and real-world investing strategies have featured in Your Investment Property magazine, Smart Property Investment, Channel7 News at 6, Kevin Turner's Real Estate Talk, and Property Observer. He is co-author of the critically acclaimed property book The Real Deal: Property Invest Your Way to Financial Freedom, and a founding Mentor in Australia's award-winning personal mentoring service for property investors: the RESULTS Mentoring Program.
Disclaimer: while due care is taken, the viewpoints expressed by contributors do not necessarily reflect the opinions of Your Investment Property.