The Reserve Bank of Australia has slashed the official cash rate three times already over the past 12 months, and further cuts are expected over the next year. While some parts of the economy have already reaped the benefits from these cuts, the housing construction sector appears to be left behind, according to an analysis by SQM Research.
When looking at how housing construction responded to rate cuts, it is crucial to consider three factors: approval, commencements, and completions.
The current rate at which these three factors are growing seems to paint a bleak picture for the housing construction sector. SQM Research director Louis Christopher said approvals and commencements are tracking considerably lower than completions, which are now at their peak.
Also read: Prediction: Two more rate cuts
"Normally, once a project is completed, workers move onto the next project. There are now fewer commencements than completions. And so there is less work available, meaning more job losses are coming," he said.
The charts below show the current housing approval, commencement, and completions trend: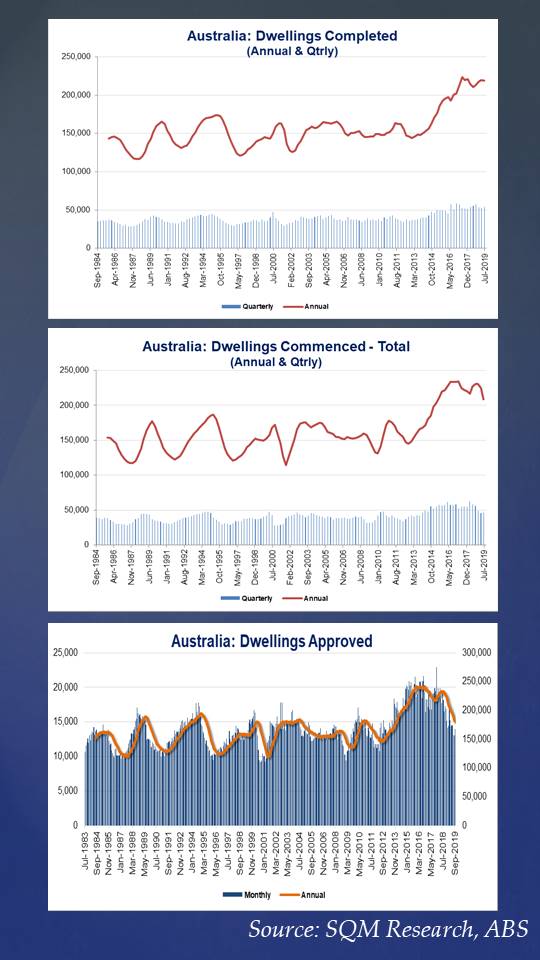 Loss of construction jobs
Building approvals are trailing behind commencements, and this could result into serious problems, said Christopher.
"This means even more housing construction job losses are on the way over the course of 2020, and likely 2021. This will happen despite the interest rate cuts, tax cuts and easier lending standards. As the building approvals illustrate, there has been no response as yet in the form of higher demand for new housing," he said.
The fall-off in building approvals could eventually lead to construction being a drag to the economy for many months to come.
"This must be quite the concern for the RBA, and for the federal government for that matter. As you may have guessed, housing construction is not an insignificant proportion of total employment. The RBA places it at just under 6%," Christopher said.
Also read: What's Causing Australia's Home Construction Slowdown?
Deja vu?
A similar situation was observed in 2011 to 2013. However, the mining boom served as a major job creator during these years.
"For now, mining investment seems to have bottomed out and will moderately pick up over the next 12 to 24 months, therefore taking some of the slack. But no one is expecting a massive uplift in mining," Christopher said.
Can the economy depend on the infrastructure sector to offset losses in the housing construction segment? Christopher said it could, potentially. For the financial year 2020, $13bn was planned to be spent on infrastructure.
"Infrastructure better help with the offset. And perhaps with mining added, it will. The RBA is forecasting the unemployment rate to fall to 5% by 2021. But no one really knows for sure. Let's hope they are right. Otherwise Australian unemployment is going to keep rising in 2020, and that won't be good for anyone," he said.