29/06/2018
Sean Ewens had been looking to get into the property investment scene since he was 23 years old. As a carpenter, he had gained the experience of enhancing homes for other people, and he could see the potential to profit from these types of projects.
AT A GLANCE
Years investing: 10
Current number of properties: 6
Portfolio value: $1,950,000
"I enjoy seeing the end result and the satisfaction of giving people a new or fresh place to live," he explains.
"As an investment vehicle, I find real estate … relatively easy to understand. I see it as a reasonably slow-moving cog as opposed to share trading, for example, which I find complex, high-maintenance, volatile and time-consuming for your return on investment."
Sean was able to buy his first property in Noarlunga, SA, with a family pledge, which applied some equity from his mother's house as financial security towards his property purchase. He initially intended to develop the 1,300sqm block of land into a semi-detached splitter; however, upon drawing up design concepts and receiving quotes for the project, he realised his plan was not feasible.
He ended up letting go of the home after two years, selling it as a property with "potential", along with the concept design.
"It equated to a loss after duties, taxes and interest. Within six months of my selling, the purchaser had subdivided the property into a hammer-head configuration, leaving the transportable home in place and building a new home at the front," he says of the project.
The experience was a major lesson for Sean, who realised the value of conducting thorough research before making important property decisions.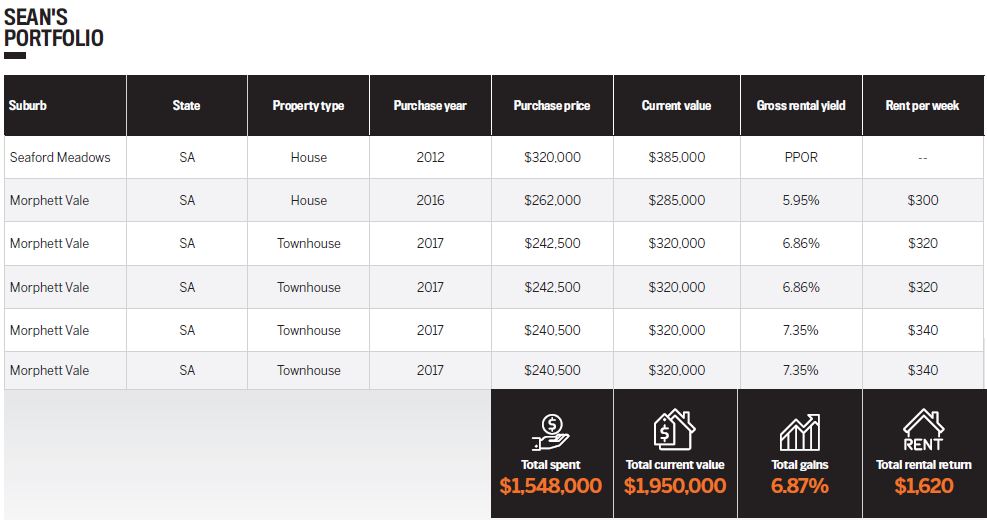 Developing to add value
For the next couple of years, Sean put the brakes on his investment journey to focus on other aspects of his life. Then at age 27 he built his own home, in which he still lives today. Four years later, with renewed confidence and a plan to increase focus on his research, he got back into property investing by buying a development site in Morphett Vale, SA.
It was a suburb that he saw as being low-risk, while also having long-term growth potential, and it was affordable and close to amenities.
"On a physical level, I enjoy the possibilities and potential that all facets of property development offer – not only to breathe new life into a community aesthetically but also to improve a tenant's, buyer's or owner's lifestyle and living environment as a result," he says.
"I enjoy the challenges that orchestrating development throws out there too. Although frustrating at times, it makes the end result that much more satisfying. Of course the returns are quite attractive on a quality development!"
Sean started by studying development plans, doing research into the market, and obtaining professional advice.
"As long as you are polite, straightforward and respectful to professionals, they are quite obliging when it comes to helping you out with information. There is a lot of information out there too; it's just a case of putting in the time to find and filter it."
With the help of his finance broker, Sean learned to explore his financial limits and determine how big a loan he was willing to take out. This in turn helped him figure out what site configurations he could work with. A major part of his financial strategy is to also have a financial buffer in the bank in order to address unexpected situations.
"Knowing my limits and break-even point is important for me, I like projected cash flows so I can see what I might be in for," he says.
"Obtaining quotes and fixed prices where possible also helps to manage your risks. Like most things, I think the more knowledge you have around a subject, the easier it is to determine your risk tolerance, and apply controls. If you can't find comfort in the knowledge and controls you have, don't do it."
In addition, meeting with the town planner also clarified the local council's position on development parameters, which aided Sean significantly in planning the development.
Leveraging professional help
Sean's careful, inquisitive approach didn't translate into a problem-free start to investment and development, however. While developing his Morphett Vale home into four townhouses, there were plenty of learning curves.
"One's interpretation of car parking requirements can be different to another's," he warns.
"Consult [your town planner] as soon as your application is allocated a planner – or better yet, submit your application for preliminary assessment, which will hopefully outline some unexpected requirements and save time in the planning stage."
Sean has also encountered problems during construction. Upon getting to the framing stage of the project, for instance, he discovered that the two properties at the rear did not have door access to the carport.
"Luckily my builder was able to accommodate the change in the build phase. Fixing these problems comes down to help from your professionals, which highlights why it's so important to build a good relationship with them."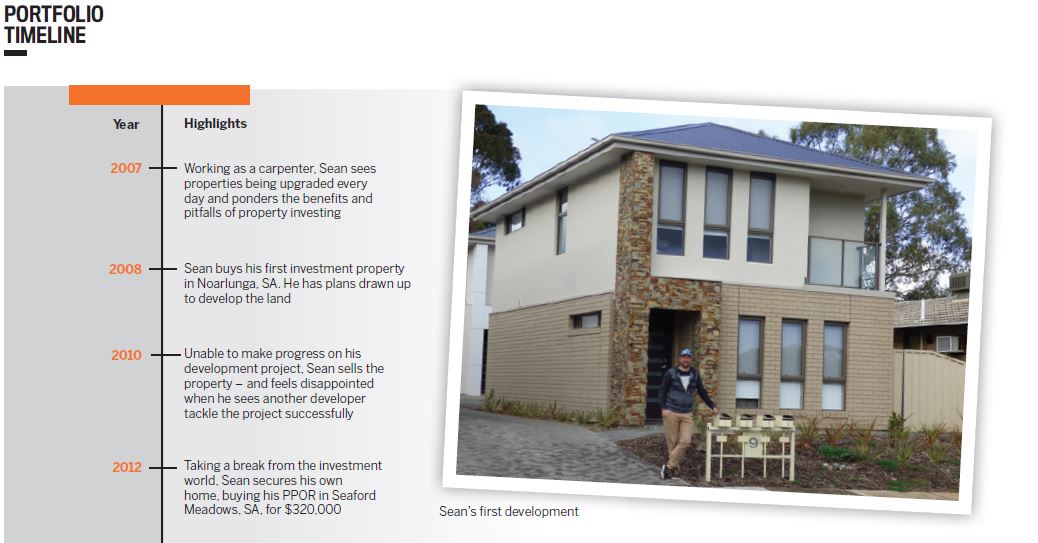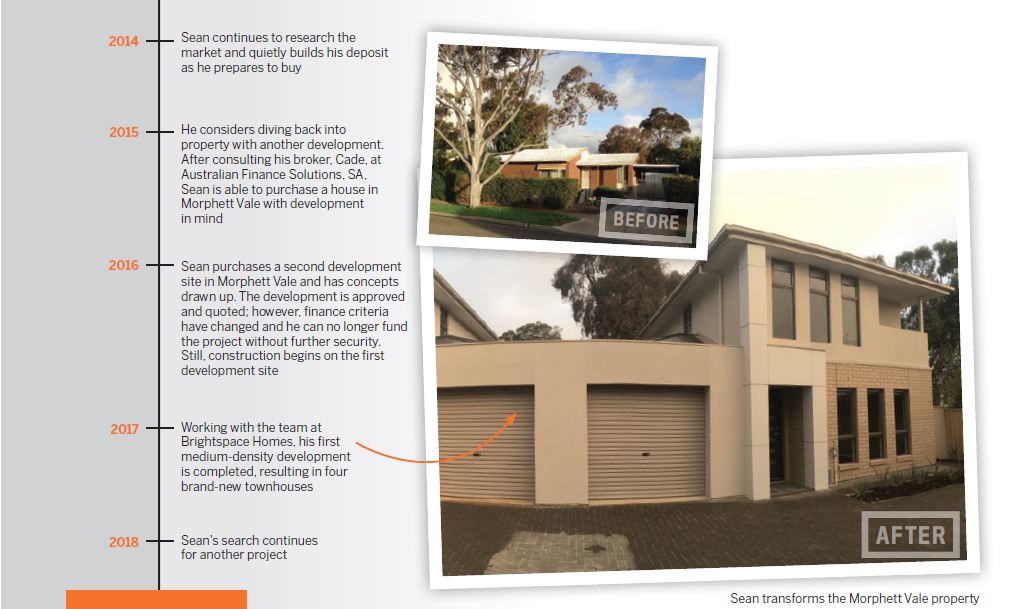 Moving forward
Sean has not allowed the mistakes he's made throughout his journey to hold him back.
"I don't do regrets because you make decisions based on your knowledge and feelings at that particular time in your life. My biggest lessons have been persistence, patience, and that no reward comes without hard work."
With the successful completion of his first development, he is already looking forward to his next project, though he admits he has had to revise his plans a little, in line with the APRA requirements imposed on investor lending.
"You need to be flexible with strategy because the market is always subject to change.
The concept for [my next] development has come back a little too expensive for the banks to now lend me the money to develop it, and it's not so easy to find an investor to joint-venture with," he says.
"I've had to adapt with a smaller interim project, which is a home with subdivision potential. I'm still looking around Morphett Vale and possibly Christies Beach or Christie Downs. These areas are very affordable and haven't seen great growth, but are seeing a fair bit of development, gentrification and uplift. Our local government also has a proposal to develop a new sporting complex and improve the community in the not-too-distant future, which should drive some interest."
Eventually, Sean would like to set himself up to develop and invest full-time. "The goal is to stop my everyday [job] within five years," he says. "However, I won't ever retire; I don't see developing as anything I would want to retire from, because I love doing it!"
"I enjoy seeing the end result and the satisfaction of giving people a new place to live"
TOP 4 PROPERTY DEVELOPING TIPS
1. Research
Research markets, read development plans, talk to your local council/shire, and understand what you can do with property.
2. Know your numbers
Know how much you have to play with and know your limitations. Understand your risk tolerance – a property may not be for you.
3. Build your team
The people you want are those who are willing to answer your questions without obligation. Just be sure to return the favour by engaging their services.
4. Have patience
Development is a complex process that involves many stakeholders and demands some patience. It's easy to see how Rome wasn't built in a day.
Featured in the June 2018 edition of Your Investment Property magazine is the success story of Sean Ewens who experienced a few hiccups during his first property development, which saw him create a set of four townhouses in Adelaide. His driving passion for property keeps him striving forward – helping him amass a portfolio worth almost $2m along the way.
Sean walks us through his fascination for property and shares how he maintains a 'success' mentality and the right mindset that keeps him moving forward.
In this interview, you will learn:
Why he finds real estate relatively easy to understand
How he realised the value of conducting thorough research before making important property decisions
How he has learned to explore his financial limits
His biggest lessons
His top 4 property developing tips
With thanks to Real Estate Talk – the only place where you hear all Australasia's leading property experts.