11/5/2017

A relativley new investor, Zack was still quick to realise the potential in the 695m2 block with a three-bedroom home in Cambridge Park, less than an hour's drive to Sydney. The suburb already had excellent growth drivers in place, including new infrastructure and a convenient location just 30 minutes from the planned Western Sydney Airport at Badgerys Creek.

And while his 4% yield for his house was satisfactory, Zack was confident the property was capable of generating more income.

"I knew a granny flat would be the most cost-effective way to increase the rental yield," says Zack.

"Property prices here are at an all-time high, and rental yields aren't always the best in Sydney. Building a granny flat was a smart way to make the property self-sufficient by generating enough rental income to maintain repayments all on its own."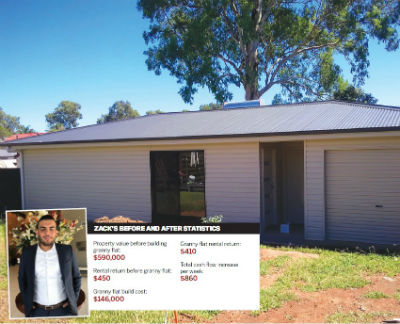 Gauging granny flat demand
Zack researched the demand for granny flat rentals in the suburb by networking with property managers.
"I wanted to get an understanding of some of the things potential tenants look for in the area, as well as some of the practical features that tenants look for in a granny flat," says Zack. "I also did some online research on rental yield and market demand."
He discovered that a number of granny flats were already being built in response to rental demand in the suburb, which has seen an incredible lift in value recently. "According to online data, in the last five years Cambridge Park's median house price has increased by over 70%," explains Zack.
"This area has so much potential for capital growth."
TOP TIPS TO A SUCCESSFUL GRANNY FLAT INVESTMENT
• Always check council regulations first
• Choose a reputable granny flat builder
• Make sure granny flat tenants have easy access to their home
• Ensure both sets of tenants have privacy
• If appropriate, choose an exterior in keeping with the main residence
• Price the rent according to the market
• Be considerate of your neighbours and current tenants during the construction.
HOW TO MAKE A STAND-OUT GRANNY FLAT
Look at granny flats in the area and try to create a point of difference with yours, such as:
» A separate driveway
» A garage underneath
» An allocated parking space
» A balcony or porch
» A personalised exterior to make it quaint, modern or country – the more character it has, the more it will stand out!
Standing out from the crowd
Zack says that to compete with the growing number of granny flats available for rent in the suburb, he designed one that would give him a competitive edge in the market.
"I knew a granny flat would be the most cost-effective way to increase the rental yield"
"I decided to build a two-bedroom granny flat with a garage and porch," he says. "The garage provides secure parking as well as storage, the porch area gives shelter when entering, and having two bedrooms provides ample living space for the occupants." At $146,000, the cost of his granny flat was higher than the average of $120,000, but he is counting on the unique design to make it more attractive to prospective tenants, and protect him from troublesome vacancies.
A straightforward construction
The feasibility study, building plans and associated costs were all handled by Ian Cubitt's Classic Home Improvements, a specialist granny flat builder in the NSW region. For Zack, gaining approval and the construction process were both straightforward matters. "We didn't run into any trouble at all throughout the entire build," says Zack. "The team at Classic Home Improvements were on top of everything."
When the tenants in the primary residence gave notice to leave because of the granny flat construction, Zack offered them a hefty $100 discount on their weekly rent."The tenants were extremely good and reliable, and I wanted them to stay during the construction process and beyond – especially to assist me with cash flow during the building process," Zack explains.
"Some people might say that a drop from $450 a week to $350 is too much, but I would rather have the cash flow than have the front home vacant."Once construction was completed, Zack re-negotiated the lease with the tenants back up to market rates.
A successful manoeuvre
Zack's long-term strategy is to hold the property to achieve maximum capital growth. Now, he's also been able to boost his cash flow from $450 per week to $860. Based on the cost of construction at $146,000, the $410 rental income that the granny flat produces equates to a 14.6% yield.
And while he's still waiting on a new bank appraisal, he expects the value of the property will be largely improved, in line with other properties in the area with secondary dwellings.
"The granny flat has definitely been successful," says Zack.
"It has increased our rental yield, and the investment is enjoying capital growth while it maintains the mortgage repayments all on its own."