12/5/2015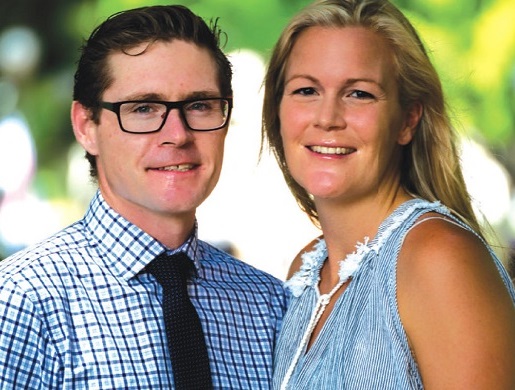 Every night, just as most people settle in to watch their favourite Netflix show, Justine settles in to watch hers. Except her favourite show is not about superheroes or a period drama, it's the latest properties on offer online. She will not sleep until she's scanned all the latest listings on her target market.
"Like my husband, I'm a bit of an addict when it comes to property," she says. "I can't get to bed until I've looked at realestate.com.au. I love looking at listings and chasing a good deal."
The couple's obsession with property is certainly paying off. With a portfolio of seven properties worth more than $10 million, Justine and Aaron are well on their way to financial freedom.
Dramatic first entry
Like many young couples, all Justine and Aaron wanted was a place of their own. And just like many aspiring homeowners, they bought their first home without planning what to do with it afterwards, let alone have plans to build a multi-million-dollar portfolio.
"We wanted to buy our own home, so we started putting away a thousand dollars each month for a few months. We were actually looking to move into the Eastern Suburbs. We thought we could buy a two-bedroom unit there for around the $500,000 mark. Then we thought for an extra bit of money, we could probably end up with a house. So we decided to buy a house."
With a limited budget, the couple were forced to look further out of the city, so they decided to look in the Sutherland Shire where they grew up.
"We found this small, three-bedroom cottage in Caringbah. It was so pretty. Impulsively, I placed an offer on it before my husband knew," Justine chuckles at the thought.
They ended up buying the house for $525,000, but then realised their deposit wouldn't be enough to cover the mortgage insurance and stamp duty. So they quickly applied for the first home owner's grant, which was around $15,000 at that time.
With barely minutes till the settlement deadline, Aaron was sprinting around town to the bank, to get their loan across the line.
"I remember my husband literally running down the main street of Cronulla. It was pretty funny," recalls Justine, fondly. "Luckily, we got in by the skin of our teeth."
Since then, the couple always ensure that they've planned for any contingencies and potential expenses before they go into a deal.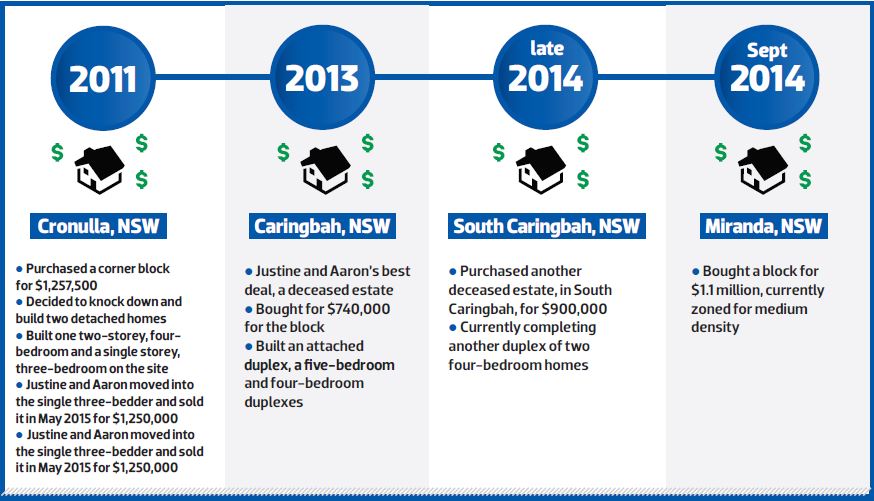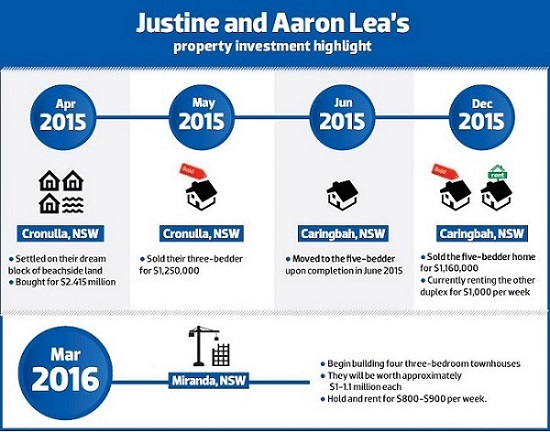 Investment Property #1 Summary
Property type: Corner block 670sq metres
Purchase price: $1,257,500
Development cost: $600,000
Built two detached homes: Two-storey, four-bedroom home currently valued at $1.8 million, currently rented for $1,250 per week
Single level, three-bedroom home sold in May for $1,250,000
Buying investment property #10
The couple's experience in researching their first home has unleashed what would become their obsession
for property.
Not long after they bought their first home, Justine spotted a property that was totally out of their price range, but her extensive research showed the property had enormous potential.
"This house was actually a corner block. I happened to become friends with the real estate agent who was selling the house next door and he told us that this property was going to come on the market. It hadn't come on the market yet, so I was able to do my research.
"It was a block of 670sq metres and I knew, being a corner block, it was actually subdividable. If it were not a corner block, it had to be a minimum of 800sq metres.
"It was above our price range but I knew it had big potential. We had to borrow money off family and friends because the bank wouldn't lend us any money at the time," recalls Justine.
The couple paid $1,257,500 million, which, around then, was a very fair price.
"It was pretty much bang on but we had to give them what they asked for to get it," she says.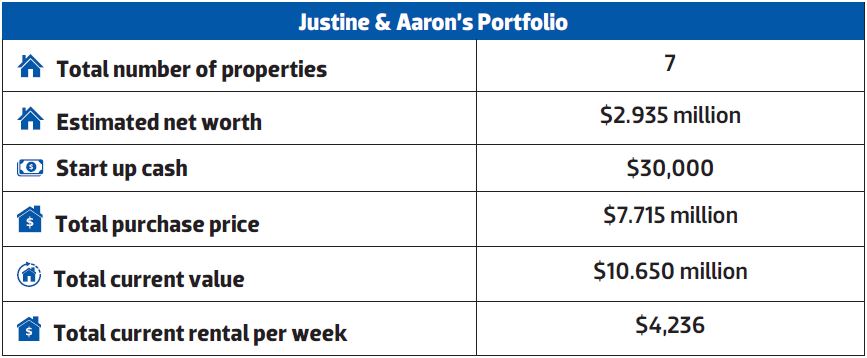 Dealing with setback
As soon as they settled on this property, the couple moved into the existing property and set on building another house in the backyard. But then their application got knocked back.
"We applied at the council and our development application was declined," explains Justine. "We were really upset because we couldn't afford to knock everything down and build up."
Refusing to give in to defeat, Justine's impulsive nature kicked in and she decided to go with the knock down and build strategy instead.
"I thought, 'Bugger it. I'm going to call a master builder to find out how much it would cost us to build this thing.' So I rang and asked how much it would cost to knock down an existing house and build a duplex. He told me it would cost us about $500,000. I thought, 'OMG, that is actually doable!'"
The couple decided to knock down and build two detached homes on the property. But in order for the couple to do this development, they would have to make sacrifices.
"We had to move in with the in-laws while this was underway," says Justine. "I was also pregnant at the time. That's the thing – you have to be prepared and willing to sacrifice for a certain amount of time if you want to achieve something big."
The couple built a two-storey, four-bedroom and a single storey, three-bedroom on the site. Justine and Aaron moved in and lived in the single three-bedder once completed. They sold it in May 2015 for $1,250,000. The development would cost them
$600,000, including council, landscaping, etc.
Their sacrifices have certainly paid off. Those two houses are now worth $1.8 million and $1.25 million respectively, or a total of $3.05 million, according to Justine.
"We're currently renting out the two-storey home for $1,150 per week. That house is now valued at $1.8 million," she says.
"What we did with this property was probably the game changer for us. We bought our first house not really planning what to do with it and, of course, not knowing what to do. Upon seeing what you can get through development, we decided this was the strategy for us."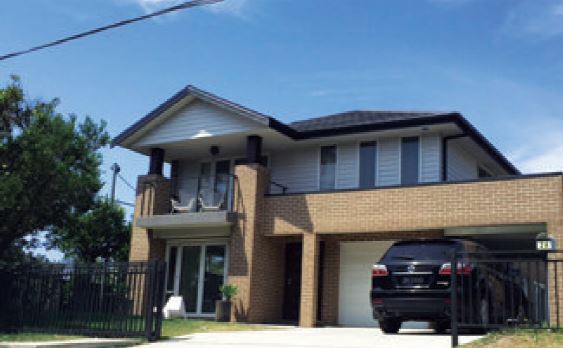 Nabbing their best deal ever
While Justine insists on extensive due diligence on every deal, she admits that when a good deal comes along, she will just go for it.
"One of the biggest factors that really helped us is actually being impulsive. When I say impulsive, I don't mean completely reckless, but you've got to be able to make a decision and make it quickly otherwise, you'll miss the opportunity. There are a lot of other people that have done the same and done the research and they're ready to buy as well, so you've got to get in before them," says Justine.
"I remember seeing the Caringbah property, our second investment property, on a Thursday, and without hesitation put an offer on it for $740k. I was being cheeky because I looked at the blocks around the property and they were valued about $950K.
Justine wasn't the only interested buyer of the property. A neighbour who was very keen to buy it for a long time put in an offer of $20k more than the couple, but ended up losing.
"The two daughters really despised this neighbour because, apparently, he was hounding the previous owner for years. The daughters said, 'We don't want that bloke to buy it. Give it to the young couple,' because, you know, that 20 grand wasn't worth it for them. So you just never know what the vendor's situation is. The only way to find out is to make an offer."
In order to make this decisive action, the key is to do your research, according to Justine.
"You can be impulsive if you've done your research. You can quickly look at something and know whether it would work or not. If you've done your research, then it's really easy to make snap decisions."
The couple decided to build an attached duplex, a five-bedroom and a four-bedroom home. They decided to move in to the five-bedder upon completion in June 2015. In December 2015, they sold it for $1,160,000.
The other duplex is currently valued at $1.2 million and currently rented out for $1,000 a week.
This means after spending $538,000 in building and development, and another $45,000 in finishing, the couple were rewarded with a gross profit of $1.03 million.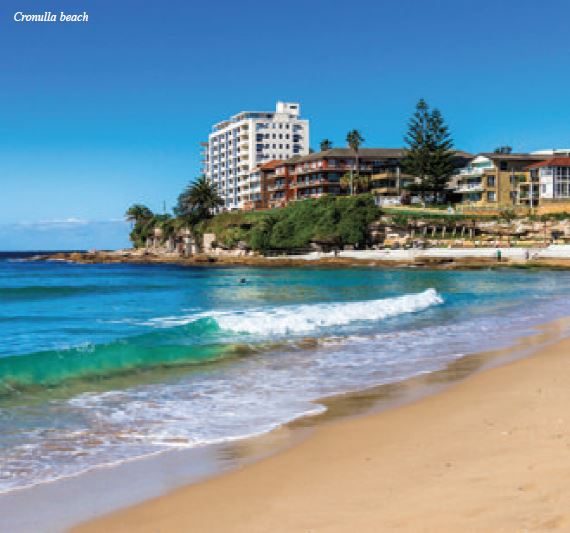 Investing in their own backyard
Location is a big consideration for the couple, and knowing how desirable the Shire is, they decided to focus all their energy in researching the area for the best opportunities.
"We know these areas inside out so we're confident about the best locations in the suburbs and what properties are worth," says Justine.
She points out that the recent changes to the development planning rules now allow dual occupancies to be built on a smaller block size, making potential for cash flow even bigger.
"We noticed that houses are very expensive along the shoreline, but as you go further out past Caringbah, Miranda or Gymea, prices decline.
It was important for us to try and get something within about 5km of the shoreline because that's where you get the capital growth. So we decided to buy something in Caringbah first and then went to Miranda, which was further out. As it turned out, house prices grew faster in Caringbah compared to Miranda. We thought Sutherland suburbs offered the quickest and the best capital growth at the time. The Sutherland Shire is also one area of Sydney where larger blocks (over 600sq metres) are still available."
Supercharging their profits through development
In late 2014, the couple spotted another property with development potential. Also located in South Caringbah, the property was another deceased estate. They snapped it up at $900,000 for the block of land and a house.
By this time, the couple were well into their development strategy and decided to build another duplex on the property. The build and development would cost the couple $680,000.
"We're just completing two four-bedroom homes now," says Justine.
"We're planning to hold these and rent them each for $1,200 per week."
The couple's buying spree continued and in September 2014 they bought a block of land in Miranda for $1.1 million.
"This block was rezoned to medium density a few months later, which we knew would happen," she recalls. "We'll begin building four townhouses, three bedrooms each, in March this year," says Justine.
"We estimate that they'll be worth approximately $1-1.1 million each. We will hold these and rent them at $850-900 per week."
Thanks to the couple's ability to spot a good deal and take decisive action, they're now sitting on a $10 million portfolio, which enables them to finally buy their dream property.
"Thanks to our portfolio, we were able to settle on our dream block of beachside land in Cronulla, which we bought for $2.415 million in April."
Our biggest deal breakers
If the initial asking price is too much, I won't waste my time," says Justine. "You've got to be willing to walk away from the very beginning because there'll be other deals.
"Even now that the market has cooled a bit, people are still paying that extra 10% or 15%. That's the problem. You've got to be able to see the potential but also be willing to make the call when you think it's going to tip you over the edge a bit too much."
Our biggest mistakes
So far, Justine and Aaron haven't made any serious mistakes with their property investment, although Justine admits to making the wrong call when timing the tenant's notice period in one of the properties they were developing.
"We probably gave notice to the tenants of one of our properties too soon, leaving the property vacant for five months until we could begin building a duplex. We lost over $600 per week for five months in rental income," she says.