2/11/2016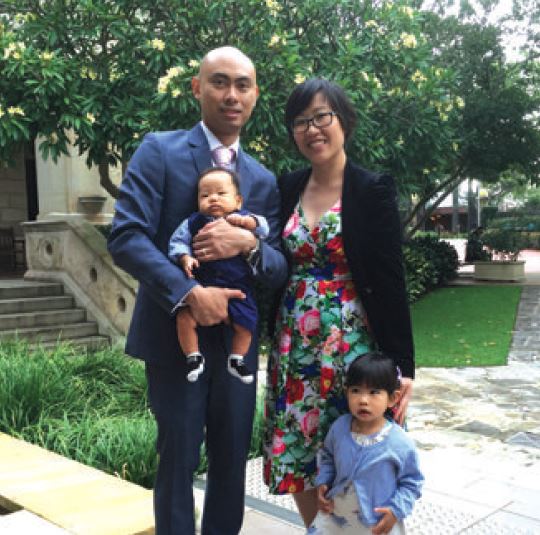 At the time of his first investment back in 2008, Wai Oo was still working in his old career as an aviation engineer. The fall of Ansett threatened both his job and his industry overall, which lit a fire under Wai to look for a back-up career should things turn sour.
Looking back, Wai says perhaps it was fate. Now working in property full-time, he has four properties in his portfolio and, following 10 years of negotiating the inevitable twists and turns of the market, he has the expertise to keep building.
Wai's property profits have helped him achieve more than just a back-up career; they've also allowed him to enjoy a family-friendly lifestyle in which he can work around the demands of raising two small children. Wai's wife only works part-time, while he runs his companies, which means they can have a comfortable lifestyle until they reach their ultimate goal: to retire on their real estate profits.
Diversifying across Australia
With a property portfolio that is diversified across four Australian states, Wai explains that he needed to make informed decisions about each area before committing to buy.
While some areas were investment no-brainers, others required a little more research – and a little more willingness to take a risk.
For instance, his most recent purchase was in Melton, Victoria.
He and his wife paid $300,000 for the rental property, on which they have a mortgage of $274,000.
"That area [may be] a bit premature, or considered too early for investment," Wai says. "But with Melbourne city having such a population growth, it is only a matter of time before this area picks up and delivers the growth we are looking for."
Glad he took the risk, Wai is already reaping the returns on this latest property.
"We've just finishing building this house early this year, and we've already made $75,000 in capital growth, without lifting a finger," he says.
This falls well in line with his ideal investment strategy, which he describes as "lazy".
"I don't really focus on developing or renovating; I am a lazy investor! If I can get my maximum capital gain by doing nothing, then I will do nothing," he says.
"But of course I always ask myself how to maximise my return on my investment. If it means renovating or developing, then of course I would look at doing that. I understand that there are people out there who prefer only one strategy or focus, but to me a strategy should be more personalised and should be looked at as an overall plan of what you want to achieve financially – which means you need to be flexible."
"We're not going to be driving around in a Ferrari just yet, but that's not what this is about … I get to spend a lot of time with my family and I have never missed a moment of my kids growing up"
Of course, not all of Wai's investments have been so profitable.
In 2012, at the height of Queensland's mining boom, Wai's research led him to Gladstone. Like many other investors he was impressed by the high cash flow on offer and was won over by predictions of long-term capital growth. Unfortunately, when the mining boom came to a screeching halt, Gladstone's thriving economy came to a halt with it.
"Well, there is nothing much to say about this one. There was a gold rush and we tried to get in on it – and now the rush is over," Wai says pragmatically.
He views the experience as an opportunity to learn and has chosen to leverage the lesson into future investments.
"Everybody is different. Some of us have a higher risk appetite and some are very conservative, so it is very important to find out who you are as an investor and what associated risk you are willing to take to achieve your financial goals," he says.
"There's no point in going in and investing in mining towns when you are a very conservative investor. You won't have a very good experience!"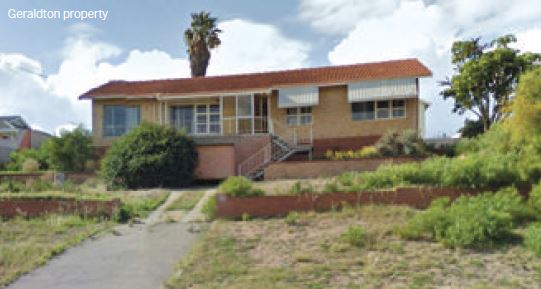 Surviving the pitfalls of property
Though Wai admits the journey of accumulating his profitable portfolio hasn't been without its challenges, he says he wouldn't change a thing if he could go back and do things differently.
Currently his portfolio has more than $800,000 in equity, and although some of his properties are performing more strongly than others, he believes this is just part and parcel of the game of property investing.
"It is not always as rosy as some people can make it out to be! There are maintenance issues that need addressing, tenancy issues, making sure rent gets paid on time, and that mortgages are paid on time," Wai says.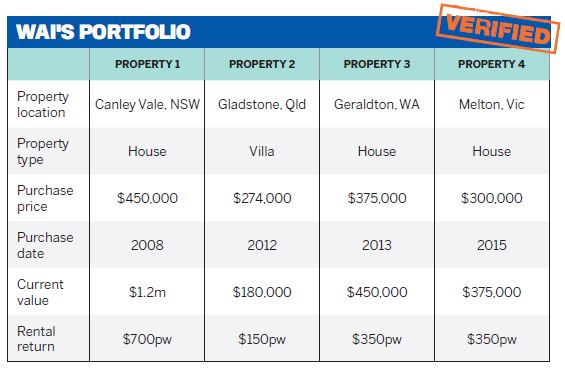 WAI'S TOP 3 INVESTMENT TIPS
• Be clear about who you are as an investor, and have clarity around what kind of risk you are willing to accept, as well as your financial and investment goals.
• Have a clear plan and a strategy for how you will achieve those goals. Don't get caught up in the transactional activities of cash flow or capital gains. After all, it is your overall goals that are more important.
• Build your team and find trusted advisors who are not only qualified but put your interest first.
"The trick is, you have to become CEO of your own little empire and manage others." While Wai is fortunate enough to have never experienced a dodgy property manager, he has had tenants who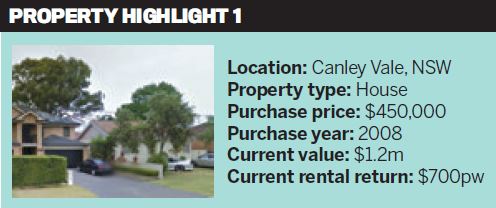 became unwilling to pay their rent, and has dealt with some inexperienced finance brokers.
So, recently he took his own advice quite literally and set up his own small business so he could work in property investing full-time. Finding people he could trust to operate in his best interests as a property investor had proved tricky, so Wai decided to start his own investment advisory and finance broking company.
"Don't get me wrong – most finance brokers are really good at their job.
But there are only a very few who understand the property market and property investment. If you can fi nd one, you should keep them!" he says.
"If the one you are working with isn't experienced, then it's time to change. If he or she is holding you back in achieving your investment outcome, then it's time to let him go."
A poor mortgage broker can make all the difference between you retiring early or staying in the workforce for longer, so it pays to get this right if you want to reach your goals, Wai says.
"One of our goals was for one of us, either my wife or I, to retire. That was about eight years ago.
"Since then we've had two kids and my wife only works part-time and I have my companies to run. We are doing okay; we are not going to be driving around in a Ferrari just yet, but that's not what this is about," he says.
"It's about being with the ones you love. I get to spend a lot of time with my family, and I have never missed a moment of my kids growing up. I was there when they rolled, when they first crawled and when they tried their first piece of chocolate."
That, many would agree, is priceless.