11/01/2018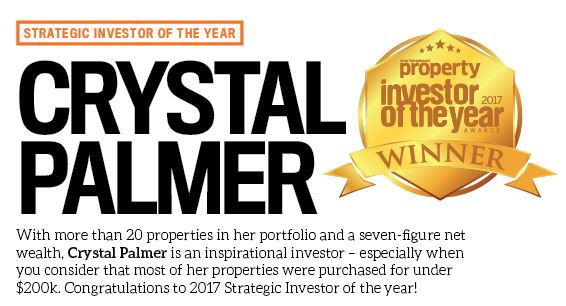 With more than 15 properties in her portfolio and a seven-figure net wealth, Crystal Palmer is an inspirational investor – especially when you consider that most of her properties were purchased for under $200k . Congratulations to Crystal – our 2017 Strategic Investor of the year!
"I started when I was 19. I was fortunate enough to know someone who had a number of negatively geared properties and that strategy clearly didn't work for him or his cashflow," Crystal shares.
"We spoke at great length about investing in property with a positive cash flow strategy and together, we purchased low-priced investments for strong rent returns. I was only just out of high school with a part time job!"
Though she wasn't yet convinced of her career path at that stage, Crystal knew she needed to find something that she was passionate about – and it didn't take long to realise it was in property.
She began with just $30,000, and leveraged it from one deal to the next, doing cosmetic renovations along the way to maximise profits and improve yields.
"Generally, when I purchase a property, if I include, paint, heating/cooling, floor coverings and maybe a new kitchen or bathroom plus general handywork around the property, I'd be looking at a $15,000 renovation. For this $15,000, I look to put $50,000 equity onto the property as a minimum," she shares.
"My latest purchase was in Glen Innes, NSW. I purchased this property for $110,000, which I knew was well below market value. It was a deceased estate so they wanted a quick sale. I wasted no time in inspecting it and moving on an offer. It needed a bit of work, so I spent more than what I normally would – around $40,000 in renovations. But I knew that when it was complete, the property value would be between $200-210k, giving me the $50k equity. I have successfully rented it out for $280 per week. With a loan repayment of $300 per month, this investment was a home run!"
This is just one of Crystal's incredible property ventures – and demonstrates how she caught our judge's attention.
Read Crystal's full story in the February issue of Your Investment Property magazine, out now!