As investors we are often so focused on negotiating the best possible purchase price that we get fi xated on this number – and the deposit we need to save. Consequently, these two figures are the largest to jump out at us.
Whether it's because the impact of that initial figure catches all our attention, or we simply believe that everything to follow will be 'affordable' in comparison, the other fees involved in the purchase of a property might not register. They should, however, all be factored into the overall buying budget.
Here are a handful of the fees buyers should become familiar with, and while some amount to only a few hundred dollars, they all need to be planned for.
Lenders mortgage insurance
Previously, buyers were required to hand a lender at least a 20% cash deposit before they could secure a home loan. But today this amount has been reduced to as low as a manageable 5%.
However, in order to take advantage of this, a borrower will need to pay for lenders mortgage insurance (LMI), which will cover the bank in case your circumstances change and you are unable to continue making your mortgage repayments.
In other words, this is the insurance the bank takes out to protect itself against any possible risks associated with handing over more than 80% of a property's value.
While the cost of LMI can run well into the thousands, depending on how much you're borrowing from the bank, the benefit today is that a borrower is able to either pay this amount up front or spread it across the entire life of the loan.
But this doesn't mean that LMI costs should be blanketed, because paying in instalments will increase the size of your monthly repayments.

Approximate cost:
A few thousand dollars, depending on the property's value and how much you decide to borrow. For instance, for a property valued at $800,000, borrowing $700,000 could cost you about $10,000 to $15,000 in LMI fees, whereas borrowing $750,000 will see this premium jump to $30,000 plus.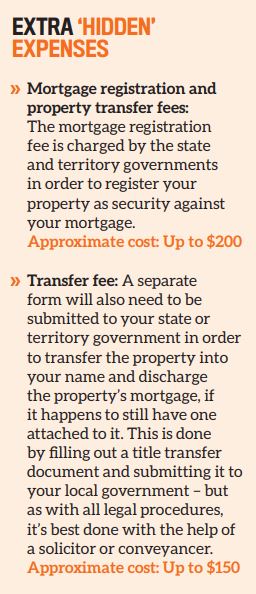 Stamp duty
Otherwise known as land transfer duty, this is a tax enforced by the state and territory governments whenever a buyer purchases a property, and this fee needs to be paid up front within a certain period of time after settlement day, or after the property is transferred.
The fee varies from state to state, but it can cost a buyer tens of thousands of dollars, depending on how much the property was purchased for. Stamp duties are generally more expensive for investors than homeowners, and unfortunately it's not a tax-deductible expense, though it can be added to your cost base when you sell.

Approximate cost:
Stamp duty can reach into the tens of thousands, but costs differ in each state and territory's jurisdictions (see boxout), so check with your state's revenue office to determine approximate rates.
Conveyancing and legal fees
A number of experts will need to come on board to assist a buyer in securing an investment property.
While a mortgage broker may help you find a home loan that best suits your goals and finances, they will generally not charge you a fee for their service, as the lenders they work with ultimately pay them a commission.
However, after obtaining a mortgage or a pre-approval for a home loan, you will need funds to pay a solicitor or conveyancer to handle the legal side of purchasing a property. Not only will they prepare all the necessary legal documents but they will submit them and make sure everything is done correctly and by the enforced due date.
Furthermore, they can assist with the property's change of hands on settlement day, transferring your mortgage, liaising with the bank, lodging and paying the property's stamp duty fee, and giving expert advice along the way.

Approximate cost:
Legal fees can cost you anywhere from a few hundred dollars to approximately $2,000, depending on your solicitor's or conveyancer's rates, and on your state or territory. Be sure to get an estimate of costs in writing prior to engaging their services.

Mortgage application fee
In addition, but not as jaw-dropping as the total home loan figure, there is a mortgage application fee: the cost of establishing or opening your home loan with a lender.
It's worth asking your lender whether they will consider waiving this fee, as many are known to do so under certain conditions and circumstances in order to get your business.

Approximate cost:
Between $300 and $750.
Pest and building inspection costs
Prior to finalising the purchase of an investment property, it's advisable to look out for any problems. Warning signs can include pests on the property, unstable building foundations, dampness, a sinking roof and a subsiding floor.
These are all best assessed by a qualified pest inspector, and a building inspector or surveyor, who have the experience to determine where the problem sits on a risk scale, and how much rectifying it could set you back – that's if you still choose to finalise the purchase of the property.

Approximate cost:
Up to $1,000.
Home, contents and landlords insurance
In most states and territories, building insurance is legally required to be in effect from the date you sign the contract, or from settlement day. While the seller is deemed responsible for the property between the signing of the contract and settlement day, this has been a grey area in the past, so it's worthwhile making the small investment to cover yourself in case the worst happens.
For this reason, buyers are advised to consider taking out building insurance from the date the contracts are signed, just to be safe. Investors should also shop around for a landlord insurance policy that will take effect on settlement day.

Approximate cost:
Insurance costs vary from provider to provider. The amount also depends on how long you take the insurance out for, and the type of insurance product you opt for, so it's advisable to get at least three quotes from different providers before making a decision.
In addition to these sometimesoverlooked costs, there may be others that arise – not only throughout the buying process but also following it – such as the cost of an extra set of keys, or minor renovations being required before your tenant can move in.
The first step you can take is to sit down with a qualified and experienced mortgage broker and have them guide you through all the possible fees involved in buying an investment property. That way, you can factor them into your budget well in advance and avoid any unexpected costs.