Brisbane's median house price climbed by double digits over the past year driven by the largest year-on-year price surge in over a decade.
The latest Domain House Price Report for the June quarter revealed that Brisbane's median house price jumped 13% over the 12 months to June in what was the largest rise in 13 years.
The city's new median house price has increased $33,000 over the past 3 months and almost $78,000 over the past year to reach a new record of $678,236.
Given the momentum that has built in the housing market, Domain expects Brisbane house prices to edge over $700,000 over the coming quarter.
But in order to achieve this, it will take just over half of the percentage growth recorded over the recent quarter, the report states.
All Brisbane regions are at record prices, apart from the more affordable areas of Ipswich and Logan-Beaudesert.
This suggests, Domain says, that upgrading homeowners are fuelling house prices, as well as interstate and expat buyers coming from more expensive cities.
In Brisbane's inner-city ring, average house prices have jumped a massive 30% year-on-year to $1.24 million, while prices in Brisbane's north are up 19.8% to $752,000.
Median house prices are also up 18.9% to $868,000 in the western suburbs and have risen 17.5% to $833,000 in the south.
Meanwhile in the city's east median prices have risen 8.9% year-on-year to $655,000.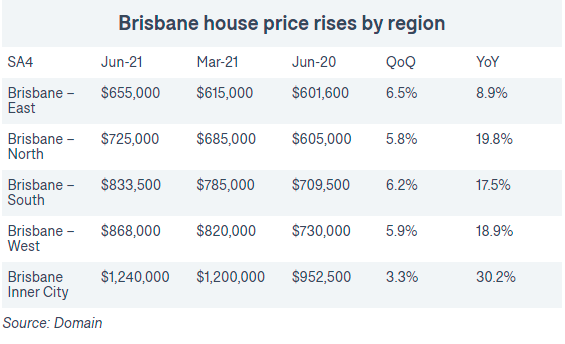 Meanwhile, Brisbane's unit prices dipped almost $1,800 over the June quarter to $394,287 which is around $22,000 below the mid-2016 peak.
The underperformance of Brisbane's unit prices has been a consistent trend for a number of years as a result of increased development, but they have displayed more stable conditions in recent quarters, the report explains.
The 2032 Olympic games are set to fuel further growth
Property experts claim this moment in Brisbane property history is just the beginning, with the city's successful Olympics bid tipped to fuel further growth.
With Brisbane set to host the 2032 Olympics, significant infrastructure investment and associated job creation in the lead up will place additional demand on housing.
This could help to drive a turnaround in unit price performance as investor interest grows, supporting price growth in the years leading up to the games.
Domain chief of research and economics Nicola Powell said the Queensland capital was perfectly poised for a property coming of age with close to record-high interstate and expat migration largely feeding the latest growth.
"What's interesting about hosting the Olympics is that the impact on housing values isn't going to be during the Olympics of 2032; it's going to be far more stretched than that because in the lead up it's such a significant event for Australia and Brisbane so we'll see significant investment," she said.
"It will grow the infrastructure and the associated job creation, and with that, it will bring economic prosperity."
"I think this is something that sets Brisbane apart from our other capital cities because, until 2032, there's a long period of time, which means there's lots of time for purchases on big-ticket items in terms of infrastructure."
Powell added that the capital's continued affordability compared to Sydney and Melbourne is also throwing more fuel into the price cycle with interstate buyers continually flocking to the region.
The most exciting thing for Brisbane is there is still plenty of growth left, as Brisbane property is still very affordable compared to the other east coast capital cities.
Aside from the 2032 Olympics, the city is also expected to benefit from an influx of migration once Australia's borders reopen after the Covid-19 pandemic has lessened and some of Australia's normality has resumed.
Outstanding demand for lifestyle areas as well as extremely strong demand for detached houses in Brisbane, particularly in the inner and middle ring suburbs has helped drive overall growth with Brisbane's more expensive properties outperforming.
And the resurgence of buyer interest in the Brisbane property market has meant that auction clearance rates have consistently been in the 70% range, which is unusual for Brisbane considering this city is not known for its auction culture like its southern cousins, but this is just another suggestion that there are more buyers than there are sellers and this always leads to higher property prices.
.....................................................

Brett Warren is a director of Metropole Properties in Brisbane and uses his 18 plus years property investment experience and economics education to advise clients how to build their portfolios.
He is a regular commentator for Michael Yardney's Property Update.
Disclaimer: while due care is taken, the viewpoints expressed by contributors do not necessarily reflect the opinions of Your Investment Property.