Have you considered that recent events could cause a complete reset for our property markets?
For many around the country this period has been a time of reflection.
A time to reset goals and refocus on what is important, a chance to re assess our priorities.
We are at the start of another property cycle, so it is important to understand what factors will drive people's property choices moving forward.
The way people desire to live is changing and as an investor you must understand this if you are looking to obtain above average returns.
Here are my thoughts
Convenience
I have explained previously how I see the rules of property changing.
In short, the way we are choosing to live is changing.
For decades now, the priority has been a good size block of land, with a white picket fence, and plenty of space for family.
Nowadays, priorities are shifting.
People are trading big backyards in outer areas for smaller courtyards or balconies as they search for a more convenient lifestyle.
While the trend for many retirees and baby boomers is to stay put.
Rather than the sea change or tree change that was predicted, they are favouring downsizing in their existing neighbourhood.
They want to be close to family, friends, their doctor and perhaps their favourite cafes and restaurant.
Third place
One thing I know many of our Melbourne friends have been missing is their "third place"
If our first place is home and our second place is work or the office, it has been the ability to go to a third place that was taken away.
It may be a favourite café, a gym or a place of worship and even local shops and pubs.
They have missed that feeling and connection to others, having an outlet to take a break from family or colleagues for a short period to reset.
A gym or exercise centre has been substituted for a favourite walking or cycling path with green space and fresh air.
So, all these features combined, will be a major requirement and will create huge demand moving forward.
These are all features of the 20-minute neighbourhood, that will be built around convenience.
The 20 minute neighbourhood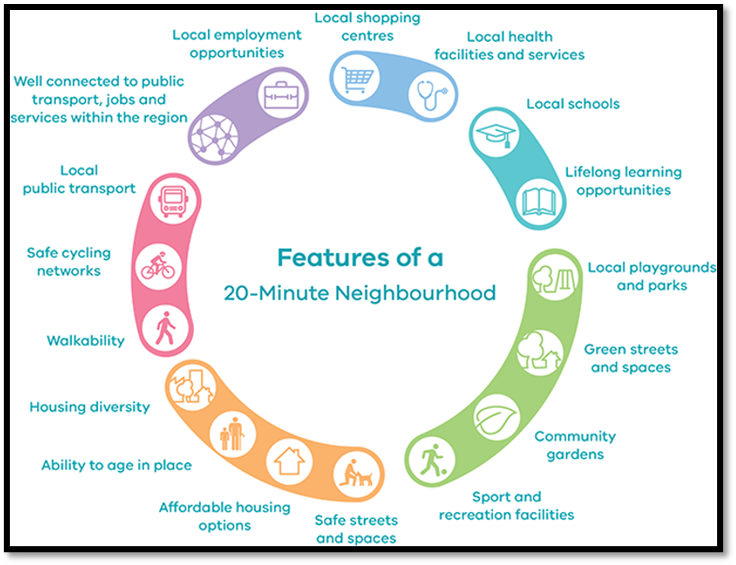 The State Government of Victoria has released a guide to the "20 Minute Neighbourhood" recently.
Their research suggests that an ideal neighbourhood would mean most facilities will be a 20 walk, cycle or drive away.
So, convenience and options will be the key.
While new neighbourhoods may adapt, they will not have as many choices or options that we see in our inner and middle ring suburbs.
Sure, they may build a Coles or a Woolworths, but they most likely will not have a Coles and a Woolworths and an Aldi or even an IGA.
They may also get a new bus stop or train line, but they will not have access to both a bus and a train and potentially a tram, ferry, or bike option to get around.
A coffee shop or restaurant or two will also be a must, but the choice of 10 or 15 different options will have considerably higher appeal.
Gastro breweries, boutique shops, art galleries and entertainment precincts will be the icing on the cake.
All at your doorstep – or at least no more than 20 minutes away
As the first place (accommodation type) gets smaller, demand for options and a third place will rise and people will be prepared to pay a premium to live in a great neighbourhood.
With no new land available, this type of precinct will be in very short supply.
In summary
The way people want to live will change in the new decade, so to must the way you look at property if you're looking for properties and locations that will outperform the average with regards to capital growth and rental growth.
You will need to understand how people are choosing to live and what is important to them.
Substituting bigger houses for smaller accommodation will see a rise in demand for a great "third place".
Convenience and being spoilt for choice will be highly sought after.
The more restaurants, cafes, transport options, exercise facilities and shopping facilities the better.
It will see demand soar in our inner and middle ring suburbs, but supply will remain very tight.
While you have the inside work on the locations, now you must find the right types of properties for this demographic.
Or you could always hire a professional to assist you.
We help our clients grow, protect and pass on their wealth through a range of services including:
.....................................................

Brett Warren is a director of Metropole Properties in Brisbane and uses his 18 plus years property investment experience and economics education to advise clients how to build their portfolios.
He is a regular commentator for Michael Yardney's Property Update.
Disclaimer: while due care is taken, the viewpoints expressed by contributors do not necessarily reflect the opinions of Your Investment Property.