Expert Advice with Kate Forbes 20/06/2018
If you're keen to take the plunge and invest in real estate, you have just one thing standing in your way of success: selecting the right property asset.
Perhaps surprisingly, it's not as easy as you'd think!
Now the truly tricky part begins, because choosing a high performing investment property isn't quite as straightforward as searching for your own home.
When house-hunting, you can afford to let your emotions lead the way.
If you're taken with the luxe Turkish curtains, or you can imagine yourself brunching on the grass-fringed deck, then these types of details can help you decide that you've found "the one".
Searching for an investment property is a completely different proposition.
You're no longer looking for features and aspects that you personally desire, but instead, ones that your target renter will benefit from.
But, with so many properties on the market that cater to a whole range of different budgets, lifestyles and circumstances, how do you even know where to begin?
While it's true that there is no "one size fits all" solution to finding an investment property, as we all have different needs, goals and budgets, it's also true that there are some key steps we should all be taking, when searching for an investment-grade property asset.
Here's a quick-start guide to picking your investment property, covering four essential criteria that should form part of every investor's high-performance property search:
1. First comes research – and plenty of it
Research is such an important step, yet it's an area that a lot of gung-ho beginners tend to skip due to over-eagerness. Don't make this mistake!
Failing to properly research your investment is akin to flipping through the property classified blindfolded and pointing to a listing at random.
There is a lot of information out there, and the best place to begin is with reliable, trusted property data sources such as Core Logic or the Australian Bureau of Statistics.
The real estate portals also provide a lot of free data.
These sources can help you identify trends and market conditions that will help your investment to prosper, such as the type of property that is currently in demand (or that is likely to be in demand soon) with tenants; areas that are under-supplied; and suburbs that have extremely low vacancy rates.
You can also look up the historical performance of various areas to better gauge whether a particular suburb is known for having stronger returns than others.
Furthermore, it helps to have a decent understanding of the current economic landscape, taking into account things like employment trends, demographic profiles, market cycle and consumer confidence.
If research isn't your forte, don't be tempted to skip this step!
You can lean on reputable professionals such as independent property advisors and buyer's agents to help lead the way.
Just be sure to qualify your experts, and don't take advice from any Tom, Dick or Harriet.
You're thinking about investing hundreds of thousands of dollars, not getting a haircut or trying a new restaurant, so friend and family recommendations don't quite cut it.
2. Select your strategy
There's no way you'll succeed in investing if you fail to create a proper strategy - one that's known, proven and trusted.
One that has helped others become wealthy through property.
You may make a little money, accidentally, without a strategy – but if that's the result you can achieve without putting any effort or thought into your property plans, then imagine what you can do with a clear and promising strategy?
It's not enough to have just a vague idea of what you want to accomplish; to be truly successful, the savviest investors out there have a comprehensive plan that details how they plan to get from A to B and reach their investment goals.
An easy way to do this is to start by thinking over your short-term goals and writing them up into a five-year plan.
When developing your investment strategy, think about things like:
• The amount of money you have available to invest.
• The savings you've been able to accrue that can be dedicated to your property investment goals.
• How much time you have on your hands to give your property the right amount of attention.
• Your skills and knowledge of the industry.
The wrong strategy can sabotage your wealth creation journey.
Remember... if you have your ladder up against the wrong wall, every step you take gets you further from where you want to be.
Again, there are plenty of people who can assist you in figuring out your property game plan, so don't be afraid to reach out to a qualified property advisor or who can lead you in the right direction and provide adequate guidance.
3. Lock in the location
After you have conducted your research and you have a solid plan in place, you can begin searching for your investment property.
Since the location of your property will do 80 per cent of the heavy lifting, a good place to start is those suburbs where incomes are growing higher than the average for the state.
This is usually due to local jobs and economic growth.
Choosing somewhere close to facilities such as public transport, good schools, shopping centres, restaurants and the central business district is also important.
Remember population growth doesn't necessarily lead to price growth, especially in the outer suburbs where wages growth is minimal.
4. Consider the actual property
Once you've narrowed down your location, the next thing to consider is the actual property itself.
This is where you will ideally hit the pavement and start looking at properties inside and out.
There are many "tricks of the trade" that real estate agents can use to make houses and units look bigger and better than they actually are - wide angle photo lenses, clever photography and "omitting" poor property features from the photos are just some of the tactics they can use to snare unsuspecting property buyers.
Walking through the property yourself is the best way to ascertain whether it stacks up as an investment or not.
Study it for signs of water damage, plumbing problems, uneven floors, walls and ceilings, formation of cracks, or gaps in brickwork.
And don't forget to take into account things like room size, natural light, ventilation, storage opportunities and car parking.
These are all features that your tenants may value highly.
It might be beneficial to get a building and pest inspector involved, as they can cast their professional eye over the property and give you a better idea of potential issues.
Remember, two of the most important things to look for when you're deciding to invest your money are strength and stability – and real estate has been proven to be a strong, stable choice over the long-term.
Choosing the right property is crucial to your success, so dedicate ample time to this part of the process.
Investing in property can be exciting and contagious, prompting you to act fast, but this is not the time to act hastily.
Invest the time and effort now, and you'll reap the rewards for years to come.
.....................................................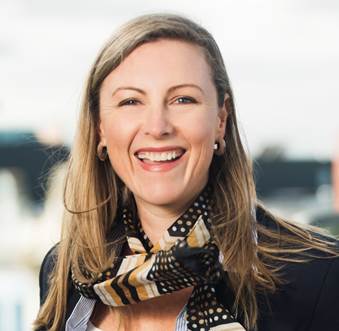 Kate Forbes is a National Director at Metropole Property Strategists. She has 15 years of investment experience in financial markets in two continents, is qualified in multiple disciplines and is also a chartered financial analyst (CFA).
She is a regular commentator for
Michael Yardney's Property Update
Read more Expert Advice from Kate here!
Disclaimer: while due care is taken, the viewpoints expressed by contributors do not necessarily reflect the opinions of Your Investment Property.