Expert Advice with Michael Yardney. 09/08/2017

Welcome to episode one of the Michael Yardney podcast. Over the years, I have probably educated more successful Australians than anyone else in the area of wealth creation through property. Now it's time for me to share my thoughts about what is going on in the world with property investment, the economy, and why the rich keep getting richer all through my new Michael Yardney podcast.

This is going to be a weekly show that comes out every Tuesday, where you can pick my brain on property investment and more. I'll also share some thoughts from my advisors in my mastermind group. I will try to get to as many of your questions as I can. Today, I'm going to talk about one of the reasons many investors fail and how to find an investment grade property. I also share how to become the pilot of your life and not the passenger.

Listen to the podcast now:-

Today's topics include:

• How the majority of property investors in Australia fail

• Buying investment grade properties that produce wealth building returns

• Characteristics of a good investment

• Four ways that property investors make money

• Building an asset base and transitioning to cash flow stage

• Six stranded strategic approach to buying properties

• Following a proven blueprint that other investors have followed

Mindset Message: How to Become the Pilot of Your Life Not the Passenger

• As the world changes, we can attribute success to things outside our control or things that we can influence. People who take responsibility and are accountable for things that happen tend to earn more money, be more successful, and achieve more. We can change our beliefs and improve how we look at the world.

Links and resources:

..........................................................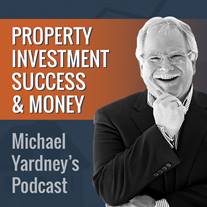 Michael Yardney is a director of Metropole Property Strategists, which creates wealth for its clients through independent, unbiased property advice and advocacy. He is a best-selling author, one of Australia's leading experts in wealth creation through property. In addition to the Property Investment Success & Money Podcast, he also writes the Property Update blog.

To hear more podcasts and read more articles by Michael Yardney, click here

Disclaimer: while due care is taken, the viewpoints expressed by contributors do not necessarily reflect the opinions of Your Investment Property.