Expert Advice with Simon Pressley 12/07/2018
Imagine, if you will, that two years ago you had the opportunity to invest a relatively small sum of money in a property in a location that no one was talking about it? In fact, most people were talking that particular location down.
Would you do it?
That was the quandary for Sydney-based investor, Pravin, in early 2016.
Back then, he had been a confirmed "buy in your own backyard" type of investor for quite a few years.
The strategy had worked pretty well for him over the previous decade but, after building his portfolio to a decent size, he realised that land tax was about to become a problem. Plus, he understood that he'd created a market concentration risk (his portfolio clearly lacked location diversity).
As a DIY investor, Pravin had bought quite well over the years – well, apart from his first property in 2004, which he still lives in.
"My partner at the time wanted something brand new and I wanted something run-down that I could do up, but she won out in the end," he said.
"The house in terms of annual growth, it's probably been the worst property in my portfolio. That was probably a disaster when I look back at it. I bought right at the end of the boom and bought quite possibly the worst property I could have – I bought a brand-new build."
Thinking outside the box
While Pravin, now 42, admits that wasn't his smartest investment move, he certainly made some measured ones in the years that followed. Using equity from his growing portfolio, he bought a mix of units and houses, as well adding granny flats.
But everything was in Sydney. Pravin had come to realise that he had all his property eggs in one basket and that started to worry him.
"I know how easy it is for a market to turn and then be flat for a very long period of time and I had everything invested all in one city," he said.
"I decided that from now on properties need to be purchased outside of New South Wales. But even if I could do research, I couldn't back up that information by checking things out. Just flying to an area and having a look at it one day is not going to give you the level of information that you need."
Pravin had been following Propertyology's research and decided to reach out to the firm to see how they could help him with his first purchase outside of his own patch.
He recognised that he not only didn't have the time to undertake the research, he knew he didn't have anywhere near the depth of expertise as a business that analyses property markets all over Australia every day.
"One of the things that set Propertyology apart was the amount of information they used to make decisions and the detail they go to. That level of detail was something that caught my eye," he said. "I definitely needed someone to help me with that so I didn't make a mistake."
An unexpected recommendation
Remember, this was in early 2016. While Propertyology had already been actively investing in Hobart for a couple of years, the Australian public had been talking Hobart down for several years.
"When they first pitched it [Hobart] to me, I was very skeptical," he said.
"Apart from Propertyology, no one else was saying anything about the area. The press was very negative about all of it. To be honest, I was pretty negative about it as well."
"I couldn't see how it could possibly work but once they presented all of the data, everything matched. It all made complete sense," said Pravin.
Using just $75,000 from equity in his existing portfolio, Pravin was soon the owner of a 4-bedroom, 2-bathroom house in Hobart for only $395,000.
The owners had opted to stay on as renters, so Pravin's property didn't spend a single day vacant.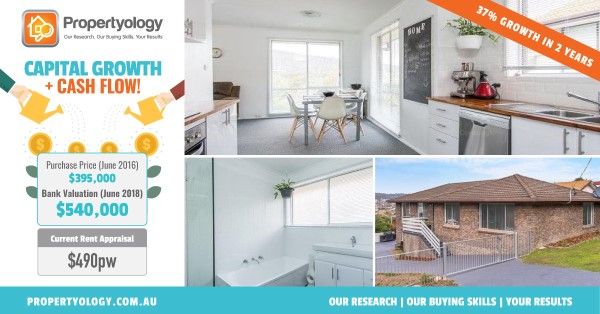 Saving time, money and peace of mind
With five properties already under his belt, Pravin had experienced the stresses that can come with the buying process, but this time, well, he felt not much at all.
"I literally had to do next to nothing. That was the best bit because normally it's pretty stressful," he said.
"Not having to think or worry about anything and everything getting taken care of it. The whole process was really seamless. To be honest, between my broker and Propertyology, I literally didn't end up doing any work at all apart from signing the paperwork."
Amazing return on my money
Fast forward two years to today, Pravin has not completed any renovations at all however, the rent has increased to $440 per week, meaning it doesn't cost Pravin anything at all to hold.
Recent media reports were consistently reiterating that Hobart had become Australia's best-performed property market. It made Pravin thankful that he ignored the earlier media and general rhetoric and didn't follow the herd; instead placing his confidence in the professionals at Propertyology.
Keen to put has equity to good use and invest again, Pravin contacted his mortgage broker to get the loan process going, including organising a valuation on the Hobart property that he initially paid $395,000 for.
"The bank valuation came back at $540,000. I know they [valuers] are conservative; real estate agents believe I could get $570,000 straight away. It's phenomenal, isn't it?" he said.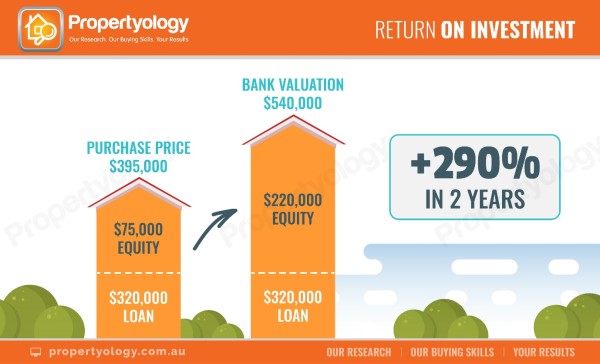 As at June 2018, the property value had grown by 37 per cent and Hobart's exciting growth cycle doesn't look like ending any time soon.
Pravin's initial equity of $75,000 has (so far) increased to $215,000 equity. That's a whopping 286 per cent increase in the space of just two years.
If, back then, Pravin had again invested in Sydney, he may have made 10 per cent over the same period and that market but Sydney has now seen 10 consecutive months of price decline. In addition, the holding costs in Sydney are in the tens of thousands of dollars each year.
With the equity soon to be released from his Hobart property, Pravin is in the throes of buying another property, again using Propertyology and again opting for an affordable location in a completely different (interstate) location.
"I think some people have a fear that if you can't see it, if you haven't done it yourself, and you're trusting someone with such a big investment, that they might lead you down the wrong path," he said.
"But Propertyology is doing this day in and day out. The amount of data and information they crunch and the areas they look at, you would never look at in a million years."
"The whole aim is to pick the absolute best place out of the all of the available places. If anyone tried to do it on their own, no one would ever be able to do all of that. By the time you get all of that information, the area would have already moved on and you'd have to start all over again."
......................................................................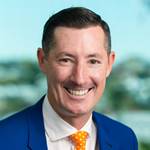 Simon Pressley is Head of Property Market Research and Managing Director at Propertyology.
Propertyology is a national property market researcher and buyer's agency, helping everyday people to invest in strategically-chosen locations all over Australia. The multi-award-winning firm's success includes being a finalist in the 2017 Telstra Business Awards and 2018 winner of Buyer's Agency of the Year in REIQ Awards For Excellence.
Disclaimer: while due care is taken, the viewpoints expressed by contributors do not necessarily reflect the opinions of Your Investment Property.