Propertyology has spent the last 6-months actively observing the broader impacts of Covid-19, monitoring responses of community stakeholders, and anticipating future trends for Australian real estate.
"We will continue to live in a world of disruption until such time as a coronavirus vaccine is available. But the disruption from this germ has been big enough and already lasted long enough for Australian real estate to have changed forever. Much of that change will be for the better," said Propertyology Head of Research, Simon Pressley.
Given the intense restrictions to lifestyles and earning capacities, Propertyology expects that hundreds of thousands of Australians are in the midst of redefining what's really important to them and how they can minimise the risk of major disruption in future.
"Before too long, there will be a big enough critical mass of people who will work and / or live at a different address to cause a structural shift in property markets," said Mr Pressley.
The property market analysts and national buyer's agency said that if just 5 percent of Australia's workforce adopts the work-from-home (WFH) model as their new norm that's 650,000 people. But they suspect it will be a bigger figure than that.
Finance and insurance workers, engineers, lawyers, accountants, IT, other knowledge-based employees and clerical workers have already had long enough to test and measure the Work-From-Home business model.
Some businesses will do it voluntarily for the increased productivity, extra hours in the day from not having to commute, and reduced overheads. Big offices must do it to comply with social distancing regulations.
Propertyology said that the traditional 'fried egg' town planning model (CBDs filled with large volumes of office towers surrounded by retail businesses and high-density residential apartments) is about to become scrambled.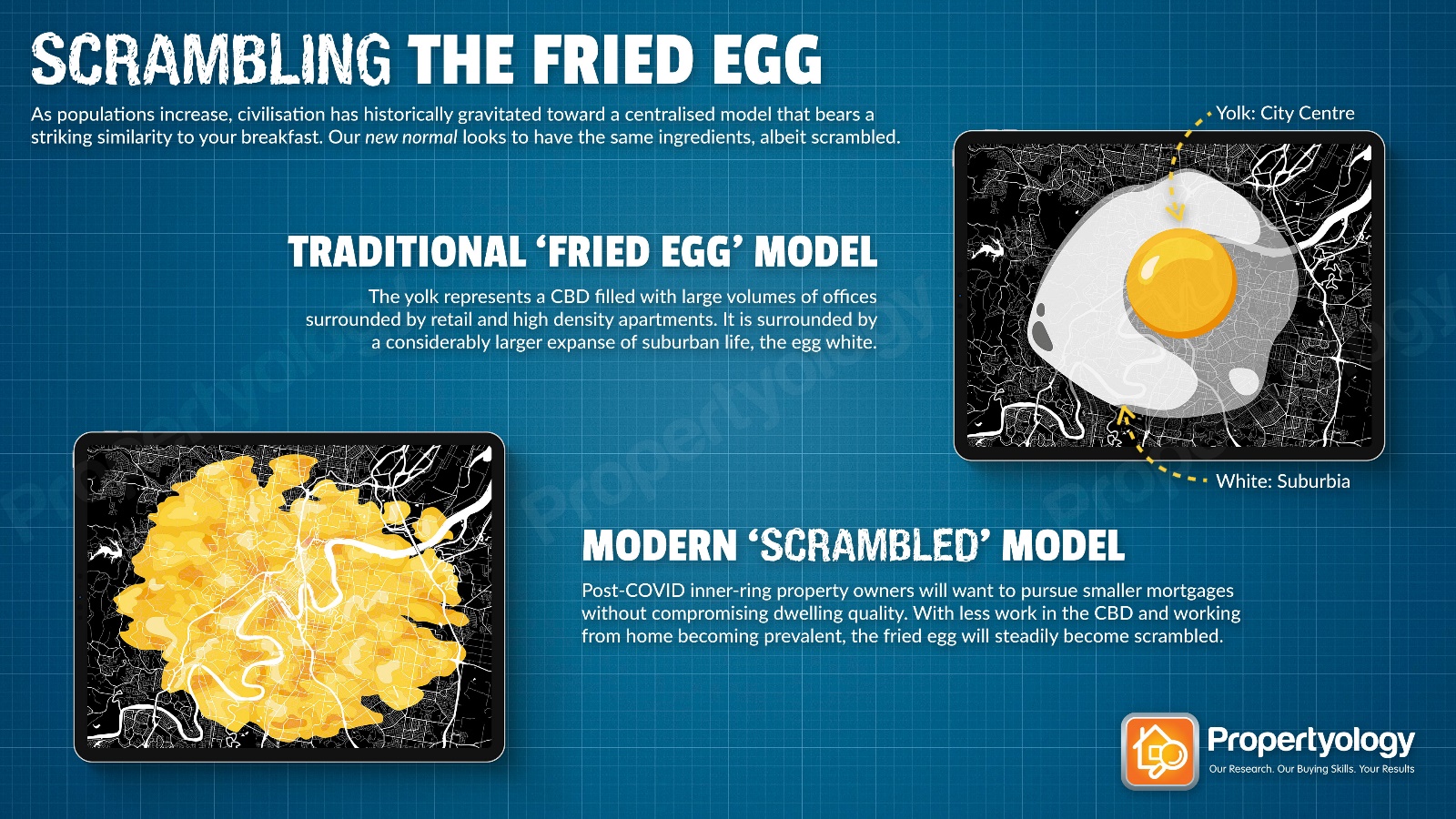 "People will disburse in a different pattern. A germ does not diminish Australia's total demand for shelter, but it will significantly influence where people choose to take shelter," said Pressley.
"More manageable mortgages, low density locations that are less susceptible to future lockdowns, a region relocation, and working from home will be driving forces."
Demand for inner-city apartments will significantly diminish. Propertyology describes Covid-19 as 'the final nail in the coffin for the financial performance of high-rise apartments.'
"This asset class was increasingly problematic pre-Covid. And now the future is uncertain for workers in hotels, restaurants and hospitality that normally service international visitors. Ditto, the airline industry and international students. Many of this demographic are part of the yolk of the egg, renting an inner-city apartment."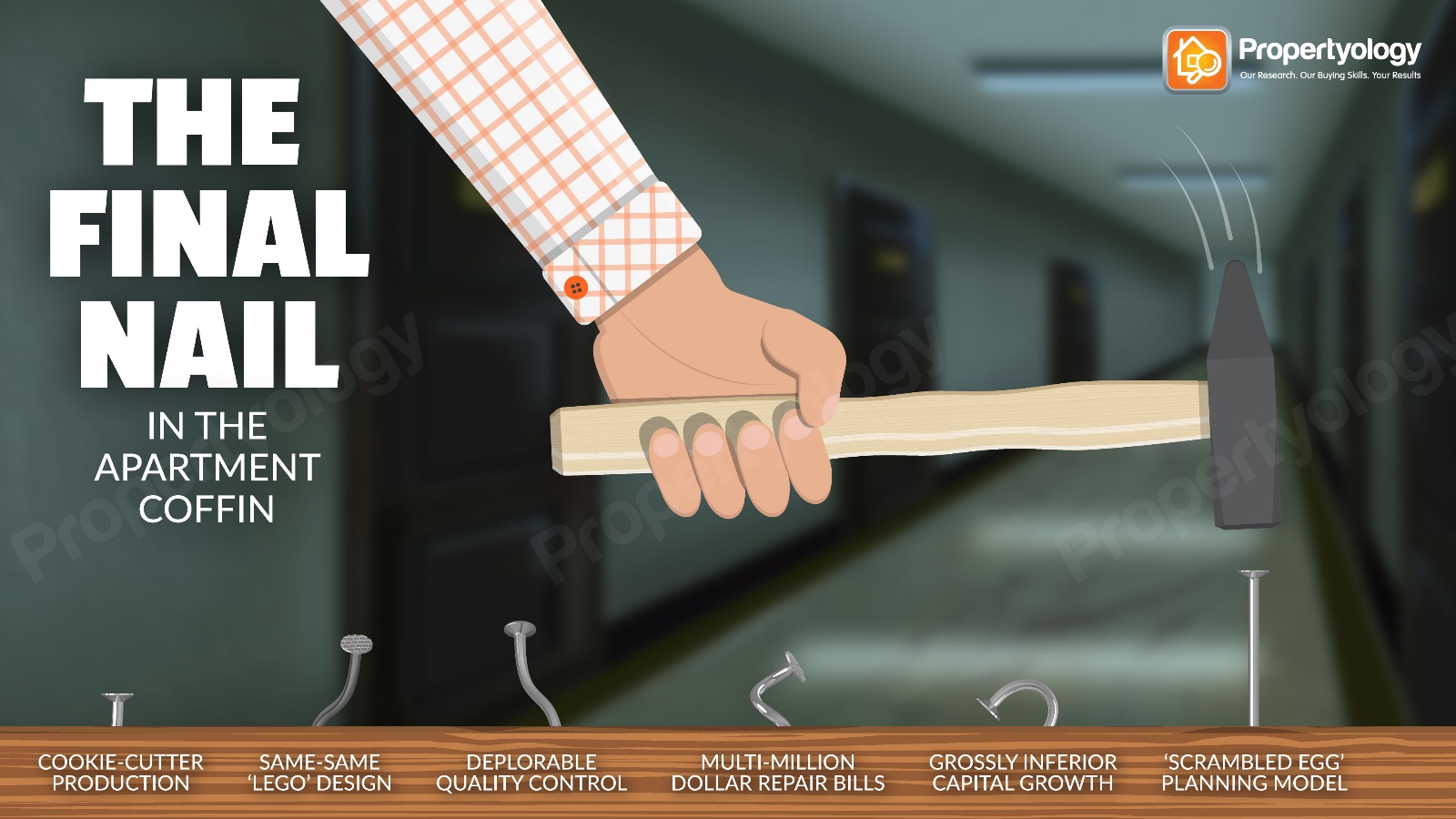 Pressley said that there is a distinct possibility that we will end up with a two-tier workforce.
"The genuinely motivated will pivot as required to keep moving forward, but there will be a bigger portion of rusted-on unemployed, resulting in increased demand for long-term rental properties."
Conversely, detached houses within affordable metropolitan suburbs and desirable regional locations will be very popular for owner-occupiers.
"We will progressively see some of that yellow yolk blend into the egg white."
Propertyology describes it as a 'transference of housing demand' which will be big enough to constitute a new era and a structural change for Australian real estate.
"Where one works and how much one earns has a huge influence on where one lives. The impact of these property economics will affect a big enough critical mass to influence future property market performance. As always, there will be property market winners and losers associated with changing economic conditions," said Mr Pressley.
He said that growing industries will include health, information technology, public administration, defence, agriculture, food manufacturing, mining and renewable energy.
Propertyology also anticipates that Australia will begin to manufacture more products locally, with a knock-on benefit to warehousing and freight logistics.
International border closures puts a halt on Australia's 250,000 to 300,000 annual overseas migration intake.
According to Propertyology, the most affected by overseas migration are Sydney (1.4 percent population growth in 2018/19 just from overseas migration), Melbourne (1.5 percent), Adelaide, Wollongong and Newcastle (1 percent each) and Gold Coast (0.9 percent).
The coronavirus may be the elbow in the ribs that Australia needs for it to (finally) implement a serious decentralisation policy.
According to Propertyology, global history is being created before everyone's eyes. It is the biggest structural change since World War II.
"It's a new era in which society will prioritise life's most simple pleasures and people will be prepared to make major life changes to realise those simple pleasures."
A suitable history-book term to describe the structural changes and broad behavioural changes from this new era is 'Regionalisation!'
"Just have a think about which Australian locations provide people with the lowest risk of future Covid lockdowns and the lowest risk of restricted lifestyles," said Pressley.
"Which locations have an economic profile with an industry mix that is conducive to this new world, thereby providing greater household income certainty? Where can one buy a good quality detached house in a location that offers plentiful open space and a manageable mortgage?"
"If smashed avocado had anything to do with housing affordability over the last decade, scrambled eggs will be the dish of the Twenties," said the 3-time Australian Buyer's Agent of the Year.
Propertyology's research confirms that the population of Australia's eight capital cities had already declined by 53,000 through net internal migration over the 3-years ending June 2019.
"In locations all over Australia, our buyer's agents have already observed first-hand proof of the regional shift. I wouldn't be at all surprised if the capital city exodus pushes to 100,000 people over the next 3-years."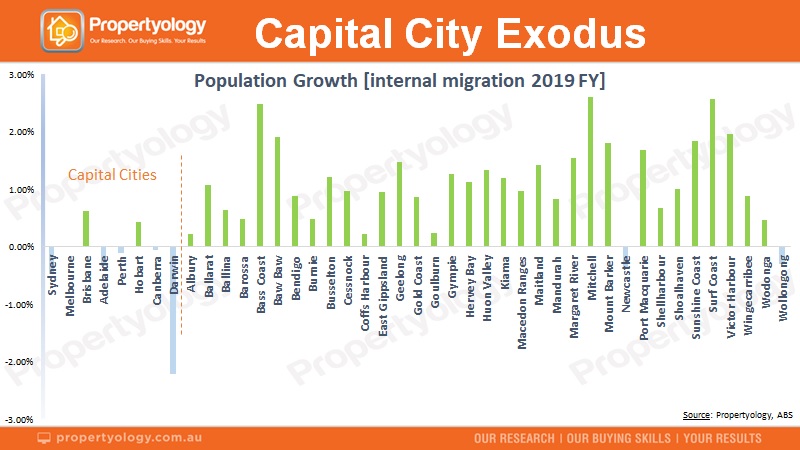 Lifestyle was the driving force for Byron Bay being Australia's best-performed property market over the last 10-years.
This new era of Regionalisation is likely to produce twenty or so great low-density towns and cities that become beneficiaries of significant internal migration.
Propertyology has identified five (5) key demographics behind a 'transference of housing demand':
Suburban shift (from living and working inner-city to moving to the more affordable outer suburbs)
WFH relocation (reducing the risk of future lockdown restrictions by a region relocation)
Early retirees (Covid-related job losses bringing forward retirement plans that require a relocation to a more affordable location)
Job takers (proactively chasing new employment opportunities, even if it means a region relocation)
Personal connection (moving back to the roots of where we grew up, relocating to somewhere with a family connection or a location that one has enjoyed good holiday experiences)
As for the role of WFH, Propertyology is Exhibit 'A'.
Like many other Australian businesses, their team reverted to working from home immediately prior to the mid-March national lockdown. Embracing the internet-of-things enabled them to maintain operational efficiencies and still communicate with their clients and each other.
"After settling into a new groove, we then realised each of us had 'manufactured' an extra 12-hours in our week through not having to commute to and from the office each day. That does wonders for productivity and work-life-balance. Consequently, we have made this a permanent thing."
Propertyology is a multi-award-winning buyer's agency and Australia's premier property market analyst. Every capital city, every non-capital city, we analyse fundamentals in every market, every day. We use this valuable research to help everyday Aussies to invest in strategically-chosen locations (literally) all over Australia.
......................................................................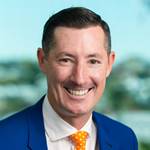 Simon Pressley is Head of Property Market Research and Managing Director at Propertyology.
Propertyology is a national property market researcher and buyer's agency, helping everyday people to invest in strategically-chosen locations all over Australia. The multi-award-winning firm's success includes being a finalist in the 2017 Telstra Business Awards and 2018 winner of Buyer's Agency of the Year in REIQ Awards For Excellence.
Disclaimer: while due care is taken, the viewpoints expressed by contributors do not necessarily reflect the opinions of Your Investment Property.