Tens of thousands of people are likely to relocate away from Melbourne over the next couple of years as part of the Victorian government's unintended consequences that will include double-digit property price declines, according to Propertyology.
The property market analysts and national buyer's agency firm has adjusted its outlook for Melbourne real estate in direct response to the Victorian state government's lockdown plan for the city's second Covid wave.
Propertyology is forecasting a major transference of housing demand with thousands of residents migrating away from Melbourne over the next couple of years, creating beneficiaries elsewhere.
Significantly diminished employment opportunities for years to come plus a fear of future lockdowns will drive plenty of people out of Melbourne.
"Whether they relocate to a nearby Victorian regional location such as Bendigo, Wodonga, the Great Ocean Road region or whether they completely leave the state, thousands of Melburnians will take action to regain their freedom. Prolonged uncertainty for one's income is unsustainable. Lockdown is no lifestyle!" said Propertyology's Head of Research, Simon Pressley.
Propertyology's latest Melbourne forecast is following a consistent downgrade pattern.
At the end of last year, they ranked the property market fundamentals of Melbourne (and Sydney) as being inferior to most other capital cities.
The coronavirus onset prompted Propertyology, in April, to downgrade Melbourne and Sydney to having the weakest outlooks of all eight Australian capital cities.
"They are the most vulnerable to the loss of international tourists and international students, they are the two most reliant on overseas migration, they have the highest mortgages to service, and the greatest risk of disruptions because they have the highest population density," said Mr Pressley.
"For as long as this germ is on planet earth, the property markets of Australia's two biggest cities will always be the most vulnerable to Covid-19."
Yesterday's announcement by Premier Dan Andrews to extend Melbourne's hard lockdown to 26 October prompted Propertyology to again adjust its forecast. They had originally anticipated that Melbourne's property market would hold firm.
"Very low real estate resale volumes, near zero interest rates and federal government income support packages provide a solid floor for property markets nationally. But Melbourne is now an exception to this rule," said Mr Pressley.
Mr Pressley is concerned that many Melbourne business owners won't be able to hold on through a 3.5-month hard lockdown.
"It's very sad. It's Propertyology's view that the Victorian state government's handling of the hotel quarantine situation and the subsequent decision to enforce a 112-day city lockdown will cripple Melbourne's economy for several years."
"While Melbourne's property market held firm during the 6-week lockdown in March-April, we fear that the impact of yesterday's decision will be a bridge too far for many businesses."
He said he would not be surprised if Melbourne's internal migration data a couple of years from now reflected a (net) loss of as much as 30,000 people over the next two financial years.
The property market analyst refers to national research that supports a pattern with resident population behaviour being linked to local economic conditions.
With Melbourne's economy now likely to become a long-term national laggard, Propertyology is forecasting one of the biggest swings in internal migration by any Australian city ever.
Prior to Melbourne's last property boom, its local economy was soft resulting in its population losing 20,000 people to internal migration over the 5-years ending June 2012.
Similarly, Perth's economic downturn flipped its earlier population boom on its head, losing 21,000 people to internal migration over the 4-years ending June 2019.
"A hard lockdown of more than 100-days will be the cause of the biggest shock to Melbourne's economy that most of its residents have ever seen. It is highly possible that it could lose as many as 30,000 people over the next couple of years. Sydney lost 25,000 last year alone," said Propertyology's Head of Research.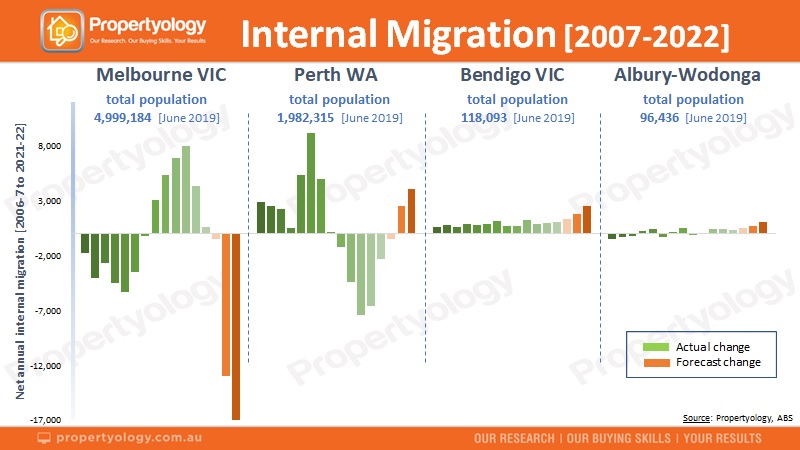 The respected market analyst said the outlook for Geelong's property market has also weakened as a result of Premier Dan Andrews' suggestion on 6 September that it will be subject to a similar Covid suffocation policy as Melbourne.
He said that property markets look much healthier in the rest of Victoria where housing supply is very tight, real estate is affordable and local economic profiles have reduced Covid vulnerability. They will be among the beneficiaries of the transfer in housing demand.
"Regional Victorian locations like Bendigo have consistently attracted large volumes of internal migration for many years. Cities like this offer great lifestyles, incredibly affordable housing, it's a quick train trip back when someone needs to go to Melbourne, and their economic profile is less vulnerable to Covid."
Some residents who do relocate will want to remain close enough to Melbourne and others will cast their net right across Australia.
"Just last week, while explaining the strong buyer activity in Hobart to me, a real estate agent down there told me a story of about a property with multiple offers and the successful buyer was a couple from Melbourne who purchased it sight-unseen with the intention of relocating away from Melbourne," the buyer's agent said.
Mr Pressley said that property markets in Melbourne and Sydney are in stark contrast to what is happening right across the rest of Australia. Their buyer's agency has observed upward pressure on (both) property prices and rents.
"Job advertisements have spiked, the glorious spring weather has arrived, and people are getting on with their lives."
"First home buyer activity is running at record-pace, the HomeBuilder stimulus package is very popular and existing homeowners are cashing in on low interest by upgrading. Agents don't have enough stock to sell, causing regular multi offer situations and price acceleration."
Propertyology remains confident that most Australian property markets have a better than average chance of producing growth in asset values in the year ahead.
Mr Pressley said that well-informed property investors also recognise that large parts of Australia have incredibly low rental supply, yields of circa 5 percent and a positive growth outlook.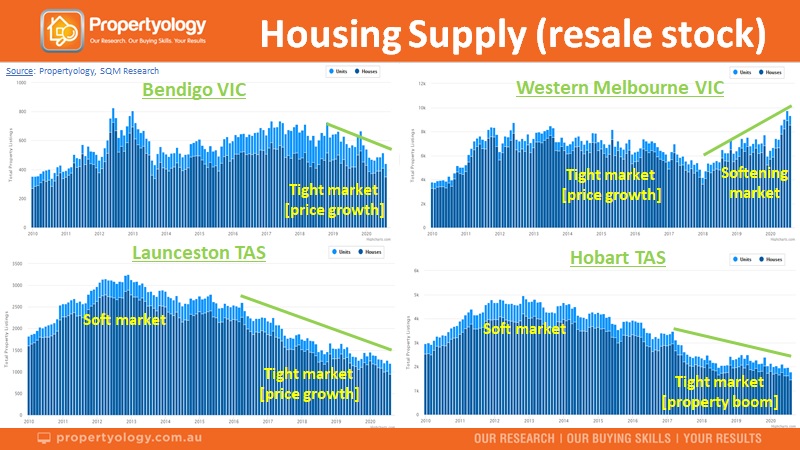 ......................................................................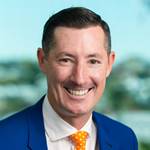 Simon Pressley is Head of Property Market Research and Managing Director at Propertyology.
Propertyology is a national property market researcher and buyer's agency, helping everyday people to invest in strategically-chosen locations all over Australia. The multi-award-winning firm's success includes being a finalist in the 2017 Telstra Business Awards and 2018 winner of Buyer's Agency of the Year in REIQ Awards For Excellence.
Disclaimer: while due care is taken, the viewpoints expressed by contributors do not necessarily reflect the opinions of Your Investment Property.