Expert Advice with Simon Pressley 01/11/2018
Doom and gloom?
Last week, Domain published their quarterly report containing changes in property values. Once again, Sydney and Melbourne dominated the headlines with annual declines of 6.5 per cent and 3.2 per cent, respectively.
According to Domain data, the Sydney median house price as at the end of September 2018 was $1,101,532. That's a fall of $76,468 over the past 12 months (or $6,372 per month). Melbourne's median house price now sits at $852,980.
After price declines during the three previous calendar years, the market in Perth does seem to have stabilised, although Domain still report a 2.2 per cent decline over the most recent 12 months. And, the Darwin market continues to look problematic.
While none of the above numbers are pretty, it's incorrect to describe 'the Australian property market' as doom and gloom.
Yes, the APRA self-inflicted credit tightening measures (and associated negative press) has been a drag on property prices nationally, but it's far from the truth to say that prices are falling everywhere.
In fact, of the 110 Australian cities and towns with a population of 20,000 or more people, property prices increased in more than half of them over the past 12 months.
From a capital city perspective, Hobart has now produced three very strong years, including 19.3 per cent growth over the year ending September. Hobart's median house price is still an affordable Hobart $478,491 and there's significant pressure pushing rents higher.
Adelaide, Brisbane and Canberra are also in positive growth territory.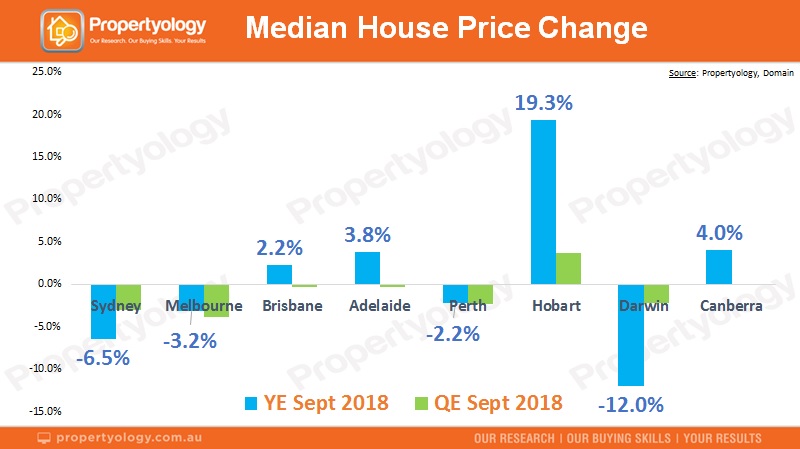 As forecast by Propertyology a couple of years ago, the real success stories are found beyond our 8 capital cities.
As with capital cities, in any given year, there will always be some regional locations performing well and some not so well.
Right now though, lots are doing very well. Growth in jobs (refer here), local confidence and affordable housing are the common denominators.
In New South Wales, coastal locations such as Ballina (10.9 per cent), Coffs Harbour (9.6 per cent) and Lismore (9.3 per cent) are very strong.
Continued economic growth is also giving local buyers more confidence and driving property prices in Orange (11.1 per cent) and Muswellbrook (9.8 per cent). Forbes (15.9 per cent) is going gangbusters while other strong markets include Maitland and Griffith (one of Australia's most productive agricultural precincts).
In Queensland, Sunshine Coast (7 per cent price growth) is strengthened by recent infrastructure investment and tourism. Noosa (7.5 per cent) is currently the state's strongest property market while Gympie (another agriculture winner) is also stronger than the state's capital city.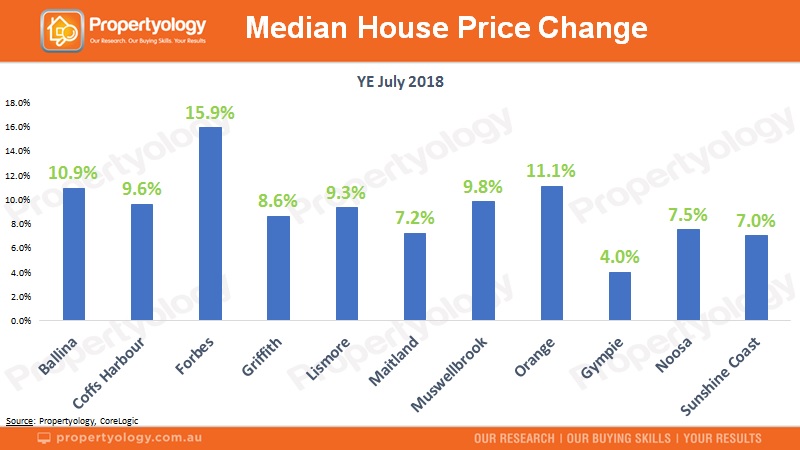 Agriculture and tourism are behind good growth in Port Lincoln (8 per cent), the Lower Eyre Peninsula and Yorke Peninsula in South Australia.
The citrus growing precinct of Berri is also enjoying a good run with the median house price increasing 14 per cent to a still affordable $200,000.
A concerted effort to promote its unique tourism experiences combined with arguably the world's highest quality agricultural products following a change of government in March 2014 continues to drive economic growth and confidence in Tasmania.
Data from Core Logic shows that Launceston's median house price increased by a whopping 17 per cent to the year ending July 2018. The port city of Burnie (7.6 per cent), Latrobe (8.8 per cent) and Davenport (4 per cent) are also strengthening property markets.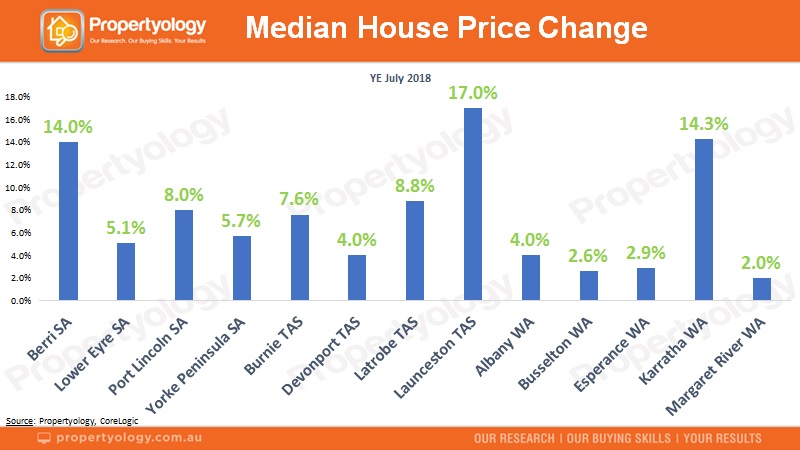 Illustrating that Australia's mining industry has well and truly bounced back over the last couple of years, the median house price in the port and LNG town of Karratha increased by 14.3 per cent over the last 12 month.
Elsewhere in Western Australia, it's once again the lifestyle and agriculture markets that are performing best with price growth in Albany (4 per cent), Busselton, Esperance and Margaret River.
Victoria also has a long list of strong property markets outside of Melbourne. While Geelong (13.3 per cent) has continued its strong run, the state's best-performed property market is 1.5 hours east of Melbourne where the municipality of Baw Baw has produced 20.3 per cent price growth and nearby Latrobe is also strong.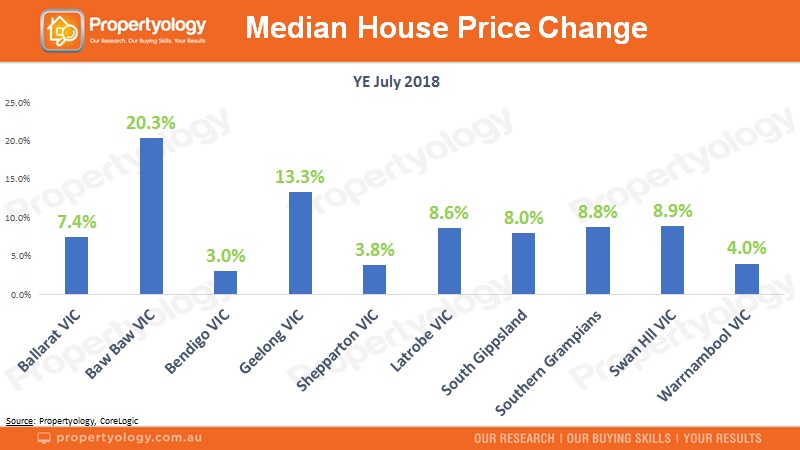 Future rates of price growth will vary considerable from location to location. Throughout Australia, there are many other locations that haven't been mentioned here yet their property outlook is such that one can expect solid growth in the next few years.
Through combining our thought-leading research with our award-winning buyer's agency services, Propertyology is currently investing in several locations across four different states.
Like to know more? Contact us here.
......................................................................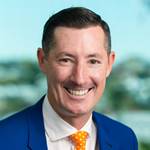 Simon Pressley is Head of Property Market Research and Managing Director at Propertyology.
Propertyology is a national property market researcher and buyer's agency, helping everyday people to invest in strategically-chosen locations all over Australia. The multi-award-winning firm's success includes being a finalist in the 2017 Telstra Business Awards and 2018 winner of Buyer's Agency of the Year in REIQ Awards For Excellence.
Disclaimer: while due care is taken, the viewpoints expressed by contributors do not necessarily reflect the opinions of Your Investment Property.