28/09/2017

Many an investor will tell you that developing a site into multiple dwellings can earn big returns. Not only does it increase yield and cash flow but it boosts the property's value and manufactures immediate equity.

So why aren't more investors doing it? For many, the fear of high risk and financial disaster looms largest. For others, the unfamiliar world of architects, town planners and builders makes it too difficult to even know where to start.

But now the modern investor – no matter how big or small their portfolio – has the opportunity to complete their own development project by letting experts do the work from start to finish.

Cameron Macqueen, director of major projects at Pan Australia Investment Group (PAI Group), a multinational property development and investment company, is currently doing just that for Australian investors.

PAI Group works with its clients to source the site, manage the project and see it all the way through to completion, making development a plunge into far safer waters for risk-averse and new investors.

The project-managed development strategy

The strategy is incredibly simple:

• The development is financed by the investor and remains their property.

• The role of the project management company is to operate under the investor to organise and oversee all aspects of the project.

• Upon completion, the management company takes a share of the profit, meaning there are no separate fees to be paid.

From the beginning, PAI Group takes on the risk management. It sources the development project on your behalf, to suit your individual strategy. For example, you might have the budget to construct a triplex, and you plan to live in one, rent out another and sell the final townhouse; or at the other end of the scale, your strategy could involve the construction and sale of a 200-unit block.
"We walk away from more sites than we purchase ... We would rather miss out on a great site if there are signs of risk"
"At PAI Group, our specialist team of 25 staff have a system for finding the best property deals, and they run all the due diligence and research all the possible pitfalls with each piece of land," Cameron explains.
Once a site is deemed low-risk and high-profit, the company's architects find the type of development that will maximise the final gains.
According to current project standards, PAI Group will submit the plans to council before settlement, getting the project off to a speedy start. From there, it will oversee the development process right through to completion and final sale. The beauty of development professionals running the project on your behalf is that it negates the number one concern of nervous investors: fear of risk.
How is this type of development safer?
Since a project management developer like PAI Group works on a profit share, they are as risk averse as you are.
Essentially, they are your risk mitigation tool; experts can detect potential problems before they arise and if there's the possibility of a delay or extra expenses, they'll move on from the deal and look for the next site, Cameron says.
REAL STORIES
Triplex townhouses yield $1m profit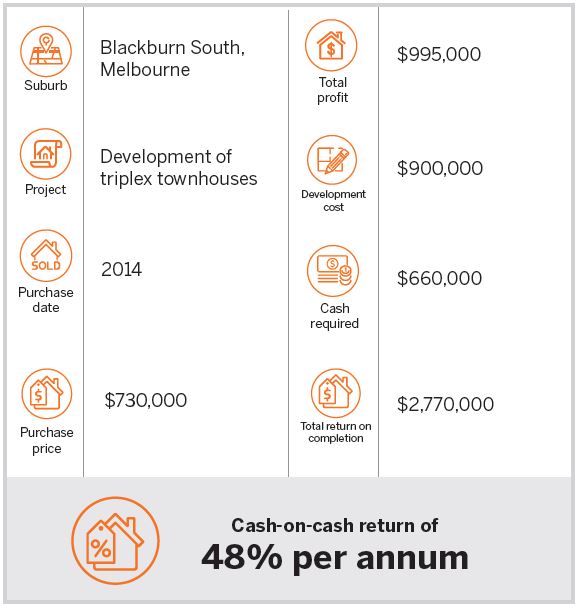 » You determine your budget so PAI Group can determine the type of project to look for.
» PAI Group sources the development site for you, and runs all the feasibility studies to calculate a minimum profit.
» You finance the development and remain in control while PAI Group manages the project.
» Risk is minimised by expert due diligence and experience in spotting potential issues.
» You have as much input as you like, and share a percentage of the profit with PAI Group upon completion.
As a company, we walk away from more sites than we purchase, due to potential hazards. We would rather miss out on a great site if there are signs of risk."
To protect both parties involved in the project, PAI Group does extensive due diligence to counteract the risk of financial loss upon completion.
"We don't present a potential development to any investor unless the feasibility study demonstrates it will return at least a 25% per annum cash-on-cash return," he says. "Many of our projects are well above this marker."
On-track and budget-friendly
Running a development project is time-consuming, and handover day can easily become a moving target.
"We can avoid the delays that often push DIY developments out to years rather than months, because our professionals focus on your project every day, without distractions," says Cameron.
In addition, staying on track protects investors from an expensive budget blowout. But that doesn't mean you, as the investor, need to be on hand 24 hours a day too – in fact, Cameron says PAI Group's clients can choose their level of involvement.
"All our developments are bespoke, architecturally designed houses, and some clients like to pick quality of materials, the colours and finishings; others prefer to have no involvement at all. We can accommodate each client's preference," he says.
In much the same way as the expertise and networking skills of a buyer's agent will save you money on your property purchase, using PAI Group can actually increase your overall profit, even though you're sharing a slice of the pie at the end.
"Our job is to help investors ... start and complete a profitable project that they thought was out of their depth"
"The fee for our service is a percentage of profit from the final deal; however, we typically add more value to the project using our systems and network of professionals, which results in a higher profit for our clients than if they had done the project alone," says Cameron.

REAL STORIES

$1.23m profit on five-dwelling project: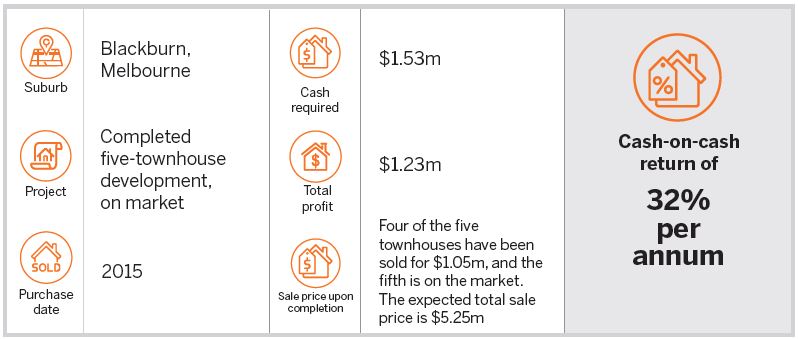 "Our relationships with agents also mean we get access to off-market products and potential deals as well, and the volume of building we do means we get better trade rates."
Turning investors into developers
Developing a property can mean big profits. But if you're too time-poor or risk averse to get started, you'll never be part of the lucrative industry.
Using a third party professional development company like PAI Group substantially mitigates the risks associated with DIY real estate development.
To get started, investors should visit a financial planner and mortgage broker to map out financial capacity. Have a think about what you'd like to achieve from the development. Then a management agency like PAI Group will identify a site that fits with your strategy, and work with you to get started.
"Capital city populations are growing; 107,000 people moved to Melbourne in the 2016 financial year," Cameron says.
"You'd need 40,000 houses to cope with that year's increase alone, so there's plenty of room in the market for new developers. Our job is to help investors do that: start and complete a profitable project that they thought was out of their depth, or far too risky. We turn investors into developers."
Achieve active investment results with a passive investment input

- PAI Group do the heavy lifting. www.paigroup.com.au