It seems we are in for a wild ride in our property markets in 2021.
But if history has taught me anything, it is that there will be hit by an unexpected X factor coming out of the blue to undo the most reasoned property forecasts, either on the upside or the downside, however here are seven property trends I expect to happen in 2021
1. Property demand from home buyers is going to continue to be strong
Currently home prices are surging around Australia, auction clearance rates remain high, and the media keeps reminding us we're in a property boom.
The result is emotions are running high at the moment, with FOMO (fear of missing out) being a common theme around Australia's property markets.
One of the leading indicators I watch carefully is finance housing approvals, and these are at record levels suggesting that more Aussies are looking at getting into property and we will have strong ongoing demand from owner occupiers and investors as the year moves on.
It's clear that we are now over the "recession we made ourselves have", 93% of the jobs that disappeared during Covid have returned and consumer and businesses confidence is rising.
And our savings war chest will continue to fire our economy....
The Commonwealth Bank ­estimates that Australian households have put aside $120 billion more than what is normally saved in the June, September and December quarters last year — equivalent to 6 per cent of gross domestic product as overseas travel and social activities were curtailed.
The bank's analysts believe this money will be spent over the next few years, providing continued economic momentum as a good chunk of this money will find its way into consumer spending.
Some of it will go to paying down debt and some will go into buying assets. We're already seeing this in retail spending and in our property markets
Now, with borrowing costs lower than they ever have been, the reassurance that interest rates won't rise for at least 3 years and increasing confidence that we've got this "virus thing" under control, it is likely that buyer demand will remain strong throughout the year.
In fact, this is a self-fulfilling prophecy…
As property values increase and the media reports more positively about our property markets, FOMO will mean more buyers will be keen to get in the market before it prices them out.
2. Investors will squeeze out first home buyers
While currently there are many first-time buyers (FHB's) in the market, buoyed by the many incentives being offered to them, I can see demand from FHB's fading due to increasing competition as investors re-enter the market and property values rise.
You see…typically investors compete for similar properties to FHB's.
Of course over the last few years, investor lending has been low, but with historically low interest rates and the prospect of easing lending restrictions, it is likely that investors will re-enter the market with a vengeance.
At the same time the federal government's HomeBuilder scheme will disappear at the end of March.
3. Property Prices will continue to rise
While many factors affect property values, the main drivers of property price growth are consumer confidence, low interest rates, economic growth and a favourable supply and demand ratio.
As always, there are multiple real estate markets around Australia, but in general property values should increase strongly throughout 2021.
However certain segments of the market will still continue to suffer, in particular in the city apartment towers and accommodation around universities.
It is unlikely these segments of the market will pick up for some time and the value of these apartments is likely to continue to fall as there just won't be buyers for secondary properties.
At the same time some rental market will remain challenged. In particular the inner-city apartment markets which are reliant on students, tourists (AirBNB) and overseas arrivals.
4. People will pay a premium to be in the right neighbourhood
If Coronavirus taught us anything, it was the importance of living in the right type of property in the right neighbourhood.
In our new "Covid Normal" world, people will pay a premium for the ability to work, live and play within a 20-minute drive, bike ride or walk from home.
They will look for things such as shopping, business services, education, community facilities, recreational and sporting resources, and some jobs all within 20 minutes' reach.
Residents of these neighbourhoods have now come to appreciate the ability to be out and about on the street socialising, supporting local businesses, being involved with local schools, enjoying local parks.
5. More expensive properties will outperform
The current property cycle was initially characterised by all segments of the market rising - other than inner-city high-rise apartments.
But now the high end of the market is leading the growth in property values
According to Corelogic, this high tier is the top 25% of property values in any given region.
As of February 2021, this refers to dwelling values at around $960,000 or higher for the combined capitals, with a typical value in the high tier around $1.2 million.
Corelogic report that over February, the top 25% of values in the combined capital cities jumped 2.7% in value. This was up from an increase of 0.5% in January.
The middle 50% of dwelling values (the mid-tier) increased 1.5%, and the 'low' end of property values (the low tier) increased 1.2%.
As can be seen in the rolling quarterly growth of tiered indices across the capital cities in the chart below, the uplift at the high end of the market follows a deeper downturn during the height of COVID restrictions in 2020.
Over the course of 2020, the high tiered index had a peak-to-trough decline of -4.3%, compared to a -1.6% fall across the middle of the market, and a -0.8% fall at the low end.
The low end of the market in the capital cities can be characterised by dwelling values sitting under $497,000.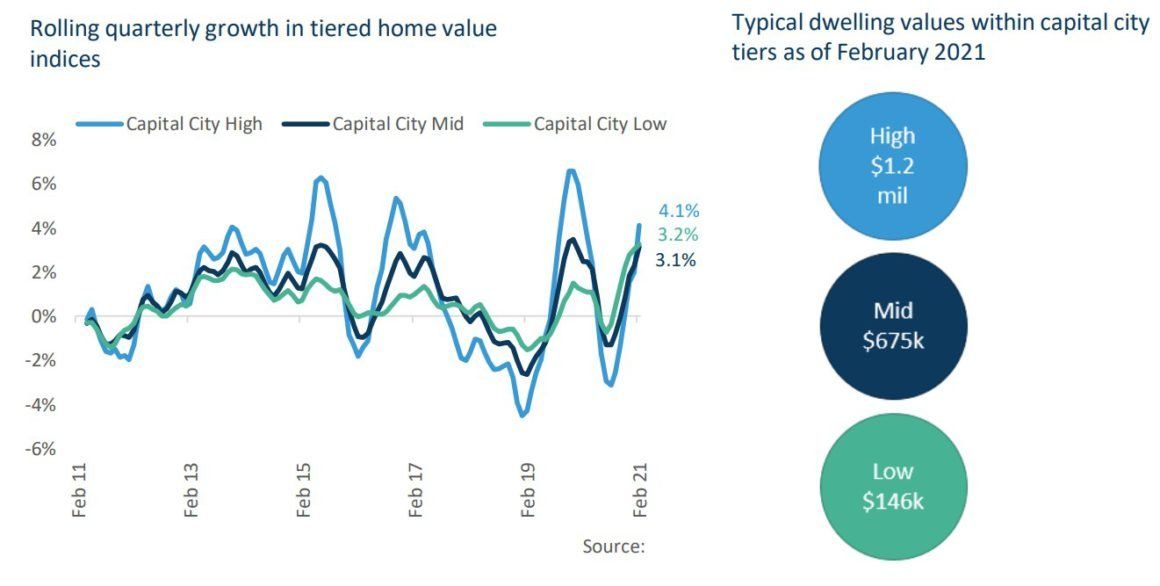 6. 2021 will be the year of upgraders
The current property and economic environment, plus the scars left on many of us after a year of Covid related lockdowns has meant that Aussies are looking to upgrade their lifestyle.
Many tenants are no longer happy to live in small dingy apartments and with an oversupply of rental units available in many areas, they are taking the opportunity to upgrade their accommodation.
Other tenants who have managed to save a deposit are taking advantage of many of the many incentives available and are becoming first home buyers.
With record low interest rates and surging property markets, many existing homeowners or upgrading their accommodation to larger homes in better neighbourhoods. In fact, a recent survey suggested that one in three homeowners are looking to sell their home in the next five years.
While a small group of homeowners have realised they can easily work remotely are upgrading their lifestyle and moving out of the big smoke to regional Australia, more Aussies are looking to upgrade their lifestyle by moving to a better neighbourhood. As mentioned above, they love the thought that most of the things needed for a good life are just around the corner.
Many Baby Boomers are looking to upgrade their accommodation by moving out of their old, tired home into large family friendly apartments or townhouses. But they're not looking for sea change or tree change, they're keen to live in a "20 minute" neighbourhoods close to their family and friends.
7. We will not fall off the fiscal cliff at the end of March
Some commentators are still concerned that we will fall off the fiscal cliff when JobKeeper and the mortgage deferral system end in March.
I can't see the government allowing this to happen after having put so much time effort and money into "building a bridge to get us across the other side" as Prime Minister Scott Morrison promised.
At worst, the fiscal cliff will be a little step down to the new normal.
In fact APRA (the Australian Prudential Regulatory Authority) released data showing there has been a significant fall in deferred loan repayments, yet another sign of economic recovery which boosts the ability of banks to extend lending.
Last year many borrowers put their loan repayments in deep freeze because of the uncertainty fuelled by the 2020 coronavirus pandemic.
It seems that many borrowers took out the safety net of loan deferrals but didn't actually require them, and most have now started repaying their loans.
This means banks do not have to allow for as many potential bad dates on their books and the unofficial word is they are open for business and very keen to lend money again.
Remember bank are just "money shops", they can't make a profit and pay their shareholders dividends unless they lend money to customers.
And while our banks were very cautious last year, not willing to take on new loan commitments in the uncertain economic climate, their appetite for new business has definitely changed.
In fact treasurer Josh Frydenberg said:
"As more households and ­businesses resume loan repayments, banks are in an even stronger position to continue lending ... helping those wanting to buy a home, invest or grow their business."
Clearly 2020 was here most of us would like to forget, but that won't be easy. Let's hope 2021 will be a year we are going to want to remember. It will be interesting to look back at the end of the year and see how many of these trends have eventuated.
..........................................................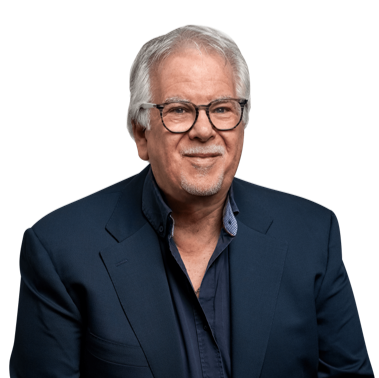 Michael Yardney is CEO of Metropole Property Strategists, which creates wealth for its clients through independent, unbiased property advice and advocacy. He is a best-selling author, one of Australia's leading experts in wealth creation through property and writes the Property Update blog.
To read more articles by Michael Yardney, click here