It's been a busy week for property news, but despite all the good news, the pessimists are still out there throwing out headlines like:
"House prices go boom but is a bust around the corner?"
As New Zealand scrap negative gearing, is Australia closer to its own cooling meters?
While it's clearly important to look at all possibilities, I think it's better to focus on the positives rather than the negatives, as optimists always do better than the pessimists in this world.
And boy is there lots of good news around, including:
The continuing surge in property values around Australia, with the March figures performing even more strongly than February's great results.
The well-reported forecast from the ANZ Bank that now expects a 17% rise in house prices in 2021.
Continuing evidence of a strong economic recovery seems to continue to surprise most economists.
And a report from the Australian Bureau of Statistics showing that not only did household wealth hit a record high at the end of 2020, but the lift in wealth in the last quarter of 2020 was the biggest record in 11 years.
These are some of the topics I discuss in this week's Property Insiders video with Australia's leading housing Economist Dr. Andrew Wilson, chief economist of My Housing Market.
Australia's housing market is in the midst of a broad-based boom
Property prices continue rising around Australia.
We are one week shy of the end of the first quarter and so far this year the five capital cities have managed a remarkable overall gain of 4.7%.
Our auction markets, which are a good real-time indication of both buyer and seller sentiment have continued their record-breaking activity.
Once again, auction clearance rates were at boom-time highs, despite the Sydney storms
Watch this week's video as Dr. Wilson gives his summary of the auction markets around Australia.
The Sydney housing market continues to soar to unprecedented heights with a record-breaking performance on the pre-Easter super Saturday of options.
Sydney reported a new record clearance rate despite hosting its highest ever Saturday of auctions.
Weekend records were also set for the number of homes sold under the hammer and the total value of the property sold.
Sydney recorded yet another clearance rate above 90% on Saturday remarkably the fourth reported in the last 5 weekends.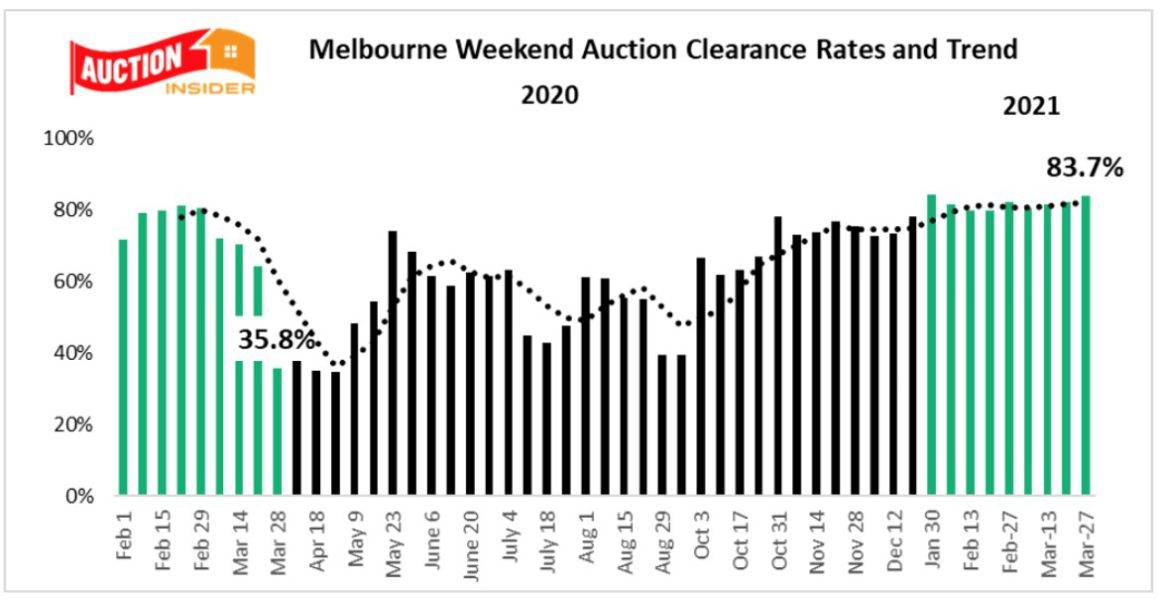 Melbourne hosted a mountain of auctions at the weekend in the usual super Saturday feast of pre-Easter listings.
With near-record listings and a boom-time clearance rate, the Melbourne market recorded its high ever number of Saturday auction sales and total volume of homes reported sold under the hammer on the weekend.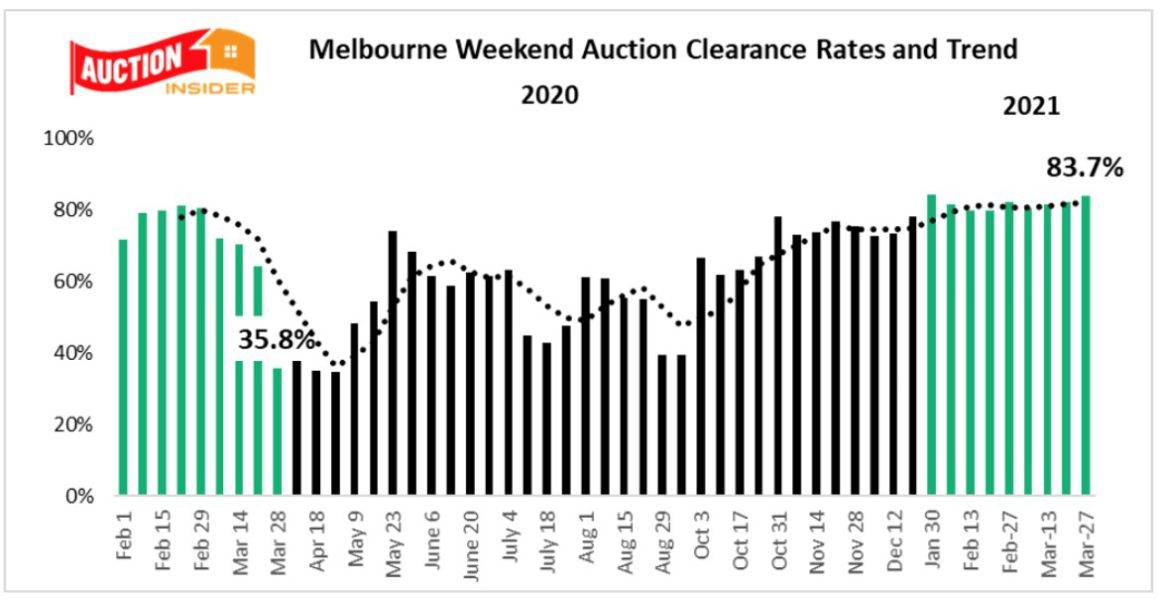 ANZ forecasts 17% property growth in 2021
A new report released from ANZ Bank predicts house prices at the national level will rise to a strong 17% through 2021, before slowing to 6% in 2022.
What a turnaround from all the pessimistic forecasts all the banks made in the middle of last year.
ANZ senior economist Felicity Emmett said she expected the Australian Prudential Regulation Authority (APRA) would then introduce macroprudential measures to slow house price growth into 2022.
Watch this week's video as Dr. Andrew Wilson gives his thoughts on why ANZ's forecasts are a little optimistic.
Also… it is unlikely that APRA will intervene with macroprudential controls any time soon, in light of APRA chairman Wayne Byres' comment this week when he reminded Parliament that its primary responsibility is financial stability, not soaring house prices, and it is not seeing activity right now that would compel it to intervene.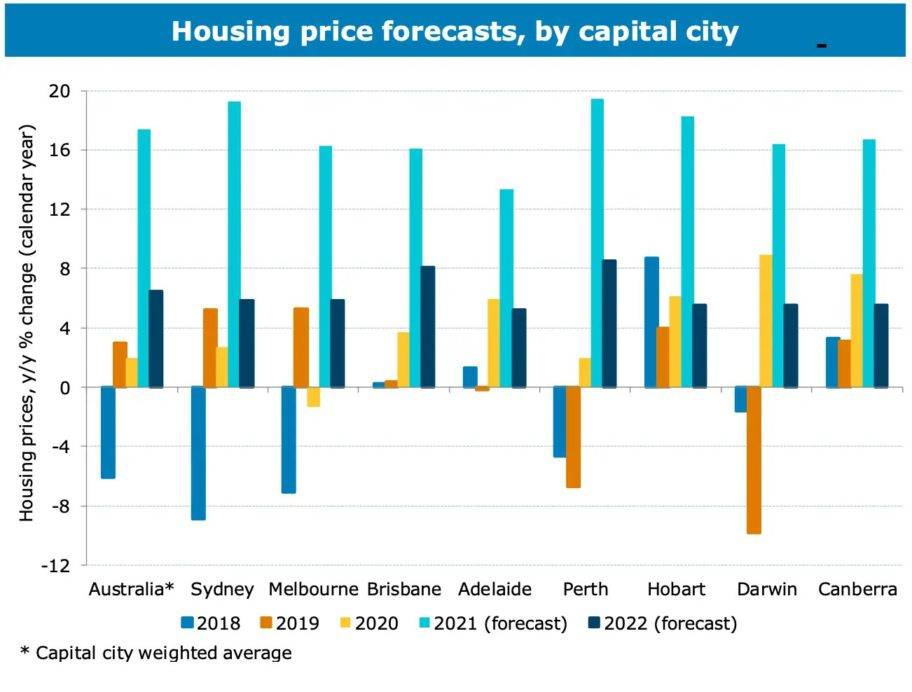 Aussie Wealth Soars
Watch this week's video as we discuss how despite all the hardship, clearly the recession was great for some Australians.
Especially those who owned property
Fact is…despite the pain of the lockdowns, and nearly a million jobs disappearing, by the end of 2020, Australia's household wealth was surging.
According to the Australian Bureau of Statistics (ABS), not only did household wealth hit record highs at the end of 2021, the lift in wealth in the quarter was the biggest recorded in 11 years.
Wealth skyrocketed by $501 billion in the last three months of last year, to be up 7.0 per cent on a year ago.
The average wealth per person rose by $19,028 in the December quarter to hit $467,709, and total household wealth hit $12 trillion — both records.
No wonder that people are feeling more confident and spending.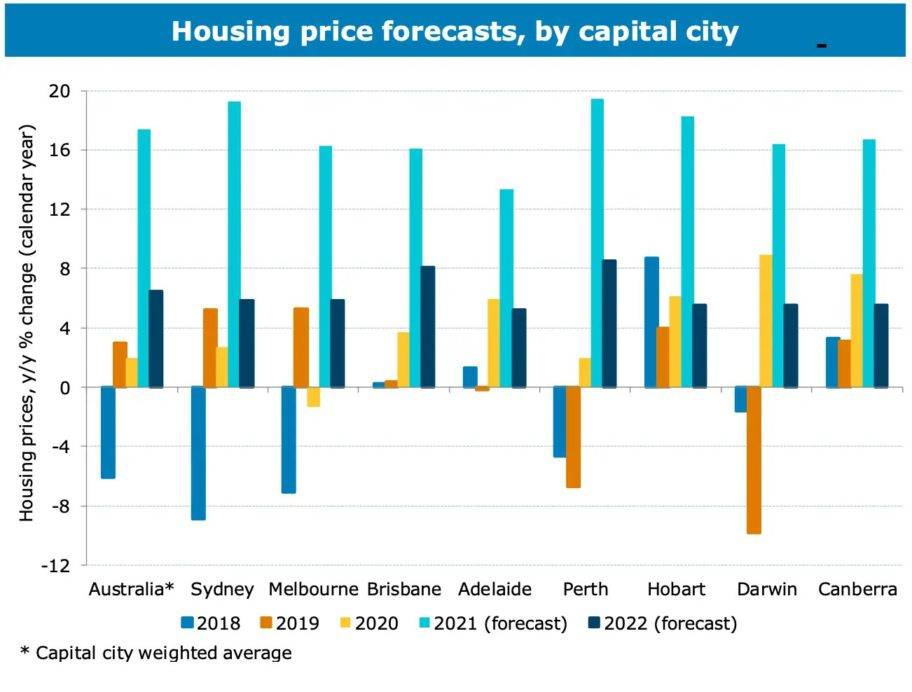 ..........................................................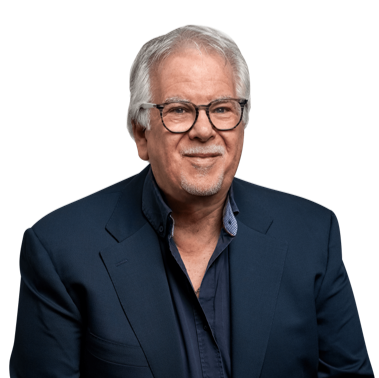 Michael Yardney is CEO of Metropole Property Strategists, which creates wealth for its clients through independent, unbiased property advice and advocacy. He is a best-selling author, one of Australia's leading experts in wealth creation through property and writes the Property Update blog.
To read more articles by Michael Yardney, click here