We're halfway through 2021 now, so it's a good time to reflect back on the year so far and then look forwards to what's ahead.
And what an extraordinary year it's been.
Property values across our capital cities have experienced double-digit growth already this year.
And despite the Covid concerns we're experiencing, there's plenty more growth to come.
Clearly, buyers are still out in force – owner-occupiers, investors, and first home buyers – at a time when available supply is struggling to keep up, keeping pushes prices higher.
The surge in property value has caused the property bears to go back in their caves and hibernate and our major banks have done an about-face and are now forecasting 20% to 30% rises in property values around Australia this cycle with strong growth continuing for some time.
And the economic Argmagdeon predicted by some didn't eventuate and we didn't fall off the assorted cliffs that were meant to litter our path.
In today's Property Insiders chat with Australia's leading housing economist, Dr. Andrew Wilson, chief economist of My Housing Market, we look back over the last year and then forward with our thoughts on what's ahead for the property market.
Watch this week's video as we discuss what happened in our auction markets over the weekend as they give a good "in time indicator" of what's happening on the ground.
Auction clearance rates remained strong this weekend despite significantly increased auction numbers and Sydney's Covid lockdown.
Sydney Auction Market
The relentless Sydney weekend auction market produced another boomtime result despite high auction numbers and the introduction of Covid lockdown restrictions.
Sydney recorded a preliminary clearance rate of 83% which is higher than the previous weekend's 80.8%.
Saturday's result was the highest since May 8th with no sign of winter slow down in the local market – although that could change in coming weeks particularly with the Covid lockdown now in force.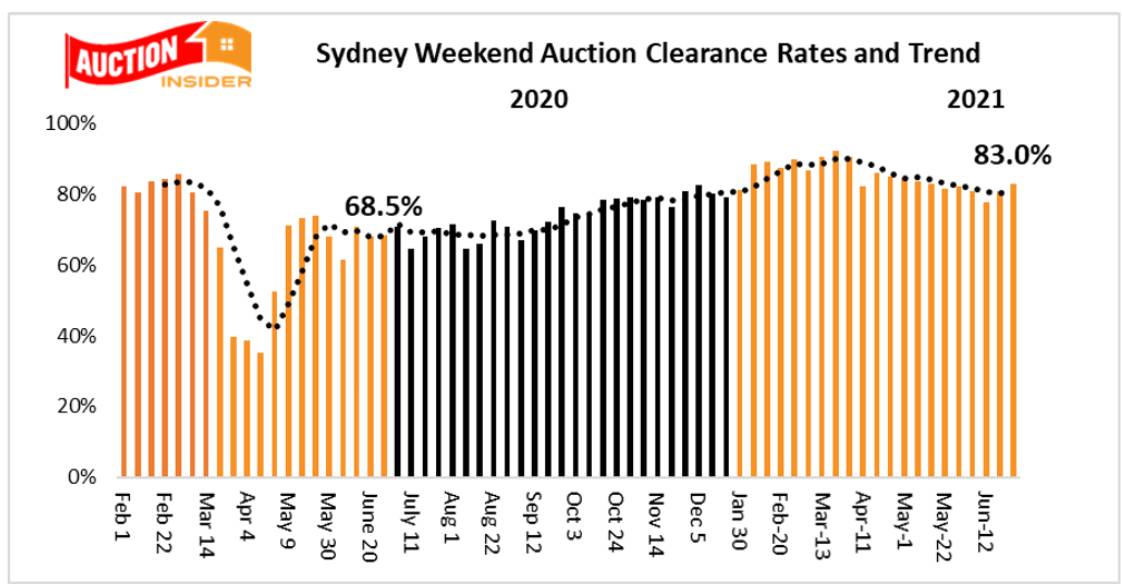 Melbourne Auction Market
The Melbourne auction market lifted again this weekend despite another big day of June record-level auctions, with the local market now fully focused as lockdown restrictions continue to ease.
1,320 homes were listed to go into the hammer on Saturday, which although well below last weekend's remarkable June record of 1566 offerings, was nonetheless another significant winter challenge for the local market.
Melbourne recorded a strong preliminary clearance rate of 79% which was well ahead of the previous weekend's 74.4%.
Melbourne's auction clearance rate was the highest reported by the local market since May 8th –7 weekends ago with plenty of buyer and seller engagement continuing in the early winter market.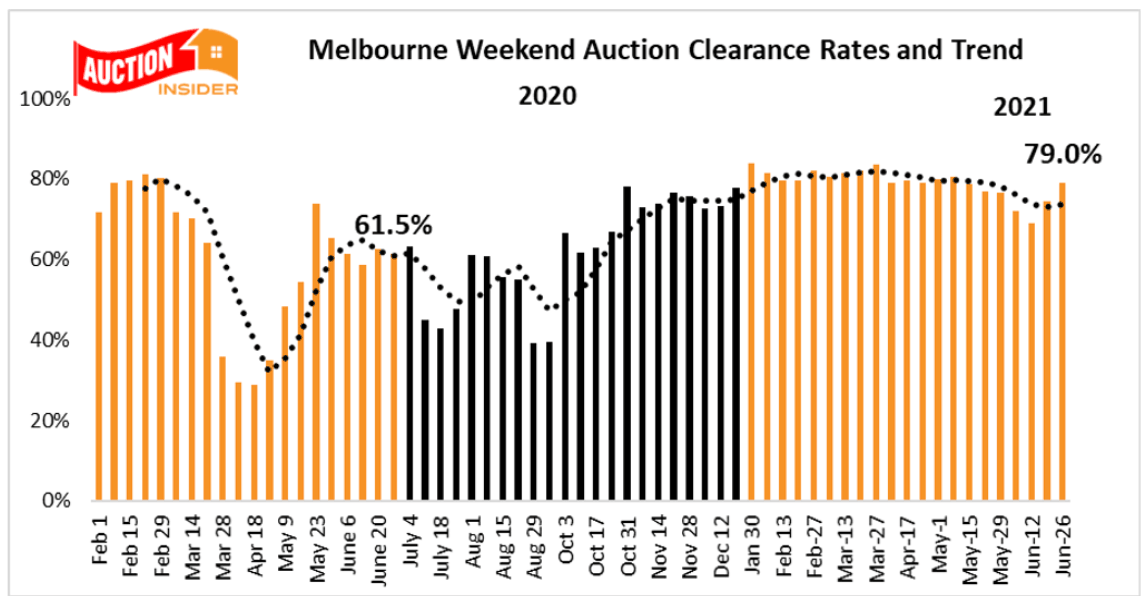 The property markets over the last 12 months
Watch this week's video as we discuss how despite the doomsayers' dire predictions our housing markets remained resilient last year but growth was stifled by a lack of consumer sentiment.
The markets turned in October 2020 and have gone gangbusters over the first half of 2021.
Some markets will have experienced double-digit capital growth already this year.
Those who heeded the negative nellies lost out, while home buyers and property investors who took a long-term view have already enjoyed significant capital growth.
House price growth

Apartment price growth

The rental markets
Watch this week's video as we discuss how each state government introduced its own set of temporary measures to stabilise the rental markets, prevent evictions, and support tenants in hardship.
Rental vacancies in our big capital city CBD's spiked due to the lack of overseas students, no overseas tourists using Airbnb, and decreased local tourism
While rentals initially fell, vacancy rates, especially for houses are now falling and the rental markets are tightening.
Rental Markets – Houses

Rental Markets – Units

The economy
The economic Armageddon that was predicted by some of the doomsayers proved nothing more than hysterical paranoia.
Watch this week's video as we discuss how as we explain how our economy is the envy of many other countries.
And we explain how the many fiscal cliffs that were predicted did not eventuate:
Deferred home loans were repaid and there was no increase in forced or mortgagee sales
Unemployment did not rise to the heights some predicted and we did not fall off the unemployment cliff when Job Keeper ended in March
Population
Australia's population increased by 136,300 people in 2020. This was the slowest population growth since ABS records began in 1982.
There were 294,400 babies born in Australia last year, the fewest births in 13 years – down 3.9% over the previous year.
And there were 161,400 deaths in the past year down by 3.4% over the previous year.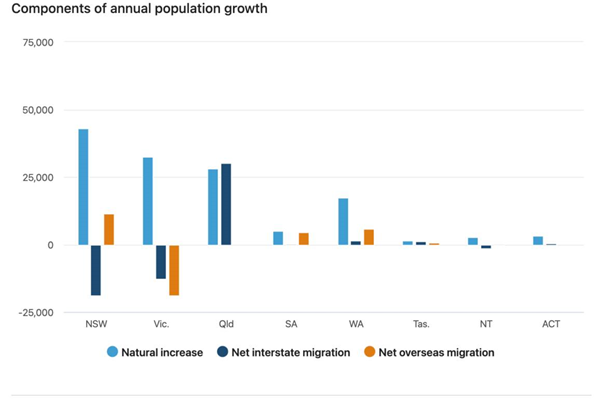 Household Wealth
Australia's households just keep getting richer. Australian household wealth grew more in the last year than it did during the preceding three years combined.
Despite living through the first recession in almost three decades, household wealth in the year to March 31 increased by 15.3 per cent, the fastest rate since the middle of the mining construction boom in 2010.
Much of our wealth is due to ownership of property.
Credit Suisse says Aussies are the wealthiest adults in the world and now 1 in 10 Australian's are technically millionaires.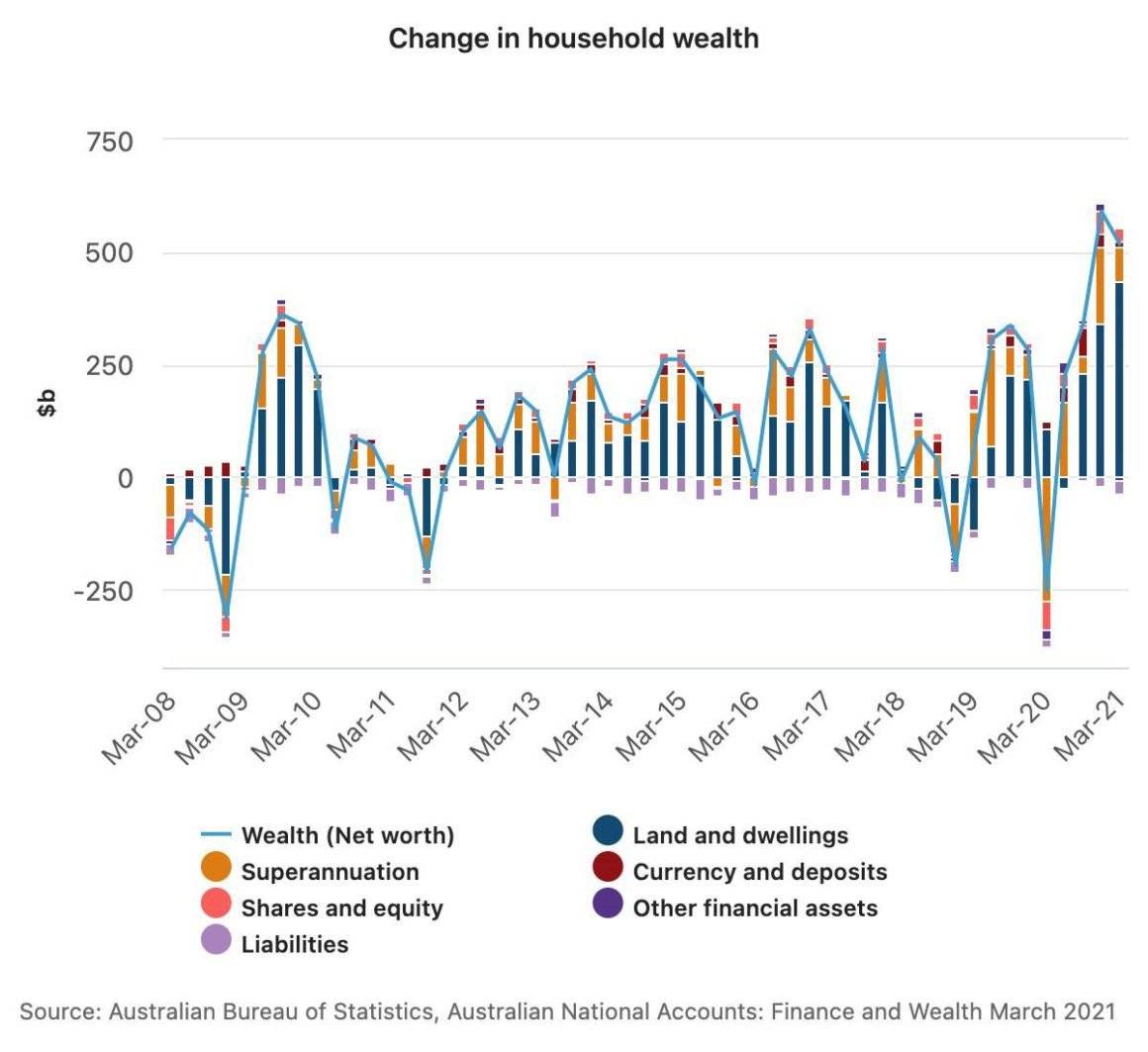 ..........................................................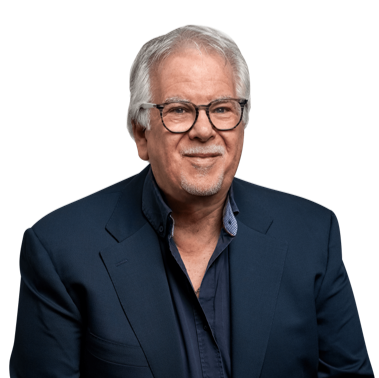 Michael Yardney is CEO of Metropole Property Strategists, which creates wealth for its clients through independent, unbiased property advice and advocacy. He is a best-selling author, one of Australia's leading experts in wealth creation through property and writes the Property Update blog.
To read more articles by Michael Yardney, click here