Much of the property and economic news this week has revolved around the recession we are slipping into, and the latest House Price Index released by the Australian Bureau of Statistics as well as the most recent finance figures.
Despite all the gloom and doom, there is good news if you look for it, including slowly lifting consumer confidence, and the fact that more homeowners and investors are putting a halt to their mortgage holidays.
They are some of the topics I'd like to discuss in this week's Property Insiders video with Australia's leading housing economist Dr. Andrew Wilson, chief economist of My Housing Market and of course Andrew will share with us the latest property market data
Home owners are resuming payments on paused mortgages
Australians are cutting short mortgage holidays granted amid the coronavirus pandemic and resuming their loan repayments sooner than expected.
About a third of ANZ customers who deferred loan repayments have recommenced paying down their debt, according to Mark Hand, ANZ's group executive of Australia retail and commercial.
Customers were increasingly looking to unwind loan deferrals, which were offered for up to six months, as social distancing measures were eased, Mr Hand recently revealed.
"[We're] seeing some customers call us to unwind the arrangement because they've got some certainty, they've got that confidence going forward," he said.
"In rough numbers, about a third of our [business and home loan] customers who took a deferral are making some payments – not full payments – although nearly 5 per cent are now back to making full payment."
At Westpac, more than 4,000 home loan customers have cancelled their mortgage support package which included a three-month repayment deferral, with a further three months available on review.
This equates to about 3.3 per cent of the 120,000 home loan customers who have had their repayments paused.
"More than 4000 of these customers … will be resuming their mortgage repayments earlier," a spokesperson said. "We are proactively contacting customers ahead of the three-month mark for a review and to offer support."
This may mean that we won't be seeing a flurry of distressed property sales that the pessimists are warning us about.
It's also another sign that consumer confidence is rising and this has been confirmed by indexes released this week by both Westpac and ANZ / Roy Morgan
Latest housing finance figures
ABS Housing finance approvals showed investor lending at very low levels, not much more than first home owner lending.
And it's not for the lack of trying – it seems the banks are still placing a credit squeeze on property investor lending.
The ABS data largely reflected applications submitted prior to COVID restrictions being introduced in March.
The detail showed similar sized declines last month across the value of owner occupier and investor approvals (–5% and –4.2% respectively) and in the number of owner occupier approvals (–4.4%mth).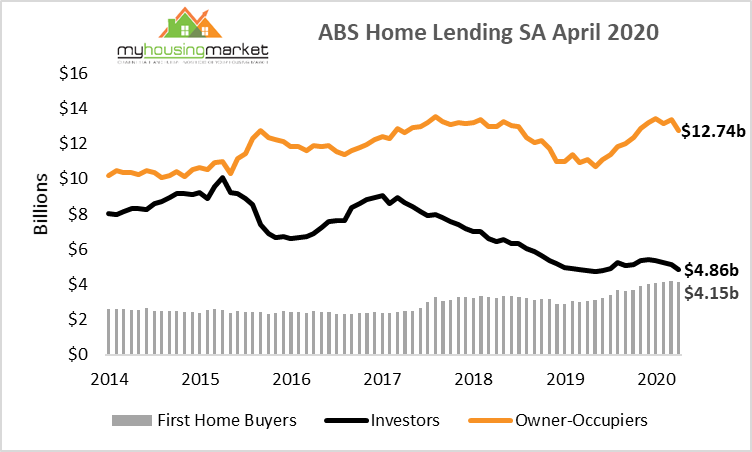 Results were very uneven by state, perhaps reflecting variations in lags between application and approval.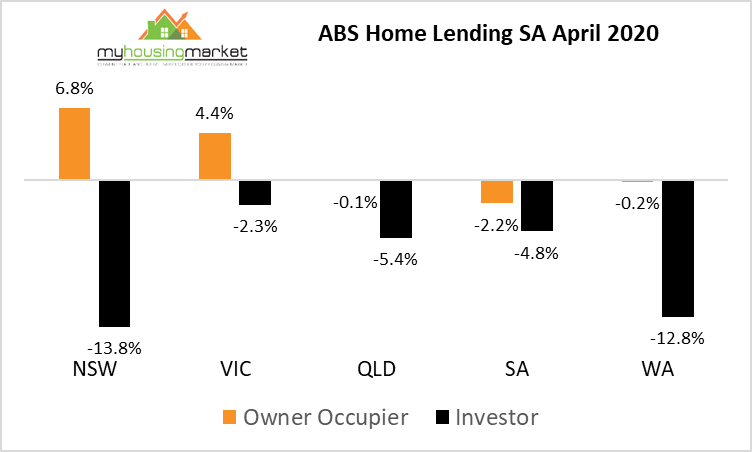 Overall, the housing finance data is yet to fully reflect the Coronavirus disruptions that hit the market through April-May.
Many of these may have resulted in borrowers that had secured loans being unable to transact – as auctions and open homes were cancelled, and as properties were withdrawn.
As such housing finance approvals may miss some of the extent of the disruption.
However, the shock will clearly impact the flow of new applications. This may be taking longer to move through the pipeline, but a sharp drop off still looks likely in the months ahead.
ABS latest House price figures
The Australian Bureau of Statistics (ABS) published the residential property price indexes for eight key cities for the March quarter on Tuesday and reported that residential property prices rose 1.6 per cent in the March quarter 2020.
Of course the world has changed considerably since then and these figures don't reflect the Coronavirus imposed lockdown effects on our property markets.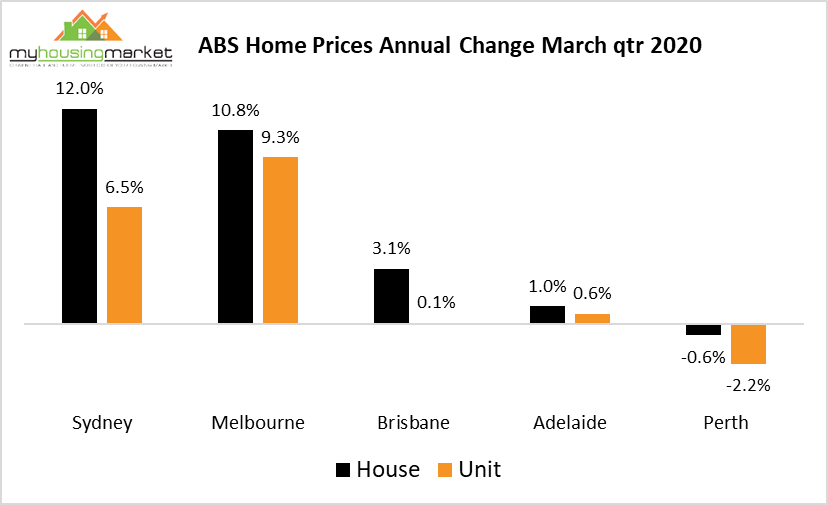 All capital cities recorded a rise in residential property prices in the March quarter 2020, with Australia's two largest cities, Sydney (+1.9 per cent) and Melbourne (+2.1 per cent), continuing to lead the rises.
House prices rose 2.6 per cent in Sydney and 2.3 per cent in Melbourne, while attached dwelling prices rose 1.5 per cent in Melbourne and 0.8 per cent in Sydney.
Key Points
Capital city Residential Property Price Indexes
This quarter:
Rose in Sydney (+1.9%), Melbourne (+2.1%), Brisbane (+0.6%), Perth (+0.6%), Hobart (+2.4%), Adelaide (+0.4%), Canberra (+0.2%) and Darwin (+0.7%)
Over the last twelve months:
Rose in Melbourne (+10.4%), Sydney (+10.0%), Hobart (+7.0%), Canberra (+3.0%), Brisbane (+2.5%) and Adelaide (+0.9%), and fell in Darwin (-3.1%) and Perth (-0.9%)
The total value of residential dwellings in Australia rose $141.6b to $7,237.1b this quarter.
The mean price of residential dwellings rose $10,700 to $690,200.
The number of residential dwellings rose by 43,700 to 10,485,700.
Consumer confidence is back on an upward path
ANZ-Roy Morgan Australian Consumer Confidence rose 0.5% to 97.5 in the week to 14 June, after pausing the week before.
Confidence resumed its climb last week with a modest gain after pausing the week before.
Confidence in future financial conditions is now back to the early March level, which is a solid turnaround given the impact the pandemic lockdowns have had on employment and wages.
The gains seen in the past two months have primarily been driven by emerging optimism over the outlook for family finances (from very weak levels) and confidence in the medium-term outlook to near/ above long-run average levels respectively.
While more Australian consumers can see a path through the crisis most are still doing it tough and pessimists still outnumber optimists and the consumer confidence level is still 7% below this time a year ago.
Currently 24% (up 2ppts) of Australians say their families are 'better off' financially than this time last year, while 35% (up 1ppt) say their families are 'worse off' financially.
Meanwhile, 38% (up 1ppt) of Australians expect their family to be 'better off' financially this time next year, and 17% (unchanged) expect to be 'worse off' financially.
Just 9% (unchanged) expect 'good times' for the Australian economy over the next 12 months, while 38% (down 2ppts) expect 'bad times'.
In addition, 37% (unchanged) of Australians say now is a 'good time to buy' major household items, while 34% (down 1ppt) say now is a 'bad time to buy'.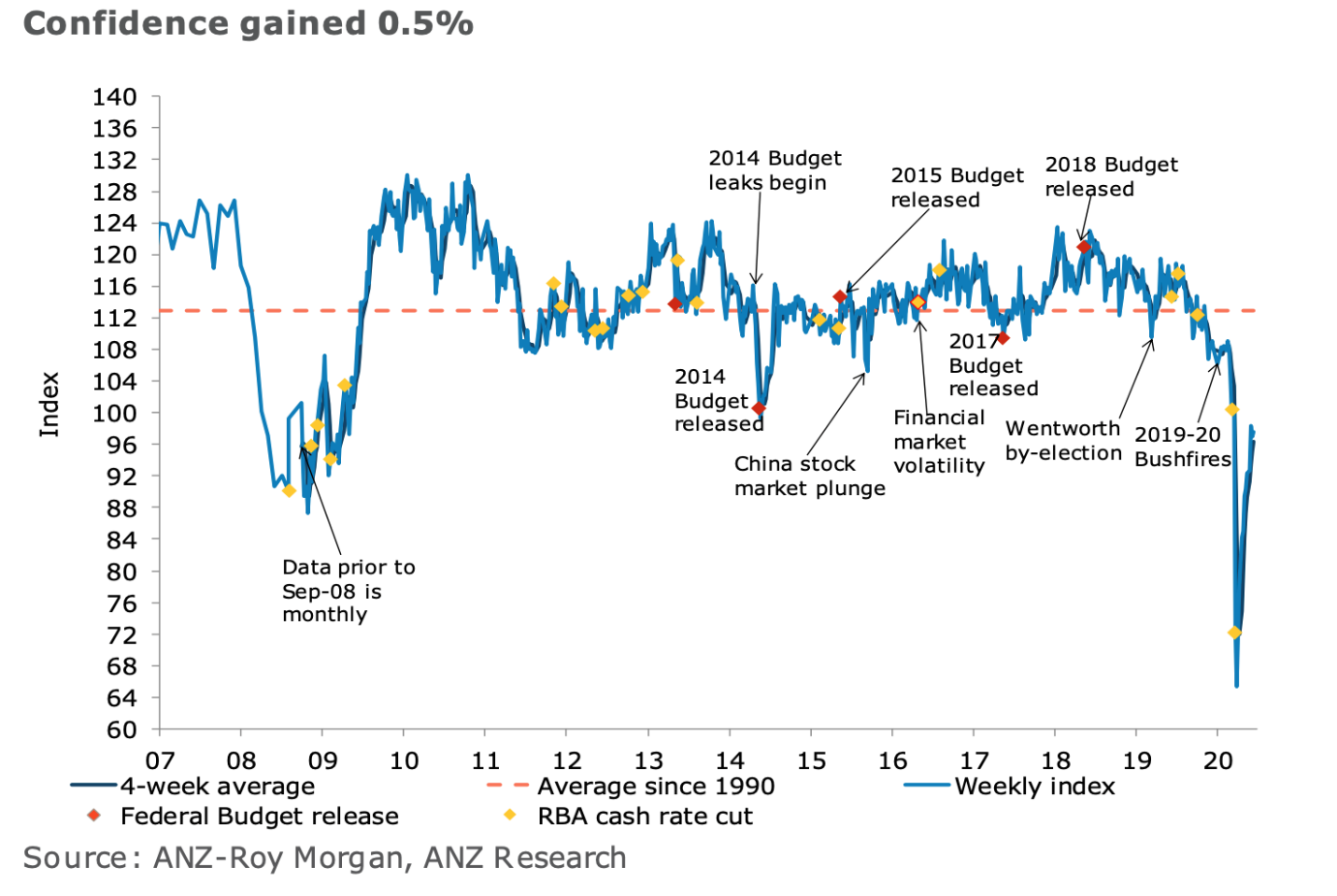 Business confidence remains low
Unsurprisingly, despite bouncing off their lows, NAB Business Conditions and Confidence Index remained deeply negative in the second half of May.
Having reached a never-before-seen low in April, business confidence remains a long way below average meaning that they cannot make recovery is a while off with substantial business capacity meeting that there will be little new employment for a while.
..........................................................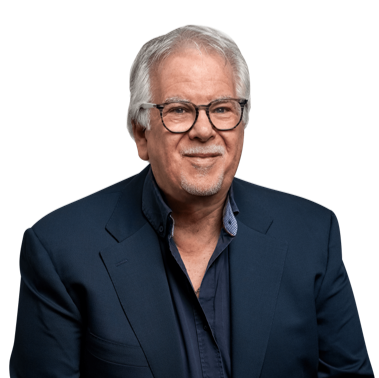 Michael Yardney is CEO of Metropole Property Strategists, which creates wealth for its clients through independent, unbiased property advice and advocacy. He is a best-selling author, one of Australia's leading experts in wealth creation through property and writes the Property Update blog.
To read more articles by Michael Yardney, click here