I spent some time over the recent long weekend responding to a number of trolls on our YouTube channel who keep telling me that the property market is about to crash.
So I asked them to look back at these weekly discussions Dr. Andrew Wilson and I have been having over the last three years – but it was a worry.
It was a worry because of how accurate many of the forecasts Dr. Wilson made in these sessions were, and how wrong much of the mainstream media was.
It's also a worry that at a time like today when there has never been as much information freely available about our property markets, there is even more financial misinformation than ever.
Of course, the good news about these regular weekly chats I have with Andrew Wilson, Australia's leading housing economist, is that we were right on the economic recovery, beating the recession, unemployment coming under control faster than many expected, and the resilience and strength of our property markets.
Interestingly I've been having similar discussions with Negative Nellies for decades and over time I've decided it's just not worth trying to persuade the perpetual property pessimists.
But the media keeps feeding their fears – so today we discuss a recent 60 Minutes program that told us that our housing markets are one of the strongest yet most unaffordable in the world and how they can suck the life out of first home buyers with frustration, heartbreak, and hopelessness.
By the way… this is the same story I've heard for close to 30 years now – it comes around every time our markets start to rise.
So here we are again, the same stories doing the rounds again.
Watch this week's Property Insider video to get our thoughts.
Watch this week's video as we discuss what happened in our auction markets over the weekend as they give a good "in time indicator" of what's happening on the ground.
Auction clearance rates remained strong this weekend despite being the Queen's Birthday long weekend.
Sydney Auction Market
Sydney's record Queen's Birthday results reflect the still-booming Sydney market.
Another big Saturday of auction results for the Sydney market despite the usual distractions for buyers and sellers of the Queen's Birthday long weekend holiday.
Sydney clearly smashed the record for the number of auctions conducted on a Queen's Birthday holiday Saturday and also set a new record for the number and value of sales reported for that day.
Sydney recorded a clearance rate of 77.9% on Saturday which was just below the previous weekend's 80.8% but higher than the 61.5% recorded over the same holiday weekend last year.
Although the weekend result fell below 80% for the first time this year, given the holiday circumstances and record listings, it continues to reflect strong underlying local market conditions.
Sydney reported a Queens' Birthday record Saturday 578 auctions which were predictably lower than the previous weekends 1048 was well above the 313 recorded over the same holiday weekend last year.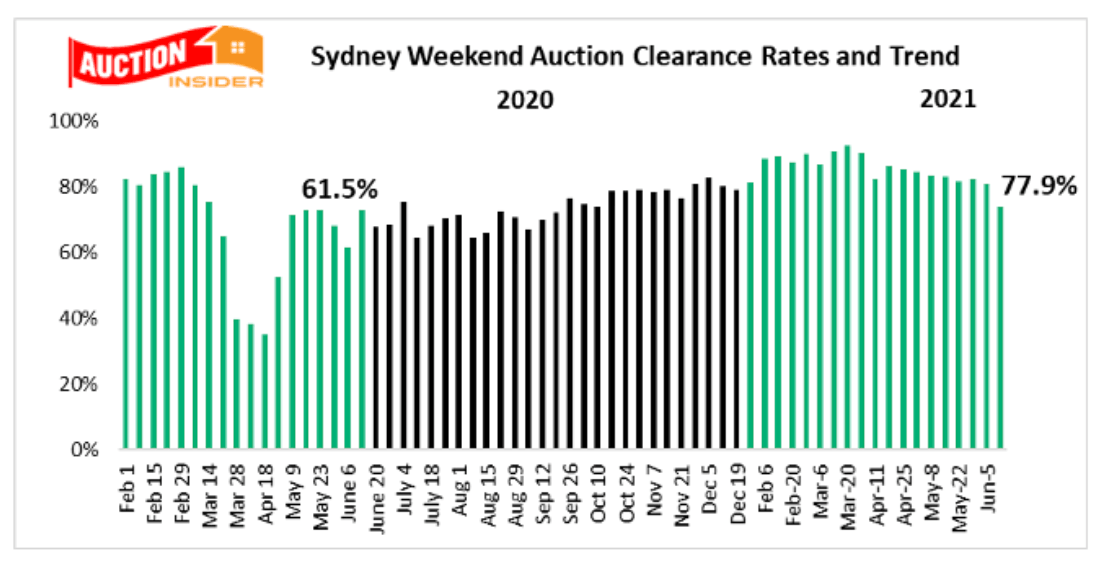 Melbourne Auction Market
Melbourne auction clearance rates were lower again at the weekend, dragged down by the typical holiday distractions of the Queen's Birthday long weekend.
Although some local covid restrictions remain in place, auction withdrawals again were relatively low – particularly compared to other lockdown periods – indicating the market adaption to shutdown conditions Melbourne reported a record Queen's Birthday Saturday auction day indicating continuing interest from sellers in recent strong market conditions.
641 auctions were reported which, although predictably well below last weekend's June record 1379, was well above the 143 reported over the same holiday weekend last year.
Melbourne reported a clearance rate of 69.0% which was lower than the 72.2% recorded the previous weekend and again the lowest result since the 66.9% recorded over October 24th last year – also impacted by lockdown at that time.
Melbourne recorded a median price of $975,000 for houses sold at auction on the weekend which was lower than the $1,046,000 recorded over the previous weekend but 17.0% higher than the $833,000 recorded over the same holiday weekend last year.
New Listings Fall as Subdued Winter Housing Market Approaches
The supply of properties for sale just can't keep up with demand.
Capital city demand continues at a vigorous rate, with buyers out in force – owner-occupiers, investors, and first home buyers – at a time when available supply struggling to keep up.
The number of newly listed homes for sale has predictably fallen over recent weeks as seller interest declines with the onset of the typically quieter winter selling season.
The National Newly Listed Homes Index, exclusive to My Housing Market, that tracks newly advertised listings on a daily basis, reveals trend growth has declined by 6.0% over the five weeks ending June 10 and is now 7.9% lower than this year's Index peak so far of 113.2 recorded in March.
New listings activity however remains well ahead of the results recorded over the same period a year ago – higher by 39.6% and reflecting the impact of Covid shutdowns on seller sentiment through Autumn 2020.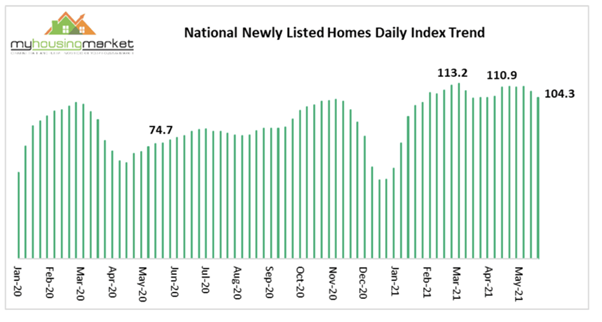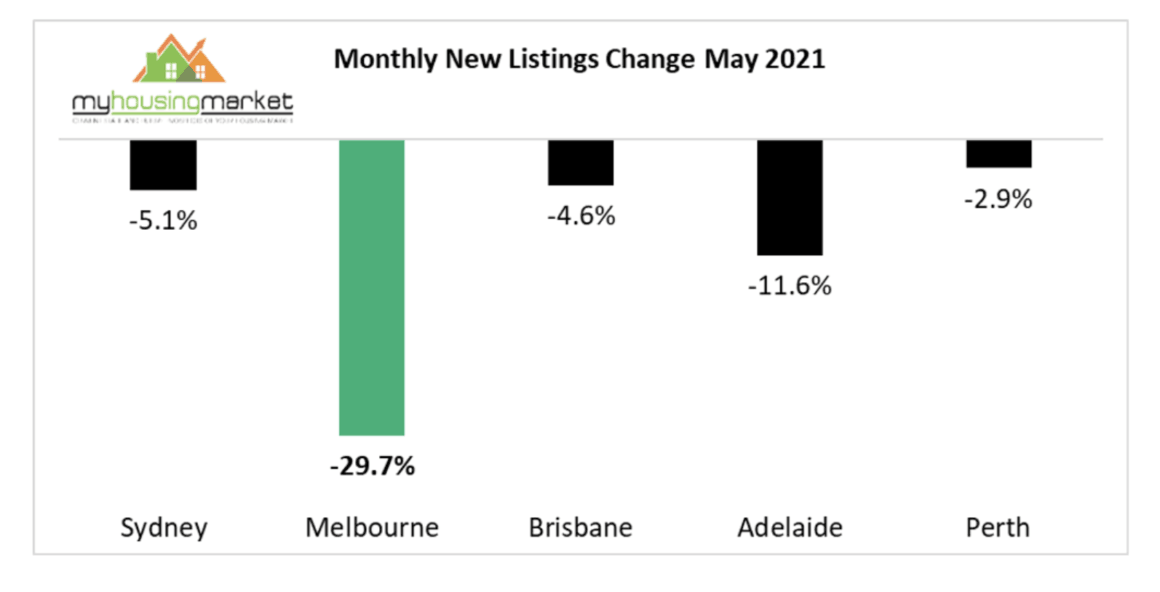 First home buyers
In 2018 60 Minute's ran a controversial show which was apparently their top rating show for the year which scared homeowners when it ran a headline "Aussie housing prices could fall by as much as 40% in next 12 months".
Recently they ran a show and told us that the housing market in Australia is one of the strongest – and most unaffordable – in the world.
And it can suck the life out of anyone who's spending every single Saturday dragging themselves from one auction to the next, being outbid at each turn.
They gave a case study of a Melbourne family who've been hunting for a house in Melbourne for 4 years without finding one.
Interestingly this family has a budget of $1.5 million and couldn't find a home. Really!
Watch this week's video as Dr. Andrew Wilson and I explain…
There have been recorded levels of first home buyers getting into the market this year
There have never been more incentives for FHB's
The couple used in this show for a scaremongering story clearly had unrealistic expectations. And if they've missed out on dozens and dozens of auctions over the last 4 years, they should have employed a buyer's agent to help them guide them and even the odds in their favour.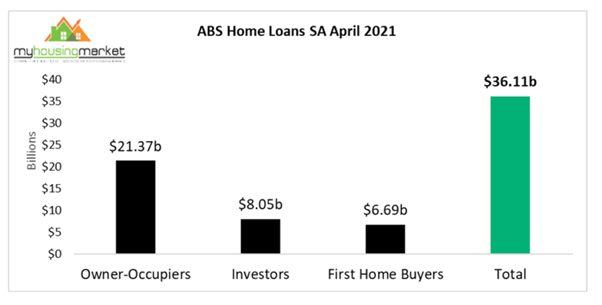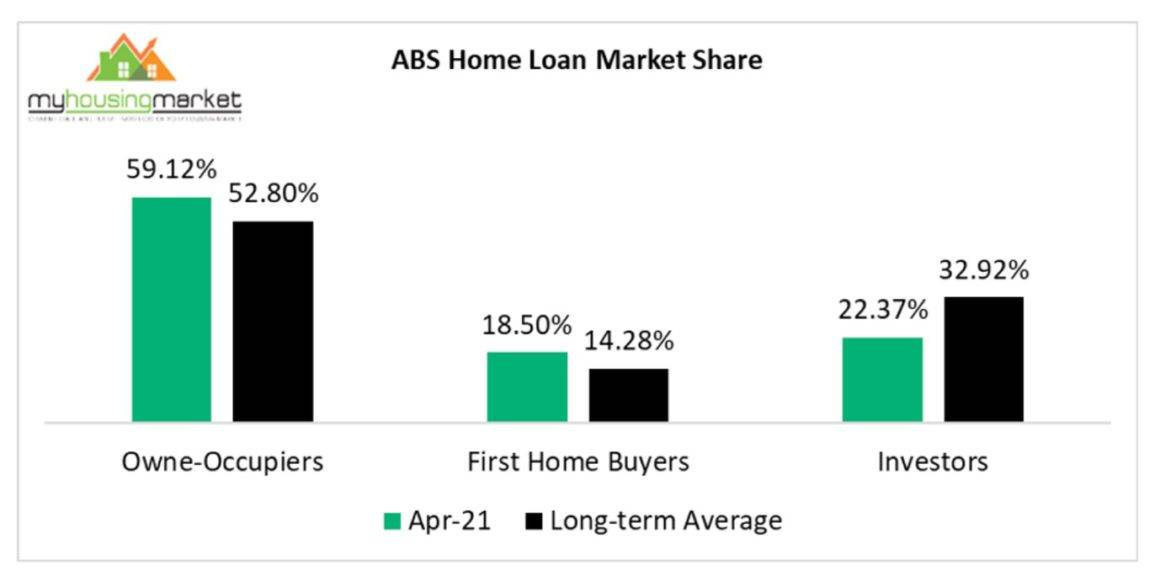 NSW to offer a $25,000 grant for first home buyers in stamp duty overhaul.
First home buyers in NSW could get a $25,000 grant to help them enter the market as the NSW government moves to overhaul property tax.
The grant would replace existing stamp duty concessions for first home buyers under the property tax reforms, which would initially allow buyers to choose to pay stamp duty or an annual "Land Tax" levy.
Watch this week's video as Dr. Andrew Wilson gives his thoughts on this matter.
..........................................................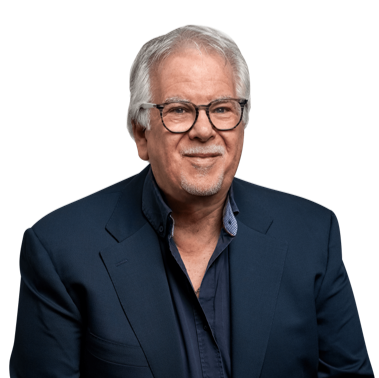 Michael Yardney is CEO of Metropole Property Strategists, which creates wealth for its clients through independent, unbiased property advice and advocacy. He is a best-selling author, one of Australia's leading experts in wealth creation through property and writes the Property Update blog.
To read more articles by Michael Yardney, click here