What an incredible week of positive economic and property data.
It started with the Australian Bureau of Statistics confirming how strong our property markets are and continued with the fourth-largest monthly decline in unemployment on record with a stunning fall in the unemployment rate from 5.5% to 5.1% in May.
Perhaps more importantly, underemployment is now quite a bit lower than it was prior to the pandemic.
The incredible jobs boom has the unemployment rate on track to have a four in front of it and that has led the media to keeps speculating that this will test the RBA's guidance that interest rates won't rise until 2024.
Of course, this is great news for our economy which is experiencing that V Shape recovery that everyone was hoping for but no one really expected.
But what does it mean for our property markets?
That's one of the questions l ask Australia's leading housing economist, Dr. Andrew Wilson, chief economist of My Housing Market, so please watch this week's Property Insider video to get our thoughts on these matters.
Watch this week's video as we discuss what happened in our auction markets over the weekend as they give a good "in time indicator" of what's happening on the ground.
Auction clearance rates remained strong this weekend despite significantly increased auction numbers.
Sydney Auction Market
The Sydney weekend auction market has rebounded strongly following last weekend's Queen's Birthday holiday pause, recording another boom time clearance rate despite hosting over 1000 auctions.
Sydney recorded a clearance rate of 80.8% on Saturday which was higher than the previous weekend at 77.8%.
The clearance rate for houses was 81%, with units just below, at 80.1%.
With the exception of the distracted Queen's Birthday and Easter weekends, Sydney has recorded a clearance rate above 80% for each Saturday this year so far.
Sydney recorded the median price of $1,610,000 for houses sold at auction on the weekend, which was higher than the $1,555,000 recorded over the previous Saturday.
The Northern Beaches was yet again in Sydney's top-performing region.
Melbourne Auction Market
The Melbourne auction market bounced back strongly at the weekend following the distractions of last weekend's Queen's Birthday holiday and the easing of Covid shutdown restrictions.
Melbourne reported a record June Saturday auction day reflecting underlying seller confidence in the current robust market conditions.
A remarkable 1,566 actions were reported which smashed the previous June record of 1,379 auctions set just two weekends ago.
Despite this, Melbourne recorded a solid auction clearance rate of 74.4%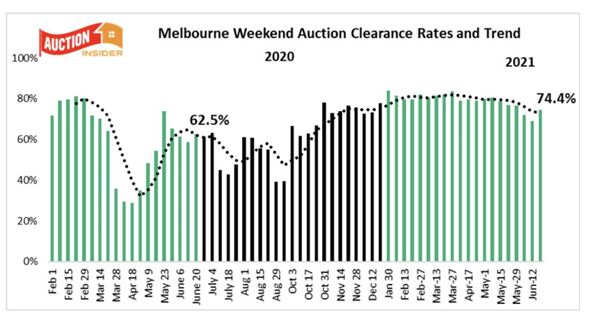 Latest ABS housing data
The value of Australian homes is soaring as record home buying activity pushes prices higher in a once-in-a-generation housing market boom.
The ABS released their latest stats for the March quarter of this year… yes I know that's 3 months ago.
They report that the total value of Australian housing over the March quarter increased sharply by 5.7% compared to the previous quarter, to a new record high of $8.29 trillion.
Australian home values have now increased by 13.9% over the past year – the fastest annual rate of growth on record.
Watch this week's Property Insiders video as Dr. Andrew Wilson gives his news on what's ahead for the housing market will eventually slow them down.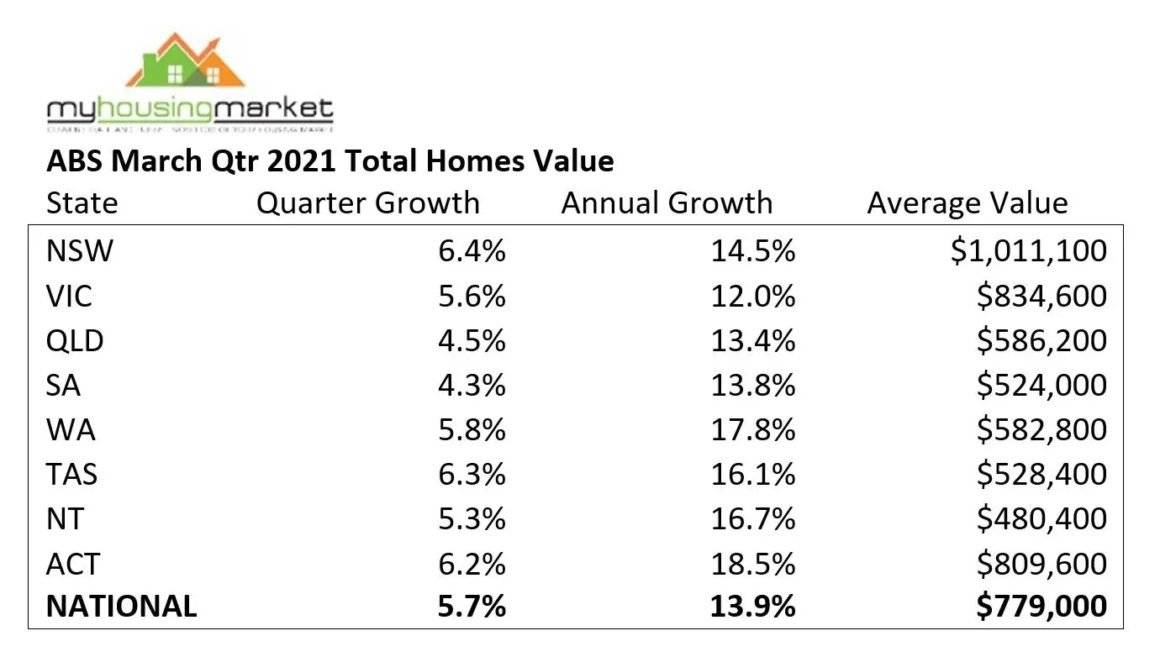 Whatever happened to the cliff we were going to have post-JobKeeper
It's raining jobs.
Despite relentless predictions of higher unemployment rates to follow the end of JobKeeper in March, Australia's jobless rate continues to defy the "experts".
The jobless rate has fallen to its pre-pandemic level of 5.1 per cent after the creation of 115,000 jobs in May.
Even more impressively, the underutilisation rate, which combines unemployment and underemployment, is the lowest since February 2013.
That was the last time the economy experienced wage growth of at least 3 per cent – a key threshold the RBA is trying to achieve.
With international borders shutting out foreign labour and fuelling skills shortages in some industries, job ads at a 12-year high, and job vacancies soaring, the local labour market could reach full employment sooner than expected.
The big picture story is ambiguously positive.
More jobs are being advertised, more people are finding work, and this is not just important in terms of spending power of the newly employed, but also this boosts the confidence of those people already in jobs.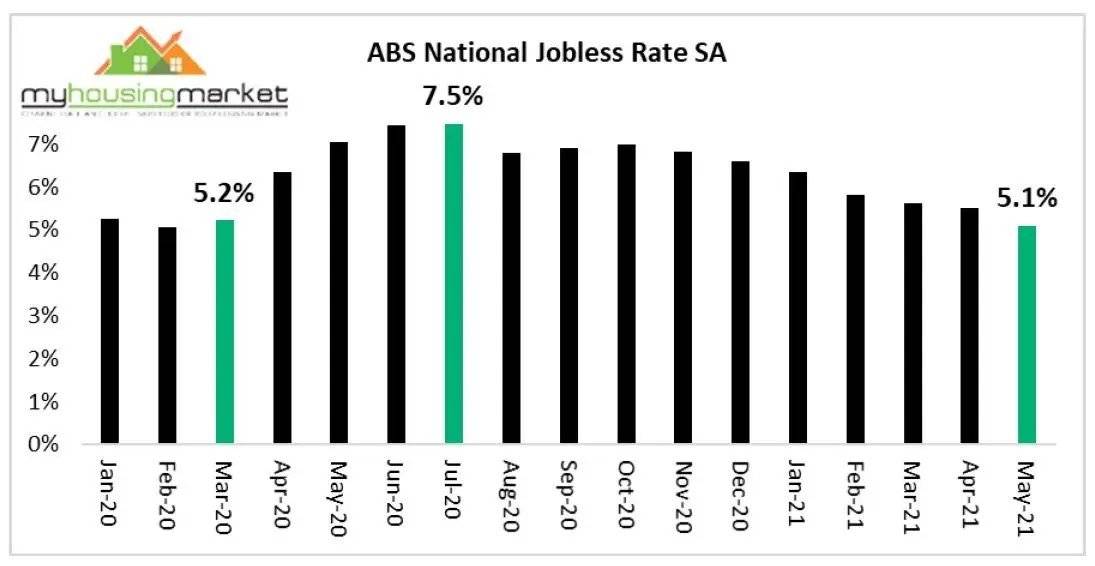 No Prospect of Higher Interest Rates Any Time Soon
Reflecting the recent surge in US inflation, the monthly meeting of the US Federal Reserve has been widely spruiked as a possible indicator of an increase in official interest rates sooner than previous expectations.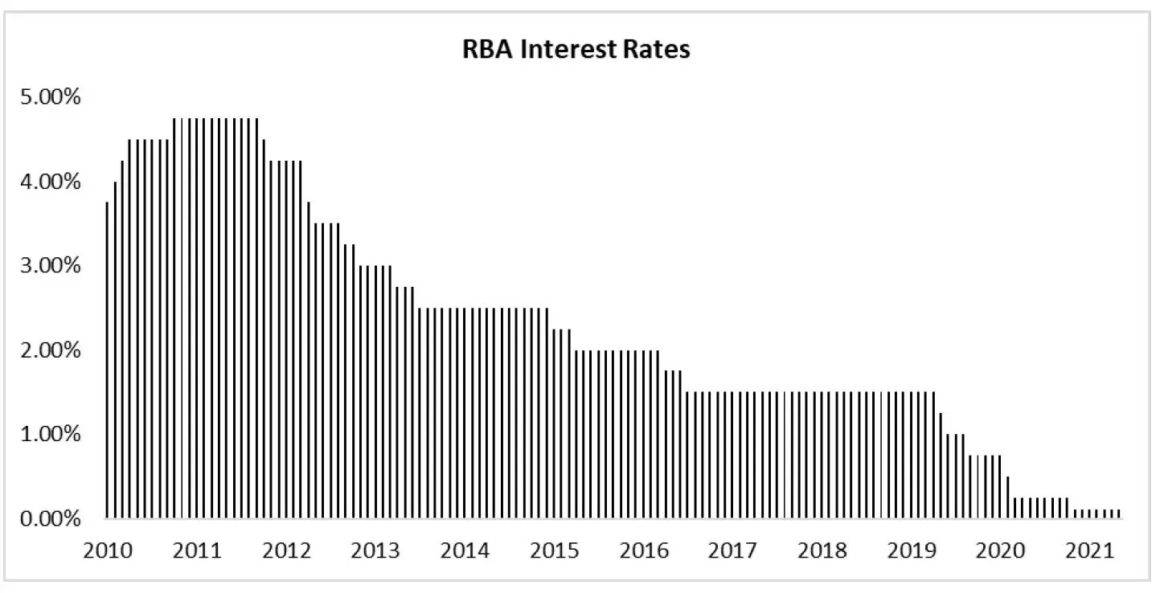 Those speculating on a signal for rate rises to be brought forward would have been sorely disappointed with Federal Reserve Chairman Colin Powell who predicted that at this stage rates would not likely rise until 2023 – and that Fed forecasts should be taken with a "big grain of salt".
Powell also stated that economic conditions were far from those required to raise rates and the "lift-off is well into the future".
Powell also indicated that there were no plans for the Fed to taper its bond-buying program again reflecting ongoing concern over the US economy.
The recent spike in US inflation was clearly an upward adjustment from the artificially low prices influenced by covid policies over the past year.
Similarly, Australia can expect to record higher inflation over coming quarters as the local economy also normalises.
Although US interest rate policy does not directly impact Australia rate settings, similarities in the current macroeconomic environment would reinforce the likelihood that – as predicted by the RBA – Australian interest rates would remain where they are until 2024 – at the earliest.
Watch this week's video as Dr. Andrew Wilson gives his thoughts on this matter.
Latest Population figures
Watch this week's Property Insiders video as Dr. Andrew Wilson summarises the latest ABS population data and how strong interstate migration is underpinning the South East Queensland property markets.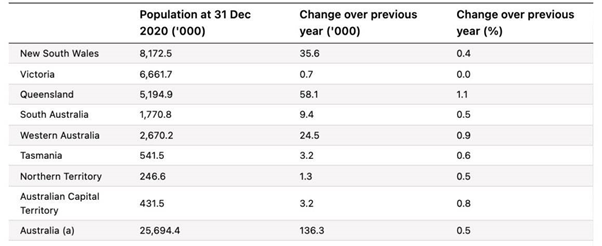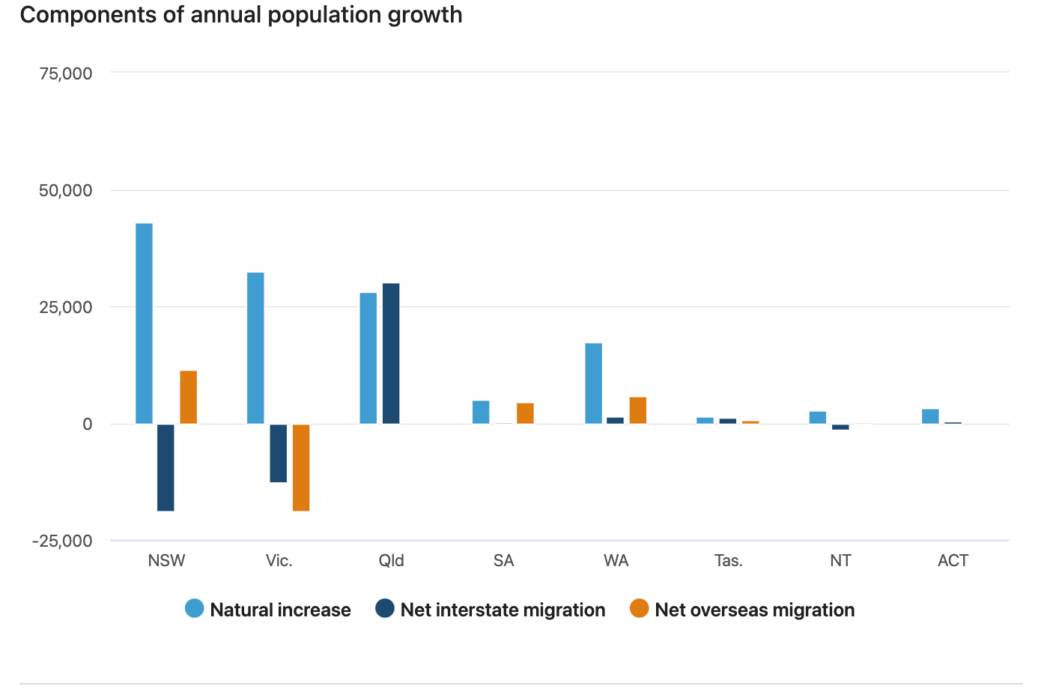 ..........................................................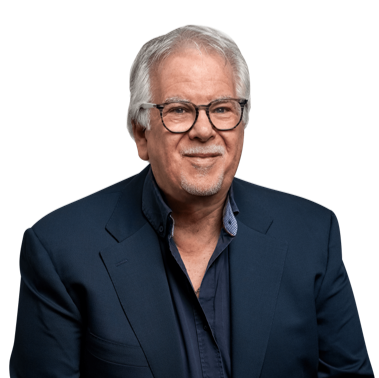 Michael Yardney is CEO of Metropole Property Strategists, which creates wealth for its clients through independent, unbiased property advice and advocacy. He is a best-selling author, one of Australia's leading experts in wealth creation through property and writes the Property Update blog.
To read more articles by Michael Yardney, click here