Leading reno expert Cherie Barber tackles quandaries on full kitchen renos, what you get for a $5,000 bathroom reno, and choosing granite, marble or Caesarstone benchtops
KITCHEN RENO
Q:I'm thinking of upgrading my investment property's kitchen, but I'm not sure how to decide on the scope of work. For a full reno, what jobs should I include?
A: I assume by a "full reno" you mean gutting the existing kitchen and installing a brand new one, including new appliances. In that case you need to look at the following scope of works:
1. Strip out the kitchen so you're back to a bare shell. A DIYer can do this or hire a labourer for a day. You'll need an electrician and plumber to disconnect power points and water supply.
2. Wall and f loor set-out (if you want to change or correct these in any way).
3. Plumbing and electrical rough-in. You'll need this if you're moving power points or changing the plumbing.
4. Install the new kitchen cabinets (cabinetmaker or carpenter).
5. Install the benchtop (cabinetmaker or carpenter)
6. Install the splashback (generally glass or tiles, so you'll need either the glass installer or tiler for this).
7. Install sink and appliances (you'll need the plumber and sparkie back for this).
8. Painting.
You'll save a stack of money by project managing the job yourself and coordinating all the different trades. If you don't feel up to the task or don't have the time, you can pay a kitchen installation company to manage the whole process for you. As it's a rental property, you obviously want to avoid any unnecessary delays that result in loss of rental income.
I recommend you shop around for the fixtures, fittings and appliances yourself. You can save literally thousands of dollars by hunting out bargains online (GraysOnline auctions, eBay, etc) or with appliances, buying all in a bundle for a generous discount. It's a big job to project manage a kitchen renovation, and you'll need to be highly organised in order to get in and out in the shortest possible time, but for the money you'll save, it's definitely worth the effort.
BUDGET BATHROOM RENO

Q.

What can I do with a $5,000 budget to upgrade my bathroom? I want to modernise it but I don't have a big budget so I want to get the most out of what I can afford.
A. Indeed, $5,000 is not a big budget for a bathroom renovation, especially as it is one of the more trade-intensive jobs. If you're not careful, you can end up spending a lot of money on things that people can't see (extensive waterproofing, rewiring, internal plumbing, etc). So you really need to focus on minimum spend for maximum impact.
Your best bet is to work with the existing plumbing and just upgrade PC items like toilet, vanity, bath and/or shower screen. On a $5,000 budget, you'll need to project manage the renovation yourself to save money. I'd recommend getting the plumber onsite to advise on exactly the kind of fixtures to buy that will neatly slot into the current plumbing, so pipes, wastes and outlets don't need shifting around. These days, you can purchase an acrylic bath, modern toilet and vanity all for under $1,000 if you're a good bargain hunter.
Tiles are cheap to buy but can be expensive to lay, so you could consider something like White Knight Tile Paint if your existing tiles are in good shape but just a bit dated.
Otherwise, invest in some smart new tiles and update the accessories. A light colour scheme and a nice, big mirror will always make your bathroom look larger. You can renovate a bathroom on a $5,000 budget, but you have to focus on highly visible updates and not plough money into changes that can't be seen.
GRANITE VS CAESARSTONE BENCHTOP
Q. How important is it to use brand name or quality materials for a reno on an investment property? I don't want to spend much money but it seems that properties with granite, marble or Caesarstone benchtops are in demand according to my agents. Should I consider replacing my old laminate benchtop with these? How practical are they for a rental property?
A. The golden rule is to always match the quality of your finishes to the value of your property. A $400,000 house, for example, is unlikely to warrant top-of-the-line finishes. So don't be talked into stone benchtops, glass splashbacks and fancy appliances if the rental market in your area is going to be just as satisfied with tasteful laminate and tiles. The last thing you want to do is overcapitalise. In other words, don't take your real estate agent's advice as gospel.
I generally don't recommend Caesarstone benchtops for properties priced under $700,000. If you decide to upgrade your benchtops to Caesarstone or similar, keep in mind that renters are unlikely to suddenly want to rent the place because it has a stone benchtop.
They'll make that decision based on the overall look and feel, and amenities of the property as a whole. So you may want to look at upgrading the benchtops as part of an overall renovation of the property further down the track.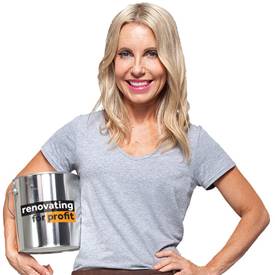 Cherie Barber

is the director of Renovating For Profit,
a company that teaches everyday people how to
buy and sell/rent old properties for a profit.