We asked TV renovator Cherie Barber to tackle reader questions on how to plan a successful reno and whether to go flat-pack or custom kitchen.
Flat-pack vs custom-made kitchen cabinets
Q: I've just settled on a two-bedroom unit in Upper North Shore, and I'm looking at upgrading the kitchen. It's a reasonable, rectangular-sized kitchen which can easily fit a dishwasher and a large fridge. The cupboards are about 20 years old so they really need to be replaced. Is it worth looking at flat-packs, or should I spend the extra cash and get it custom-made by cabinetmakers? I want to get the best quality for longevity at the least price.
A: Flat-pack doesn't necessarily mean inferior quality; it just means you won't have the flexibility to get the precise size, finish and colour you're after. And that makes it a lot cheaper than custom-made. So you'll certainly save money if you can find off-the-shelf cabinets that fit the dimensions of your existing kitchen, and then source the benchtop separately.
You'll save even more money if you assemble the cabinets yourself (if you can put together IKEA furniture, trust me, you're up to the task), but make sure you hire a carpenter to install your cabinets and benchtop, to get a professional finish.
By coordinating the trades yourself, including the plumber and electrician you'll need for a kitchen reno, you'll save a motza compared with hiring a kitchen company or project manager to do the whole thing for you. Just be confident you have the organisational and planning skills to pull it off (see below). Remember: the higher the value of your apartment, the higher your kitchen quality should be. For any apartment under $750k in value, I think a flat-pack kitchen is perfectly acceptable.
Planning a renovation
Q: I'm planning to do a number of renovations during summer, but I have no idea how to start. I want to upgrade the kitchen and bathroom but also to do some work outside the property, ie landscaping and so on.
How do I prioritise the work I want done? Is there a program or software I could use? How do I calculate costs and timeframe to make sure I stay within budget? How do I decide whether to use a project manager or do it myself?
A: First, it's good that you've highlighted the central challenges of any renovation: correctly calculating the costs and timeframe, then bringing the project home on time and within budget. That's no easy feat for the inexperienced renovator, especially as kitchen and bathroom updates are trade-intensive projects. That's why doing them at the same time makes sense, as you'll require many of the same trades for both (tiler, electrician, plumber, etc). As labour is often your biggest cost, you want to minimise the number of separate call-outs and maximise use of tradies' time on site. That means knowing in advance where you want such things as your power points – not dithering around deciding while the electrician is standing about. Or having your tiler turn up to find your tiles haven't arrived.
It's important to have an overall project plan, which has an order of works (what tasks need to be done when), scope of works (fleshing out the precise details of what needs doing), costs and a timeline. This will tell you exactly what tradies and materials are required for each stage of the renovation. You can create it using software such as Microsoft Project, in which all tasks, costs and estimated timelines can be input, and it will automatically update as you go. Or even a simple Excel spreadsheet. The alternative is to engage a project manager, but be sure they truly are experienced, or you'll have "the blind leading the blind", so to speak.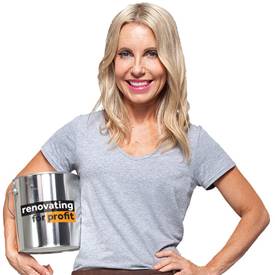 Cherie Barber

is the director of Renovating For Profit,
a company that teaches everyday people how to
buy and sell/rent old properties for a profit.