We asked TV renovator Cherie Barber to answer these readers questions about the best time to do a renovation, whether or not to add a second bathroom and the most cost-effective way of transforming a tired bathroom without spending a fortune.
WHEN IS THE BEST TIME TO RENOVATE?
Q. I'm thinking of doing some cosmetic renovation on our rental property, but at the moment, it's still tenanted. Do I wait for the tenant to vacate first before getting started or can I get access to the property while tenanted? What's the best way to plan a cosmetic reno involving painting and kitchen upgrade? What do I need to take into account and what are the traps I need to watch out for?
A. Ideally, you want your rental property vacant for any significant renovation. If you have incredibly obliging tenants you might be able to get access to update a vanity here or do a spot of retiling there, but it would be impractical, if not impossible, to lay new floors or have an entire house painted with tenants in situ. The best scenario is to have the house vacant, get in and do the renovation as quickly as possible (1 to 2 weeks downtime maximum) and get the property straight back on the market for rent.
As for the order of works for the painting and kitchen upgrade, it does depend on the extent of renovation you're planning. If you're pulling out the existing kitchen to put in a new one, then I'd suggest painting your ceilings and any exposed walls before your new kitchen goes in. Then you'll only need a few touch-ups afterwards, instead of clambering all over your nice new kitchen to do a full paint job.
My biggest tip for planning a cosmetic renovation, especially if you're a novice, is to produce a project plan that itemises the tasks to be done and in what order. From this, you'll see what tradespeople you need to hire, when they'll be required and how many times they'll need to visit your site.
For example, in a kitchen renovation, you'll need to get your sparkie and pluber out at the start to disconnect wiring and plumbing before you begin demolishing the old kitchen. If you're switching around power points or putting in new plumbing, you'll need them back again to "rough in" new pipes and wiring before the new kitchen goes in. Then they'll have to come back at the end to connect all your appliances, power points and plumbing. All this will have to dovetail with other tradies working on your new kitchen, such as the installer, tiler, etc.
Are you getting the picture? If you're not organised and knowledgeable enough about what needs to be done when, I'd suggest hiring a project manager to produce the project plan for you and you can go from there. Alternatively you can source a kitchen installation company to do it all for you. However, there will be extra charges associated with someone else project managing your renovation for you. 'Winging it' is the surest path to disaster.
ADDING A SECOND BATHROOM
Q. I just bought a large 2-bedroom unit and I was told by the agent that I could add a new bathroom to make it more attractive to tenants. Without seeing the floor plan, what information would you be checking first before considering a second bathroom? How feasible is it to add one for units and what are the difficulties? In your view, does adding one make financial sense?
A. Do bathrooms add value? Unquestionably, yes. The idea to to convert your apartment into a 2-bed, 2-bathroom space is a great idea, provided it doesn't clutter or reduce practicality in other rooms. The issue with apartment renovating, however, is that you have a lot of limitations compared to renovating freestanding houses.
First up, you need to get strata body approval for any renovations that fall outside of minor works. For a completely new bathroom, it's likely you'll also need to get local council approval, no doubt with reports tagged on from structural engineers, etc. Then there's the practical challenges. Laying new electrical and plumbing lines in an apartment can be extremely difficult and cost-prohibitive if you don't have easy access to floors and walls. And don't assume you can just jackhammer into the walls, floors and ceiling, willy nilly.
I've renovated a few apartments, and in all cases, I wasn't allowed to touch any of these things. This makes it very challenging to conceal large plumbing pipes and electrical lines and still achieve a good looking space. Not impossible, but you'll need to work with your team of tradies to find creative solutions that are also legally compliant. Then there's noise issues that affect neighbours and difficulties of getting materials up and down lifts or stairs, etc.
To start with, I'd suggest you first need to establish if your apartment really does have space to accommodate a second bathroom, then call in a plumber and electrician to give you an estimate of the costs involved and what difficulties you're facing. Then work out if the extra rent you can get for a 2-bathroom, 2-bedroom apartment justifies the cost. Adding a second bathroom is not an easy thing to pull off in an existing apartment block, so make sure you do your homework up front before anything starts.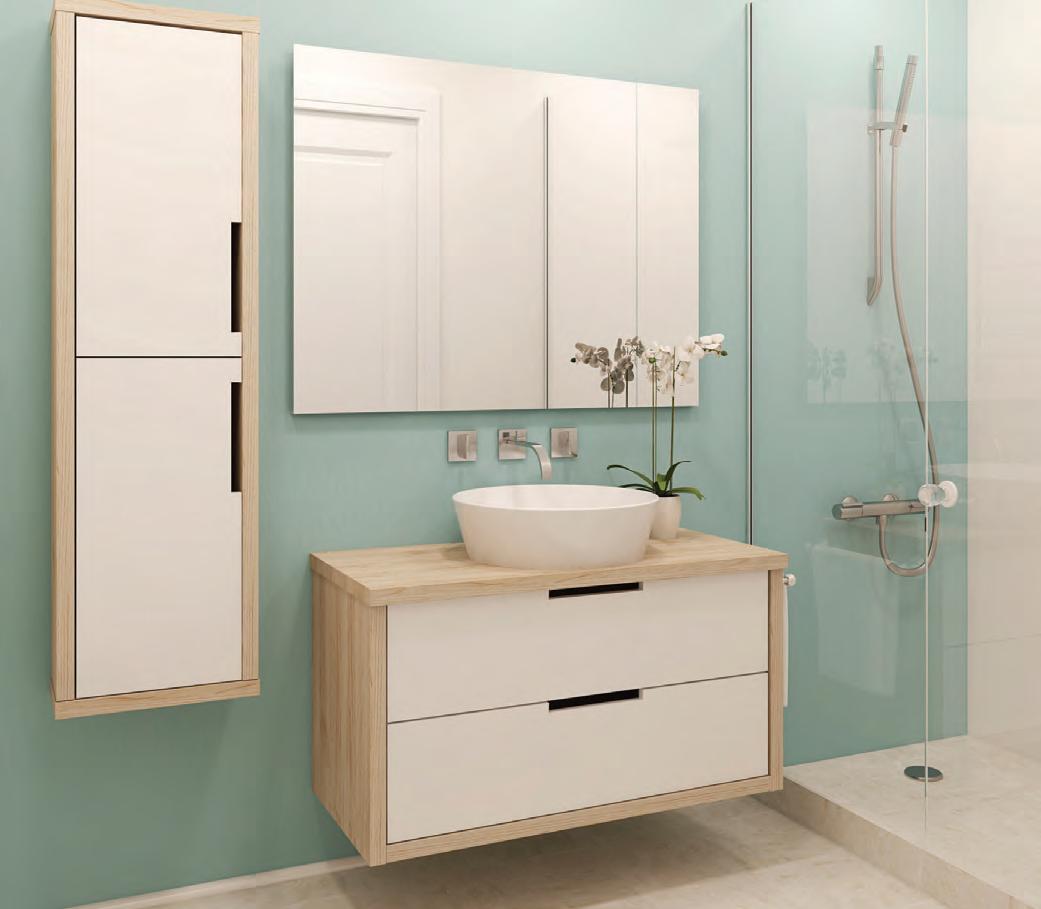 TRANSFORMING A TIRED BATHROOM CHEAPLY
Q. If you were to transform a tired-looking bathroom at the lowest cost possible, what would you do? What ways would you add the wow factor without gutting it?
A. For anyone wanting to renovate a tired-looking bathroom for the absolute lowest possible cost, head straight to your nearest big hardware store and check out the range of products by White Knight and Rust-Oleum.
These companies specialise in a whole range of innovative paint and resurfacing products designed to conceal all manner of dated surfaces. There's tile paint, laminate paint for old vanities, epoxy paint for old basins and baths… for a few hundred dollars maximum, you can completely transform a bathroom with fresh, neutral colours, and without the need for a single tradie.
Then just add new tapware, vanity handles, towel racks, etc, also picked up cheaply from any hardware store. You simply can't get better bang for your buck! As for the wow factor, I'd suggest taking a leaf out of the stylist's book, and let smart towels, stylish toiletries and maybe even a wellplaced potplant provide a bit of glam. They're much easier to change than a splash of trendy feature tiles that suddenly go out of fashion.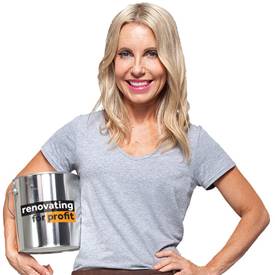 Cherie Barber

is the director of Renovating For Profit,
a company that teaches everyday people how to
buy and sell/rent old properties for a profit.