Leading reno expert Cherie Barber tackles our reader questions on comparing quotes, combining a laundry with a bathroom, and choosing the best flooring for a rental property
COMPARING QUOTES
Q: I'm planning to update the bathroom of our rental property. It's a two-bedroom unit but the bathroom is quite spacious. I want to make it more modern and replace the daggy shower and vanity. How do I compare quotes from different contractors? What should I look for to ensure that I'm getting the best tradie for the job?
A: A word of warning. Any bathroom renovation – even if it's just a cosmetic update – needs very careful planning. Budget blow-outs and waterproofing disasters are common risks that can catch out the inexperienced. If it's a rental property, you also want your tradies in and out of there in the shortest time possible to minimise the loss in rent while the property is vacant. Most of the above will come down to the quality of tradie you hire.
You have two options here. One is to manage the bathroom revamp yourself, which means engaging the various trades as necessary (sparkie, plumber, tiler, etc). The other option is to get a builder or bathroom renovation company in to manage the whole thing for you. More cost, less headache.
Either way, the only way you can properly compare quotes is to provide a detailed brief of what you want, so you're comparing apples with apples. Then get a minimum of three quotes. That should give you a realistic estimate of what you're up for. I often find the middle quote proves to be the safest option. A quote that seems ridiculously cheap or wildly exorbitant should raise suspicions.
Make sure all the necessary insurances are in place, such as Home Warranty insurance if that applies in your state. And of course the tradies' own insurances. And do a quick licence check on whoever you're hiring at www. licencerecognition.gov.au/authorities.aspx.
As far as finding good tradies, tap your network of friends, family and colleagues for recommendations, as that's always your best bet. If that turns up nothing, then at the very minimum ask to speak to the last client of any tradie you're considering, especially for big-ticket jobs.
LAUNDRY + BATHROOM
Q: Is there a stylish way to incorporate a bathroom with the laundry? If we combine the two, we'll be able to expand the kitchen. Is this viable? Is this an acceptable arrangement? If we were to go ahead, what are the challenges and risks? Any ideas what would be the cost of doing so?
A: That sounds like a feasible plan in principle. Kitchens are huge selling points, so if you've found an inventive way to create a nice, big modern one, all the better. These days it's perfectly acceptable to incorporate a washer/ dryer recessed into a cupboard (called European-style laundry) into your bathroom, but it needs to be well thought out in terms of where you position that cupboard in relation to the bathroom fixtures. So my only concern would be that your existing bathroom or laundry is large enough to sensibly combine the two functions in a well-executed design. If you're inexperienced renovators, I would advise getting some design assistance from an interior designer.
I'd also consult a plumber early on to get an idea of what the likely costs will be, as you'll inevitably need to rejig or install new plumbing, and that can be costly if the plumbing is not easy to access.
As far as overall cost, you'll need to get quotes for this (see above answer for advice), as there are too many variables in your case to give a guesstimate. As a rough ballpark, a bathroom renovation averages between $8,000 and $15,000 if you are coordinating all the trades yourself, as opposed to a company handling the whole process for you.
BEST FLOORING FOR A RENTAL PROPERTY
Q:
What do you think is the most cost-efficient flooring for a rental property? I've heard wood is all the rage now and some are even suggesting bamboo flooring. What's your view? Obviously I want my rental property to be attractive but at the same time, I want to install something that would also last.
A: For a rental property, cost shouldn't be your only consideration. You have the following options: Real timber floorboards – these will stand the test of time and are very hard wearing, but they will be costly to install. And in an apartment block, you will need to get strata approval, which may be knocked back due to acoustic issues.
Engineered flooring (laminate or timber veneer) is costeffective, but has its downsides that may not be ideal for a rental property. For example, many engineered floorboards don't work well if water is spilt on them, causing them to swell and possibly need replacement. The quality and cost of engineered flooring varies enormously, so you really need to do your research; each will have its own pros and cons. Tiles – definitely hardwearing, good looking and cheap to buy, however labour will be the big cost.
Vinyl flooring – this covers lino and vinyl self-adhesive floor planks. They are cost-effective, easy to install and extremely hardwearing, but won't look as good as the above options, and may not be suitable for a higher value property. Carpet – not suitable for a rental property. Spills, stains and deterioration will mean you have to replace it every few years. This is your last option.
As you can see, there are plenty of options to choose from. For a rental property, your key requirements for flooring are durability, scratch-resistance, aesthetics and cost effectiveness, to maintain your rental yield. Some of the above will give you a good short term fix, but may cost you in the long run, so don't just base your decisions on cost. Bamboo can be bought in either real or engineered boards.
If your budget allows, always opt for real boards. These will stand the test of time, and if you can pick them up at a good price and can install cost-effectively, this is the way to go.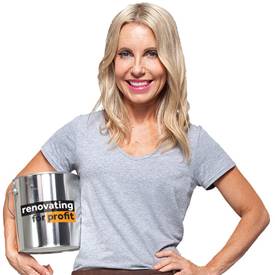 Cherie Barber
is the director of Renovating For Profit,
a company that teaches everyday people how to
buy and sell/rent old properties for a profit.