This month we asked Cherie Barber to tackle queries about the merits of installing a frameless shower screen, choosing the right blinds and whether to replace a toilet or do a full bathroom renovation instead.
FRAMELESS SHOWER SCREENS

Q: What's your view on using a frameless shower screen? Are they as attractive/ sturdy as they're made out to be? I have an outdated bathroom and my agent recommended I install a frameless shower. Are they worth it? How expensive are they and are they practical for rental properties?
A: These days, you can easily pick up a single, fixed panel 800mm x 2000mm frameless shower screen for less than $500 (installation is extra), so they're really quite competitively priced and look so much better than clunky framed shower screens - and are easier to clean. Installed properly, they're sturdy but they do tend to wobble slightly when opening and closing the doors.
The bigger the size, the more expensive the glass panel, and the quality of the brackets and fittings will also obviously impact the price. If you're replacing an existing old corner shower unit and want something you can slot straight into the same spot, then you'll probably want to look at the frameless glass shower unit with a pivoting door.
These start at around $550, plus installation. Really, the internet is your best friend here. I'd suggest you take the measurements of whatever shower unit you have there now, then compare prices online under "frameless shower screens". If you're going to the trouble and expense of updating the shower, then I would definitely recommend you go with modern, frameless glass, even for a rental property.
CHOOSING THE RIGHT BLINDS

Q: Do you have a favourite style of blinds to use when renovating? I have a pretty drab looking curtain and I'm thinking of getting new window blinds instead but I don't know what types are best for my apartment. The rooms get a lot of sunshine in the morning so I want something that would block out as much sunshine as possible and still look good. Do you have a preferred supplier?
A: My choice of window furnishing really depends on the style and price point of the property I'm renovating. If you just want something practical and inexpensive, it's hard to go past plain off-white aluminum micro venetians, which you can buy off-the-shelf very cheaply fromt he major hardware stores.
If you get a lot of light (as you say) then venetian blinds are great to block the light out when you need to let it gently filter in when they're open. Sometimes I even install micro venetians in combination whith curtains to provide extra darkness in bedrooms.
Ikea is hard to beat for cost effective curtains. Curtains alone won't give you privacy unless they're closed day and night and that never looks particularly great when you're inside a property, therefore the combination of curtains and micro venetians tend to work well. If your property is worth more than a million plus, you should up spec your window furnishings to a better blind system such as plantation shutters.
NEW TOILET OR FULL RENO?

Q: It's time for us to replace the toilet in our rental property but we're unsure if we should get the bathroom renovated as a whole instead. In general, how much does it cost to install a new toilet vs full bathroom reno? I have about $10k to spend. What can I do with it to transform an outdated bathroom at a minimum cost?
A: Due to the more compact nature of new toilets compared to older style versions, replacing only the toilet is likely to leave you with gaps in the floor tiles, surrounding the base. This will create not only issues with drainage and water fall, but will also make everything else in your bathroom look even more dated by comparison.
It's difficult to quote a cost to replace a toilet as it depends on the type of toilet to be installed and whether new drainage is required and wall & floor tiles are to be removed. Quite often, changing one thing in a bathroom such as a toilet can have a "flow on" effect. Completely renovating an entire bathroom will be a more expensive exercise, however it's a big value add that often becomes self-funding (new value will exceed the cost of works).
Whilst $10k is an 'average' cost these days for an entire bathroom makeover, I would aim to keep costs to a substantially lower figure to avoid overcapitalising. If you work on 2.% of your current property value, that should be your complete bathroom budget, fully furnished and not a cent more. For example: if your property is valued at $500,000 currently, your bathroom budget should be no more than $10,000.
Shop around and source fixtures and fittings online, on new or second hand on sites like Gumtree. Secondly, look at what you can keep in your bathroom that can be cosmetically refreshed instead like your vanity or wall tiles, whith products like tile and laminate paint. Every dollar saved is an extra dollar of profit earnt.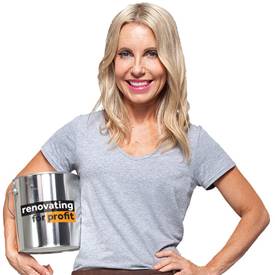 Cherie Barber

is the director of Renovating For Profit,
a company that teaches everyday people how to
buy and sell/rent old properties for a profit.