16/04/2015
Whether you're renovating a property to hold or to sell, buying in the right area is crucial. But where should you look for maximum profit? Your Investment Property and Real Estate Investar bring you the areas with the best potential.
Your Investment Property, with the help of RealEstateInvestar.com.au, has put together a list of Australia's best suburbs for investors who want to find a property to renovate. These suburbs not only feature plenty of older properties in need of restoration, but tend to be close to CBDs, are gentrifying and continue to see massive price differences among properties of similar size and type.
These areas were specifically chosen for their affordability, strong demand and a range of growth triggers such as infrastructure and lifestyle factors.
We also show you what type of properties you should buy for maximum renovation profit, which streets should you target and the growth drivers that will support growth in value in the future.
Edithvale (Vic) - Houses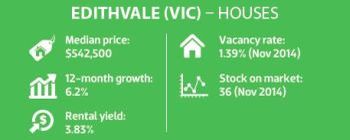 Best streets to buy
Houses on the Nepean Highway, Station St and Fraser Ave, which are close to the beautiful beach and the train station, are especially sought-after.
Best property type to buy
Large three-bedroom houses overlooking the beach are particularly attractive for buyers. There are also weatherboard houses, which are just oozing with character and renovation potential. There are good deals available for properties between $500,000 and $600,000.
Growth triggers
On Edithvale's honour roll are a pristine beach, the Edithvale Seaford Wetlands, great schools and a train station – to name a few. It is also located 28 kilometres from the Melbourne CBD, which helps attract families and professionals who take advantage of the excellent transport options.
Moorooka (QLD) - Houses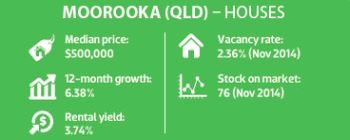 Best streets to buy
Streets with scenic mountain views near sought-after amenities (such as shops and schools) are particularly in demand. These can be found on Dora St or Sharon St. The latter street has the added benefit of being a quiet cul-de-sac that's close to the necessities.
Best property type to buy
There are many renovation-ready post-war houses, cottages and Queenslander style types on large blocks. Despite the fact that there are plenty of houses in Moorooka above $600,000, there are also lots below this figure that would be more suited for a renovation.
Growth triggers
It's located just nine kilometres from the Brisbane CBD and is a lot less expensive than neighbouring suburbs such as Annerley and Yeronga, where the median price for houses is up over $650,000. The abundance of schools, restaurants and parks in and around the area also makes this suburb a hit with families.
Morley (WA) - Houses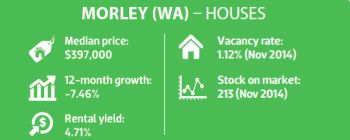 Best streets to buy
There are big blocks of land just ripe for renovation on Robinson Rd and Silverwood St, not to mention on quieter streets such as the cul-de-sac Laurina Pl. Robinson Rd is very close to schools and parks, making it ideal for families.
Best property type to buy
There are plenty of old classic houses on big blocks, which have the added benefit of being affordable. Because this suburb attracts young families, a house with three or four bedrooms would be sensible. There are great deals for this type of property to be found here for below $460,000.
Growth triggers
Despite being just 10 kilometres northeast of Perth's CBD and boasting excellent amenities, a house in Morley will not cost you an arm and a leg. It also has fantastic shopping options. The Coventry Square Markets opened a couple of years ago, and the Galleria Shopping Centre is the second largest retail centre in Perth.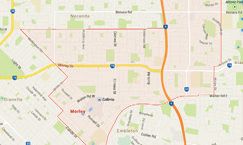 Bongaree (QLD) - Houses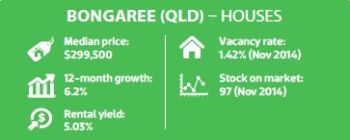 Best streets to buy
Streets towards the Red Beach end (such as Tully St, McDowall St and Ford St) are particularly popular. They offer residents peace and quiet, as well as the luxury of being close to the water. They are also not too far from cafes, restaurants and the RSL.
Best property type to buy
This suburb is very popular with young families, who are looking for affordability and a great lifestyle – hence, houses with at least three bedrooms are a good option. There are quite a few two-storey houses with water views, which are a good option for renovating. You might be paying more than Bongaree's median price, but it will be worth it in the longterm.
Growth triggers
It may be situated halfway between Brisbane and the Sunshine Coast, but Bongaree itself offers great options for residents. It has waterside parks, restaurants and cafes, not to mention schools, which helps attract families.
Torrensville (SA) - Houses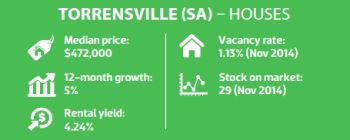 Best streets to buy
There are lovely character homes on Chapman St, which are close to the sought-after amenities of Henley Beach Road, such as restaurants, cafes and shops. Other streets in good locations with renovation potential include Ashley St and Clifford St.
Best property type to buy
Character and period homes are popular. Long-standing cottages on sizeable blocks range from $450,000 – $500,000 and offer good options for renovating.
Growth triggers
Apart from being located just two kilometres from the Adelaide CBD, Torrensville has a number of university campuses nearby. Henley Beach Road and its myriad of shopping and dining options are also in its vicinity. Its wide range of attractions makes the suburb popular with a diverse and multicultural demographic, which includes professionals, students and families.
Kariong (NSW) - Houses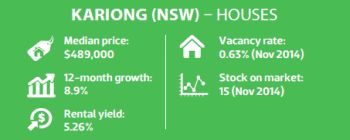 Best streets to buy
Cul-de-sacs such as Foster Cl are attractive due to their tranquillity and abundance of popular houses. The same goes for Carolyn Cl, Woodley Cl and Vaisey Cl. Foster Cl is near the M1, yet it's not close enough to get traffic noise. It's particularly popular with families, mainly due to its proximity to Kariong Public School.
Best property type to buy
Three-or four-bedroom older-style houses under $500,000 are a good option for adding value. They are also ideal for the families that target this area.
Growth triggers
Kariong enjoys being only a few kilometres from Gosford, where the infrastructure continues to go from strength to strength. It also sits between Sydney and Newcastle and conveniently provides easy access to both cities, as it borders the M1 Pacific Motorway. The nearby beaches and major shopping centres are also draw cards for people looking for a more affordable lifestyle than Sydney.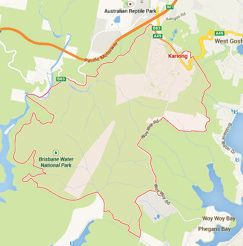 Enoggera (QLD) - Houses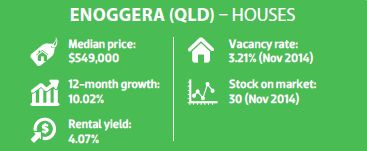 Best streets to buy
Laurel St and Orchid St are close to cafe and shopping precincts, as well as a handy variety of schools. Moreover, the tree-lined streets only add to the overall laid-back feel of the suburb.
Best property type to buy
Two- or three-bedroom Queenslander type houses are popular. In particular, three-bedroom houses priced between $450,000 and $550,000 are perfect for renovations. There are quite a few houses in this suburb that are valued well over $600,000, indicating that a renovation can potentially add significant value.
Growth triggers
It's located just six kilometres north-west of the Brisbane CBD and has excellent rail transport to get residents there. It is also affordably priced compared to neighbours such as Alderley, where the median house price is over $650,000.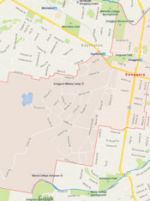 Maylands (WA) - Townhouses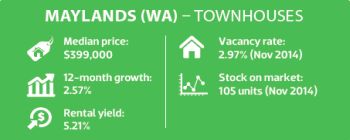 Best streets to buy
Maylands is dissected by Guildford Road, which is a busy, major thoroughfare. Streets that are slightly back from Guildford Road are considered better buys. Swan View Terrace and Kirkham Hill Terrace are popular for their proximity to the Swan River and parks.
Best property type to buy
There is a good range of property types – from apartments to heritage homes – in Maylands. However, townhouses are more affordable and likely to be a renovator's best bet.
Growth triggers
Maylands is on the rise. It is experiencing a ripple effect from several highly sought-after neighbouring suburbs. As a result, investment in revitalising the area is booming, and population growth is strong. It is also close to both the Perth CBD and the airport, which makes it good for FIFO workers.
Essendon (VIC) - Houses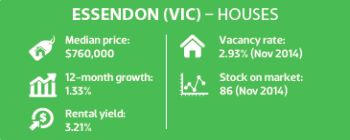 Best streets to buy
Essendon is a well-established and popular suburb. But Christian Lonzi of Frank Dowling Real Estate recommends Gordon St and Napier St for their relative affordability and the opportunities available as a result.
Best property type to buy
There is a particularly diverse array of architecture and property types in Essendon. Lonzi says the suburb is noted for its generous-sized blocks, but that units are often a more affordable option.
Growth triggers
Thanks to a combination of quality housing, excellent amenities and proximity to Melbourne's CBD, Essendon has long been the preferred choice for many families, Lonzi says. It has strong population growth, and plans for a major hotel, retail precinct development and hospital were recently approved.
Sandy Bay (TAS) - Houses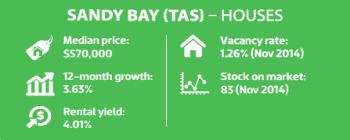 Best streets to buy
Sandy Bay is divided into an older and a newer area. While both areas have their attractions, the most sought-after streets are the ones close to the River Derwent, like Marieville Esplanade and Quayle St.
Best property type to buy
This well-established suburb has a good mix of old and new houses – often on decent-sized blocks. Renovators are best advised to look for older houses in need of attention. Some deals can be found, but prices are often higher than the Hobart average.
Growth triggers
Considered to be one of Hobart's most desirable suburbs, Sandy Bay is just three kilometres from the CBD, is close to the water and has great views. It is also home to the University of Tasmania's Hobart campus, which provides an employment hub and a broad tenant pool.
Belmont North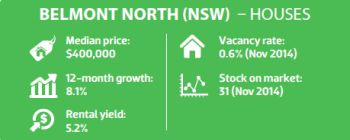 Best streets to buy
The Pacific Highway runs through Belmont North. Streets that are slightly back from the highway are considered better buys. Parts of Old Belmont Road are popular for their proximity to amenities.
Best property type to buy
The lifestyle attractions of the area mean it is particularly attractive to families. For this reason, several-bedroom family homes with gardens for around $400,000 are a good bet.
Growth triggers
Located 18 kilometres from the Newcastle CBD, the suburb is likely to benefit from growing heat in the Newcastle market. Further, neighbouring Belmont has a growing business district, which is one of the broader area's service centres. It has also boasted strong population growth in recent years.
Chester Hill (NSW) - Houses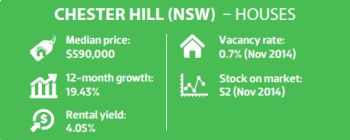 Best streets to buy
Under-rated Chester Hill suffers from a lingering image problem, yet many of the suburb's quiet, leafy streets are hidden treasures. Streets with proximity to schools, parks and amenities – like Hector St and Bent St – are a good bet.
Best property type to buy
Families are attracted to this area, so several-bedroom family homes are the most sought-after property type. Prices have been creeping up in Chester Hill, so properties in the higher $500,000 range are becoming a deal.
Growth triggers
Sitting in the fast growing Bankstown LGA, Chester Hill is poised to benefit from the increasing development of Sydney's west. It is close to a hospital, a university campus and one of Sydney's largest shopping centres. A town centre upgrade is on the cards, and population growth has been solid in recent years.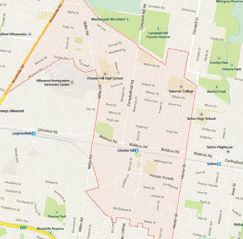 Holt (ACT) - Houses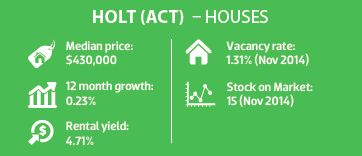 Best streets to buy
Benjamin Ling, from Ray White Belconnen, says that streets near the Belconnen golf course, like Spofforth Street and Britten-Jones Drive, are considered good value because they provide great views. However, he adds that Drake Brockman Drive is also a sound bet because of the Brindabella vista it offers.
Best property type to buy
Several bedroom houses, suitable for families, and priced in the $400,000s and early $500, 000s are the best value property type, Ling says. "Families love the area because of its access to schooling and its corner stores which give it a real community feel."
Growth triggers
Holt sits on what used to be the fringes of Canberra, but is it is growing in popularity due to its proximity to Belconnen and the Canberra CBD, as well as its large blocks and scope for upgrading. Ling says that, as the area expands beyond the western borders, infrastructure development will follow to accommodate the increased demand.
Grange (Queensland) - Houses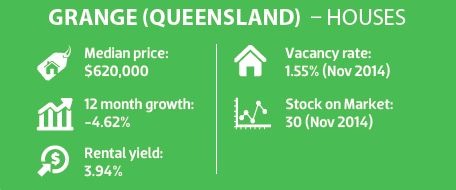 Best streets to buy
Kim Ridings, from Ray White Alderley, says that all of the streets in this well-established inner north Brisbane suburb are good to buy in. However, streets that are near one of the suburb's parks – like Uxbridge Street and Bega Street - are always popular.
Best property type to buy
The best property types for renovating are the pre-war Queenslander homes with some type of elevation and a big block, Ridings says. "Price ranges vary depending on position. But, for a renovator, it would be hard to get something under $550,000 and, for that price, it would likely to be on a busier road or in poor condition."
Growth triggers
People are drawn to this leafy suburb because of its proximity to the Brisbane CBD, excellent views and good range of amenities, including schools. Ridings adds that it has long recorded ongoing growth.