Whether you're in the business of property or not, simply passing by a lovely home is almost a soothing experience in itself. It hearkens back to beauty being one of mankind's most basic desires – we love it when the surface looks stunning, because it hints at treasures within and invites us to explore further.
For this reason, refreshing the exterior of a dwelling is absolutely crucial to adding value and enhancing appeal. It reflects the worth you think a property has, which in turn influences what others see. A well-kept lawn, a freshly painted wall, a clean pool, and lush, vibrant plant life – all of these things point to a home that is important and cared for.
"When we start planning to renovate the exterior of a property, the main areas we focus on are setting a realistic budget and creating a real wow factor to make a great first impression for potential buyers arriving at the property," says renovator Dean Zarif. "We always look at who our target market is, as well as what price point our property will sell in."
Exterior renovations look like a lot of work but don't necessarily have to be. Many times, it can simply be a process of cleaning up and clearing out. The key is to know what you can do with the facade's potential, and how much you want to do with it with the resources you have at your disposal – creativity is the name of the renovation game.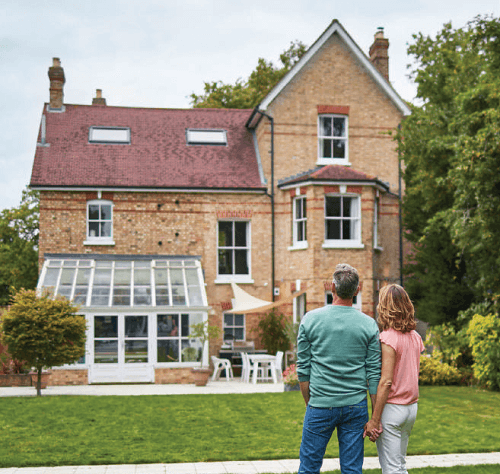 STEP ONE: EVALUATE WITH CARE
With an outdoor renovation it's important to not miss the forest for the trees. It's about the overall e­ffect, so it's prudent to start the renovation process by carefully evaluating what you have to work with.
Begin by looking at the front yard from a distance. From that vantage point, how do all of the elements work together? What appears out of place? What looks worn? What is positioned wrong? What complicates the way you navigate the area? What doesn't fi t the overall style?
From there, you can go deeper into each specific part of the front facade – from the roof and the garage doors to the pathways, fences and mailbox – and work out what needs to be done.
TOP TIP
Find the best asset on the property, and build your vision around highlighting it. Is there a pool in the front yard? Then put the spotlight on it with some well-placed lighting, and surround it with a border of lovely plants. If the focus is on a beautiful garden, keep it the centre of attention by doing some landscaping and laying out the fl ora in a way that catches the eye.
STEP TWO: CLEAN UP
A sad-looking front facade can often be the result of a lack of proper upkeep. A thorough cleaning can reveal some hidden gems and suggest that things aren't as bad as they seem at fi rst glance. Under all that extraneous mess might be a beautiful foundation.
For instance, pools can be a difficult feature to work with, given the potential for considerable upkeep and repairs. Zarif was happy to discover the benefi ts of a good scrubbing when he renovated his property (see case study, page 16).
"We only had to drain and thoroughly acid wash the pool, and repair one cosmetic crack," he says.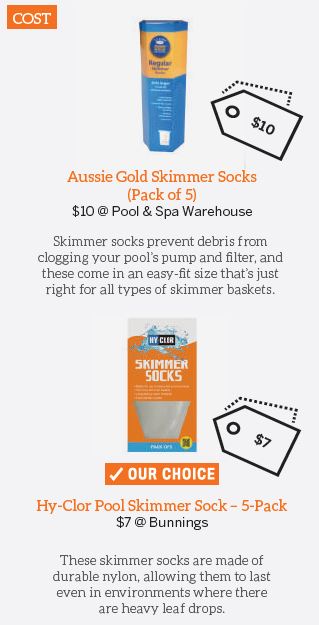 STEP THREE: TRIM THE HEDGES
An overgrown garden makes everything look gloomier, wilder and messier than it really is. A good trimming can therefore uncover a great space to work with.
"With such a large block of land – this property was over 1.5 acres – which resembled the untamed Amazon forest when we bought it, our goal was to excavate most of the bush and fallen trees and clear most of the block to allow our landscaper to build new gardens and returf around the pool area," Zarif says.
"This gave it a really clean and lowmaintenance appearance as well as somewhat of a blank canvas if someone wished to come in and take the gardens to the next level."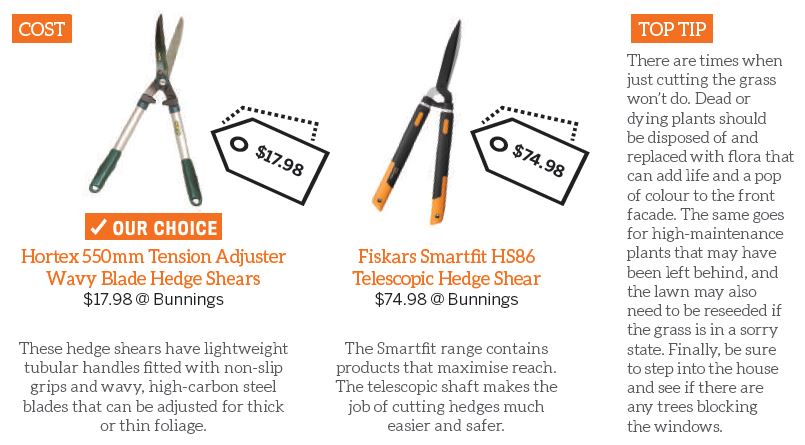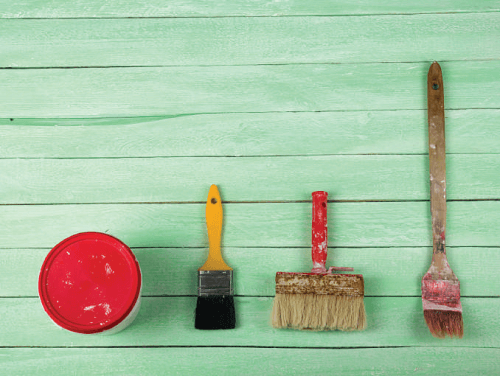 STEP FOUR: RENDER THE WALLS
Ugly brick exterior walls don't have to be the stuff of your design nightmares. Through rendering, a process similar to plastering an interior wall, you can create a new surface.
"It is amazing what a difference this makes to the look and feel of the property, especially once it is painted," Zarif says.
While the rendering process can be DIY'd, it takes the right conditions and a bit of know-how, so professional renderers should be called in, unless you really know what you're doing.
"Defi nitely shop around for renderers, as it is not uncommon to shave 75% off the price the big rendering companies are charging."
TOP TIP
The different types of render include acrylic, mineral and silicone silicate. As you are working with an external wall, you need to have the right mix to make the surface waterproof and ensure it sticks well to the original wall. The render is typically applied in at least two coats, and between each coat the walls should be adequately protected against weather damage.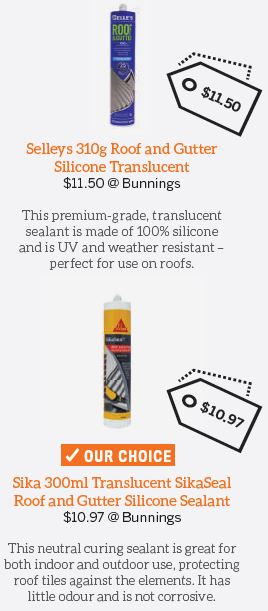 STEP FIVE: REVAMP THE ROOF
Not all roof renos are signifi cant, and you may be surprised to learn that you can reseal and respray your whole roof for a few thousand dollars. It makes a huge difference, not only to the aesthetic but to the property's selling points, as it assures buyers there are no roof cracks or leaks.
"Having the roof repointed, cleaned and repainted can finish off the modernisation of the exterior of a building," Zarif says.
The first step is to remove debris like branches, twigs and leaves from the roof to ensure water can't get trapped under the shingles. If there is existing damage, a good dose of sealant can often be adequate to address leakage while adding a layer of waterproofi ng and insulation.
TOP TIP
It's important to maintain roofs on a regular basis. Do a basic cleaning every so often, but get the professionals in at least once a year. In addition to having the tools for a really good scrub, they can check for any damage that should be dealt with.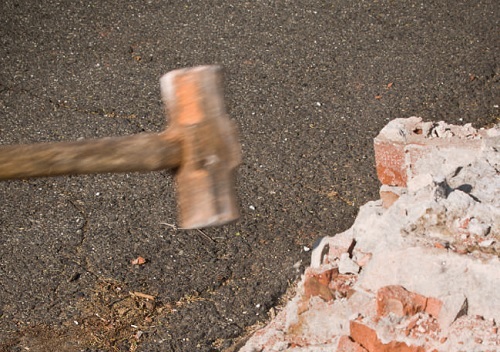 STEP SIX: KNOCK IT DOWN
Part of doing a renovation is deciding what to keep and what to remove, especially if it adds clutter to the yard.
This is where having a plan for the property comes in. You must have a vision of what needs to go. If there's a barbecue pit that would look completely out of place with the aesthetic you desire and is something you doubt will be used in the future, it's better to knock it down than have it taking up valuable space. That way, you have more room for the elements that do fi t your refreshed look.
TOP TIP
Look for opportunities to reuse existing areas for a different purpose. For instance, turn the barbecue into a planter and make it pop with a nice layer of new paint. Put in some lighting, or turn it into a storage space. If there's a wooden bench that's not very attractive, tuck it under some brightly coloured cushions to create a makeshift couch for outdoor entertaining. You could even transform an old set of cabinets into flower boxes.
STEP SEVEN: BE MINDFUL OF HIDDEN DANGERS
A termite invasion is one of the worst things that can happen to a property, and you don't always see the damage until it's too late. Even furniture that is damaged by termites can look solid, until you put weight on it and it gives.
"A specialist will work on clearing all termite activity from the house itself, as well as any nests in the yard. There are also preventative measures you can use, such as a full termite barrier, and stone or gravel against any external walls," Zarif says.
Have a professional pest inspection done before buying a property. For a tax deductible investment of less than $500, you'll gain peace of mind.
TOP TIP
Don't try to handle a suspected termite attack on your own. Bring in the professionals to do a thorough extermination. Termites are notorious for their persistence in coming back to a home where they've already left traces, so driving them away once may not be enough. A professional can apply strong treatments that can linger for years and keep them from coming back. The same goes for any other pest problems you may have inherited.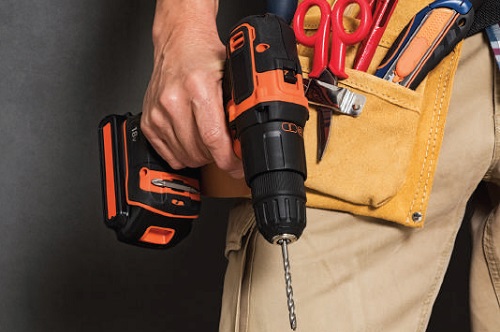 STEP EIGHT: BE PREPARED FOR TRADIE PROBLEMS
While DIY has a reputation for being a big money saver, there are times when tradies are the better call. But when you're working with third-party service providers, complications are almost certain to arise.
"I've lost count of how many times tradies have tried to change prices or charge extra for work that should have been included in the original price," Zarif says.
"With renovations, tradies often prefer an hourly rate, to cover themselves for unforeseen problems. We would not recommend leaving tradies that you have not worked with previously and established some trust with to work alone, as it is a recipe for disaster."
TOP TIP
When engaging with a tradie, putting everything in writing is a must to save yourself a massive headache if the rules of engagement change. Do your best to get a fi xed rate, and draft an outline of the scope of work that they need to sign off on. It's also advisable to be on site as much as possible. If that is not feasible, let your tradies know you're checking up on them by texting or calling to get progress reports.
CASE STUDY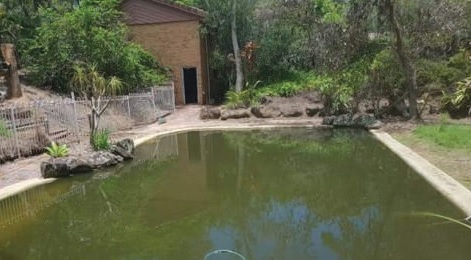 For Dean Zarif's latest project, he took on a house that was about to fall down – literally! But a strong exterior renovation gave the property its legs back
When Dean Zarif and his partner, Alyssa, fi nalised their purchase of a house in the Moreton Bay suburb of Cashmere, they were left with almost nothing to salvage.
"It was severely termite-damaged to the point that the termites had actually packed up and left as there was nothing left to eat. The whole house had to be completely propped up section by section, stripped out and reframed, which took a little over three weeks. The house was literally about to collapse," says Dean.
The external walls were decked out in "ugly, rough-looking brick" – something that Dean and Alyssa were eager to change by having a renderer come in. They also zeroed in on the property's existing pool area, a major asset that hadn't been cleaned or attended to in years. The pool needed to be drained, cleaned of years of decaying leaves and acid washed. Moreover, the surrounding area needed extensive clearing of fallen trees and bush so that the pool area became visible from the house.Dean and Alyssa built new stairs down to the pool area and added a new pool fence they also did signifi cant landscaping and excavating, lopping off trees to clear space out front.
While Dean and Alyssa were executing their vision for the property's front facade, however, people problems threatened the project's completion. For instance, the property's previous owner wound up interfering with the other on-site tradies, despite his agreement with Dean.
"We gave the owner six weeks to stay in the property rent-free as part of the purchase negotiations, on the condition that we be allowed to work on the pool and exterior of the house, including landscaping. A few days after settlement, the previous owner kicked all my tradies off site, saying that it was too noisy and he didn't want anyone on site until the six weeks were over!"
In the face of these issues, however, Dean and Alyssa finished renovating – and in the end, all the hassle was worth it when they were able to turn a profi t of more than $150,000.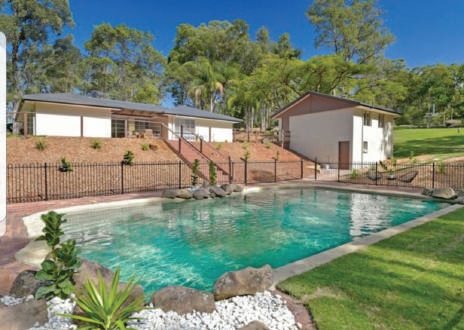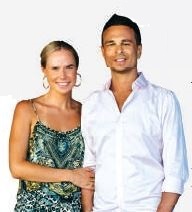 Dean Zarif (pictured here with his partner Alyssa)
has been renovating properties for eight years
Disclaimer: All products and prices listed are correct at the time of printing. The advice contained in this article is for general information only and should not be taken as financial advice. Please make sure to speak to a qualified professional person before making any investment decision.