17/03/2016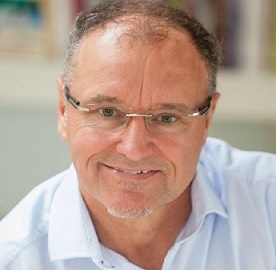 From riding his bike across Death Valley in California to summiting Mount McKinley in Alaska, Ralph is the epitome of focus and determination. These qualities have also helped him build a high-performing property portfolio and earned him the Highly Commended award

Judge's comment

"I loved Ralph's approach to property investment, which centred around research and the future-proofing of his investments. Also, what resonated was his approach of building a team. This is one of the most important things in both investment and business. Building a team around you that you can trust and lean on. He also knows how important it is to budget. I also liked the creativity of multiple questions and multiple answers from property managers and other professionals. It's free to ask, and by asking many you can collate opinions and experience into usable advice."

– Justin Davey, Real Estate Investar

Ralph and his American wife Kristine weren't planning to buy a house that fateful weekend. All they wanted to do was to get a sense of how much properties were going for in their neighbourhood. Little did they know that they'd pick up the deal of the century that day.

"My wife and I attended the auction of the Yarraville home to get an indication of the value of our similar house in Yarraville. The house was in very poor condition next to the railway tracks, and it was particularly noisy. But it was during the time when all the house renovation programs were in full bloom and presenters were educating the buyers on how to bid at auction. The general feel was to not voluntarily bid and not add momentum to the auction process.

"We watched as no one bid and we negotiated a price of $205k after auction on a house that the guide price was $260–$290k. I knew we had a bargain. I was offered $20,000 in cash to sign it over to another party after the auction but refused the offer. I knew there was a lot more money in the deal."

It was this seminal moment that ignited the couple's property investment dream and spurred them to build a portfolio of 11 properties worth more than $5m, not including the three properties they have in the pipeline.

But for Ralph, his investment journey began long before then.

Starting young

Growing up with a less than privileged background meant Ralph learned the value of saving and resilience early on. He also learned the value of investing in land.

"My father was always talking about buying land. He said, 'Ralph, you must buy land', perhaps hundreds of times," Ralph recalls.

When Ralph left school at the age of 15 to do an apprenticeship, he saved every penny he earned. After his apprenticeship, he landed a good job that enabled him to save some more.

"I was 22 when I bought my first house," he recalls fondly. "It was a double-fronted Victorian four-bedroom house in Newport, Victoria. I was so scared to realise I'd just committed to a $40,000 mortgage. But the market was moving so fast that by the time I moved into the house it was worth $70,000, so it was very comforting."

Although lacking the advantage that many of his peers had, Ralph relentlessly pursued bigger and better things in life.

"I came from Laverton, Victoria, and I studied at the Laverton High School where the expectation was that only 2% of students would go on to tertiary education. I did not start out as a marine engineer. I was a fitter and turner employed by GMH in Fishermans Bend. My father, who came from Liverpool, England, taught me to be a scrapper in life. I learned that it's not where we start but where we end up that matters. I've always kept an eye on the future, and I have reinvented myself multiple times throughout my life."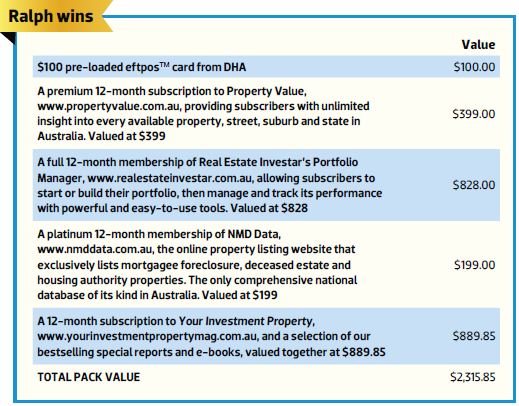 Dealing with an early setback
While Ralph was closing his Yarraville deal, he was also working on another property in Mount Macedon, Victoria.
"We bought a house for $525k in Mount Macedon, which turned out to be a big project. We spent a total of $550k plus $200k for the development. It was a beautiful house; it's got Mount Gambier limestone and recycled wharf timbers from Echuca Wharf. On completion, we listed the property at $1.25m." But then the bushfires hit and killed local resident Brian Naylor and his family.
"It shook Victorians to the core and it stopped the property market in bushfire areas dead in its tracks," he recalls. "Mount Macedon was not affected by fires that year, but it had a devastating effect. We eventually sold for $890,000 and made a profit of around $80,000. I worked very hard renovating the Mount Macedon property by myself for two years to get just $80k profit."
Ralph also decided to sell their Yarraville property for $450k and made a handsome profit of $245k less capital gains tax without doing anything to the property.
"This was the moment that I transitioned from being a hobby investor to becoming a serious investor. I realised I need to do more research before I buy. I learned serious lessons in risk mitigation," he says.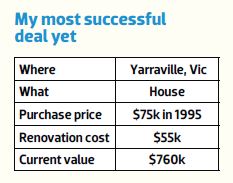 "A developer bought it for $69k in 1995 and wanted to flip it to me for $75k (his cost and stamps). He laughed at me when I paid him, thinking he was off the hook. I paid $75k, did a $55k renovation with my mother's inheritance, and it is now worth around the high $700s."
The deal didn't end there. Ralph and Kristine used the debt-free house as their main residence, but although it was ideally located, it was small with only a tiny courtyard.
"We decided to move to Williamstown in bayside Victoria and bought a lovely place with an ocean view for $1,350,000 in 2011. The entire $1.35m was non-deductible debt, and our Yarraville house was worth $640k but had no debt.
"Kristine is an American. I met her while I was riding my bike around the US in a place called Bozeman, Montana. We got married in 2002 and she moved to Australia a year later. The Victorian Government allows a transfer of ownership between spouses of the Yarraville property under the 'Natural Love and Affection' clause, so she took a loan to buy the property from me and I took the agreed value and placed it on the non-deductible $1.35m loan, and now she owns Yarraville with a deductible debt of $640,000 and our Williamstown non-deductible debt is reduced by the $640k. All around, this is a pretty good deal," says Ralph.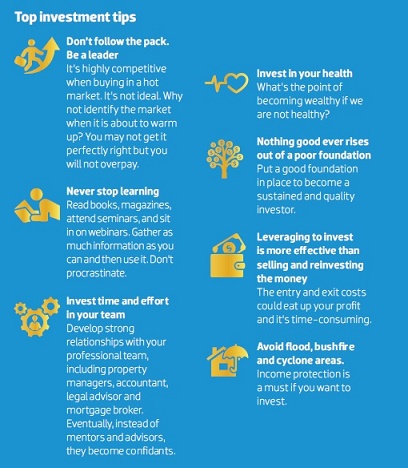 Future-proof investments
Ralph's earlier run-in with bushfires also shaped his strategy, which focuses on future-proofing his investments.
"After determining the area I wish to invest in, I look for a property that has an angle that will allow me to add value either in the short or long term. Land size is key for me, but having a very keen knowledge of town planning guidelines and future developments is the cornerstone of my investment strategy."
Cash flow is an important consideration for Ralph as it enables him to hold the property over the long term and still be able to access finance from the banks.
"I look for good cash flow areas that are likely to grow, and then I buy the largest land I can find within that area. I don't buy in frenzied markets where the competition is great as there is a strong likelihood I will overpay. It's paramount to buy properties in areas that will grow but still provide cash flow. If it doesn't grow, the portfolio stalls on equity. If there is no cash flow the portfolio stalls on serviceability issues," he explains.
"I always say that income protection is vital for investors with a negatively geared portfolio, but if you have a positively geared portfolio the 'empire won't crash' to the ground if we have any period where our salaries drop. I make sure I have a combination of cash flow positive and neutral properties. I have a very high 'sleep at night' factor," he says.
Top 3 property management tips
1 Invest a lot of time in selecting a great property manager.
2 Set and forget. Let the property manager manage.
3 If you are ever in the town where they manage your property, take them out to dinner. They will look after you from then on. Make them feel appreciated.
Investment strategy for the current market
Armed with experience and growing knowledge, Ralph is looking to further expand his portfolio and has his eyes set on Southeast Queensland. "I think Brisbane offers great cash flow and growth potential," he says. It's pricier in the north of Brisbane but I really believe I will do well from properties in Dakabin and a fibro cottage with secondary accommodation potential on a big block in Woody Point," he says. Ralph is also keeping a close eye on Perth. "I'm waiting for the Perth market to bottom out. It's a proven market and has been very rewarding to smart investors over the years," he says.
What the judges say
"Being a quantity surveyor, what I like about Ralph is he is a numbers man – much like me! A key part of Ralph's success can be put down to his due diligence and his analytical nature. Ralph is passionate about property but he also gives back by helping young people get into property."
– Tyron Hyde, Washington Brown Quantity Surveyors
"I like Ralph's engineer's approach to property. He is systematic, logical and not only thinks about wealth creation but he has a strong awareness of risk management."
– Philippe Brach, Multifocus Property & Finance
"Ralph is ticking the 'risk' box for me. I especially like that he is futureproofing his portfolio as part of his strategy as this is something many investors forget to factor in. And that he is lowering his risk by staying away from 'hot' spots which often result in people paying too much for the property, and considering vacancy rates.
– Helen Collier-Kogtevs, Real Wealth Australia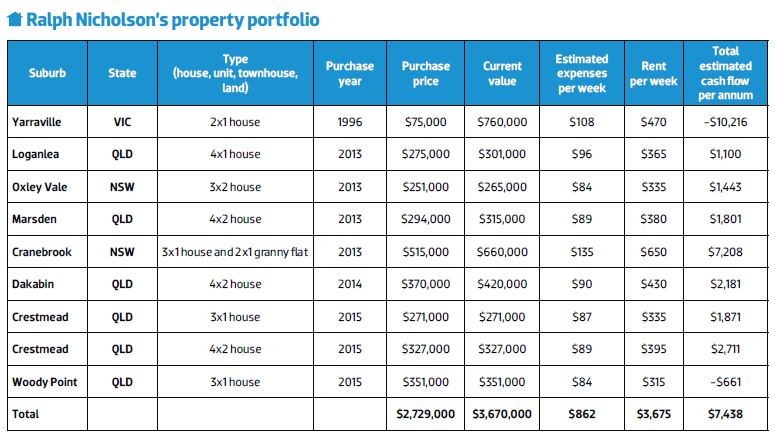 Research techniques
To ensure he buys the best property in the right area, Ralph follows a set of steps that include the following:
- Monitor the listings versus sales statistics to determine when to move before the crowd rushes in.
- Look at vacancy rates below 3%.
- Cash flow in the areas must be neutral or positive.
- Monitor potential competition of similar properties, ie housing estates nearby.
- Research infrastructure spending, ensuring projects are funded and not just planned, with special attention being given to long-term employment growth, not just construction employment.
- After determining the area I wish to invest in, I look for a property that has an angle that will allow me to add value either in the short or long term. Land size is key, but having a very intimate knowledge of town planning guidelines and future developments is the cornerstone of future-proofing my investments.
- Look for good cash flow areas that are likely to grow, and then I buy the largest land I can find within the area.
- Buy houses in family areas and town homes in inner-ring suburbs, if that is what is required.
- I rarely inspect a property pre-sale, but you must look at satellite and property photos with forensic intensity. A tree in the middle of a yard might trigger an environmental clause in town planning, or skidmarks on a street might indicate hoons in the neighbourhood.
- Always do a building and pest inspection and debrief the inspectors to gain a clear picture of the property.
- Always talk to multiple property managers, asking similar questions so you can form an opinion based on multiple answers. Never expect an unbiased viewpoint from a selling agent. Their job is to sell a property, whereas a property manager wants to manage a decent, trouble-free rent roll.
Keen eye for a good deal
When it comes to assessing investment potential, Ralph relies on his ability to crunch the numbers and take action decisively.
"I was offered the Cranebrook property for $360–$390k the day before it was due to be listed. I had developed a rapport with several agents and this one in particular. I knew if I offered $380k the agent would likely list. I asked the agent to give me half an hour while I spoke with a granny flat company I had also been speaking with. After the granny flat company looked at town planning drawings, spoke to council and confirmed with me what would be possible, I offered $390k, his full asking price. I knew the Penrith market was moving based on my supply and sold price statistics, and to offer less would have provided the agent the opportunity to test the market."
The offer was accepted. So Ralph bought the three-bedroom untidy house on a block of 1,054sqm and immediately put a granny flat on it. In total he spent $390k, plus $125k for the granny flat.
The rental return is now a combined $655 per week.
"The house next door on the samesized block sold for $655,000 recently for a 4x2 house in slightly better condition, but for the investor my deal is gold."
Noble vision
Ralph's passion and corresponding success in property investing have made him realise another calling: to educate young people about money. "I'd love to teach young people to become investors, or at least become financially savvy. I want to give them a head start financially in life so they don't have to struggle the same way I did. I think there is a big gap in the education system about financial literacy, and I'd love to be able to do what I can to address that and help our young people set up for life."
Top 5 finance tips
1 Be a diligent saver. I know it sounds trite, but it will help you throughout your life.
2 Know your financial cap abilities by understanding your household budget inside out.
3 Develop a strong relationship with your banker/broker.
4 Know enough about financial to present strategies to your advisor rather than them presenting opportunities to you.
5 Always pay your bills on time but never pay before they are due.
Top 5 negotiation tips
1 Fall in love with the deal, not with the property process.
2 In a 'to and fro' negotiation, always be the last bid. It might only save $200. Better you than the agent.
3 Always buy in a non-frenzied market as there will be much less pressure on your bid.
4 Negotiate on more than one property, and negotiate hard. You can always move to the next.
5 Develop a strong relationship with your legal advisor and understand your legal obligations within the state you are investing in.