16/04/2015
With smart planning and a bit of elbow grease Sophie Knight and husband Chris Waite are on their way to making big reno profit. Here's how they're doing it.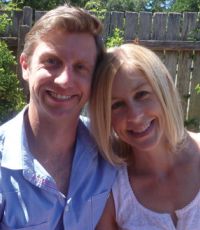 Goal: Add value through renovation
When Sophie and Chris left London for a backpacking adventure around Southeast Asia and Australia, owning a home on a beach in Sydney, let alone renovating it, was nowhere near their plan.
Yet, the couple now found themselves happily calling Australia home. Like true blue Aussies, they're actively playing the property game and are now slowly expanding their property empire.
And like many Aussies, they too have embarked on renovating and learning a few valuable lessons along the way.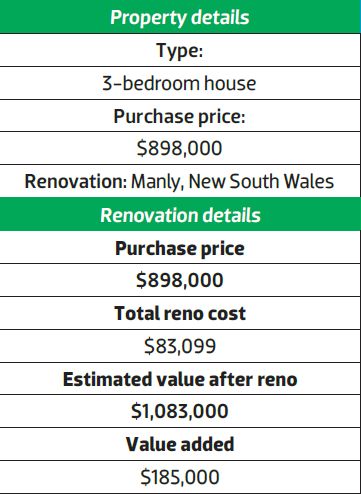 Why did you choose to buy this property?
We bought this property because we were looking for a new investment opportunity and a step up from the two-bedroom unit we own in Cremorne. Manly is our favourite beachside suburb on the Lower North Shore and it's a beautiful spot offering a laid-back beach lifestyle and an easy commute into the city.
We were attracted to the property because it is a unique detached threebedroom house in a location ideal for a young couple or a young family looking for their first family home. We bought the house during a very competitive property boom and saw the potential. Straight away we started working on ideas to transform the place and increase its value. We paid $898,000.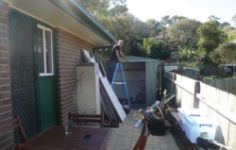 Why did you decide to renovate?
The house is only 20 years old and was perfectly functional. However, it was previously owned by an elderly lady and the décor was old fashioned, a bit tired and needed a facelift. The garden was full to the brim with plants, trees and hanging baskets and appeared deceptively small. So much space was completely wasted.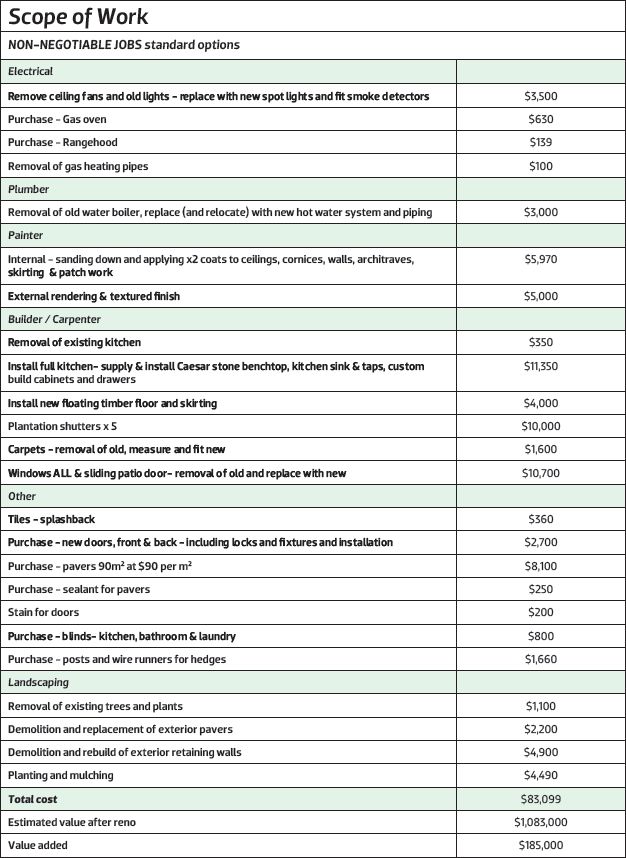 How did you plan your scope of work?
We had to prioritise and weigh up the costs. We needed to look at what we could potentially do ourselves and what would require qualifi ed builders. We don't mind getting our hands dirty and we have saved a couple of thousand dollars doing small parts of the demolition, a little painting and digging up unwanted foliage from outside.
How did you choose your tradies?
• Referrals from friends and colleagues who had done similar work – we saw examples of their work before we hired them.
• We looked for cost effectiveness and quality workmanship.
• We compared price and availability and met with our tradie during the entire process to talk through what we wanted to achieve and set a clear deadline for completion.
You get what you pay for; our main tradie was not cheap but his quality of work was worth every penny.
Before renovation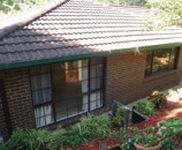 During renovation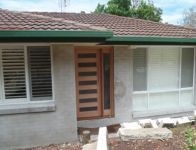 Any hairy experiences with your tradies and how did you resolve it?
So far we have been very lucky with this project; there was only one occasion where one of our tradies accidentally reversed into the neighbour's fence. There was a confrontation with the neighbour and our tradie paid for the damage and repair. It certainly helps if you have nice tradies who are respectful of the neighbourhood and other people's property.
What was the most challenging part of your reno projects? Why?
Delivery times were a challenge – especially with custom-made products. Some can take up to two months which can be very frustrating. You can never control the weather either; we were rendering the outside of the house during a fortnight's worth of thunder and hailstorms! Rendering is a process that needs 24 hours for the first coat to dry before the finish is applied. Impossible with horizontal rain for a week. We had also removed the existing paving at this stage to be replaced after the rendering. Mud everywhere. Nightmare.
Did you get the profit you wanted?
The property has already gone up in value so we are confident that we will make a profit. We have certainly bought in an area that will continue to be in high demand. Whether we sell it or rent it out, we should be in good shape.
What were the biggest lessons you learned going through the process?
Plan, plan, plan, be organised, know exactly what you want and when you want it completed. Be confident that your decisions are the right ones. Something as simple as choosing Spotted Gum wooden flooring over Blackbutt wooden flooring made a huge difference to the overall space and décor.
Budget carefully; you need to be 100% sure you can afford what you are doing and be prepared for a lot of mess and noise; negotiate a payment plan where possible.